NYC: #Sweatworking at Tone House
When:
March 11, 2017 @ 4:00 pm – 5:00 pm
2017-03-11T16:00:00-05:00
2017-03-11T17:00:00-05:00
Where:
Tone House Upper East Side (NYC)
71st and 3rd Ave
New York
NY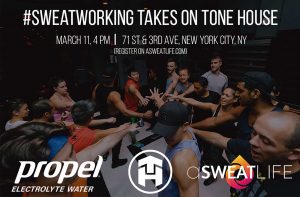 aSweat Life and Tone House are pairing up for a killer #Sweatworking event like no other. This time we'll be heading out of Chicago and into Tone House NYC's new Upper East Side location on March 11. We can't wait to see you there.
Tone House is the first ever extreme athletic-based group fitness studio aimed at unleashing the inner athlete in everyone. Sessions are team-oriented, competitive, fun and reminiscent of sports practice.
The Tone House team would like to remind everyone to please arrive by 3:45 pm to warm up 15 minutes before we get started. Please create a Tone House account in order to join the class.
A special note from Tone House on how to conquer this workout:
Eat a small, nutritious snack before class, but don't eat heavily two hours prior to training
Wear longer pants to avoid turf burn
Be well hydrated before you come in (read: avoid hangovers like the plague)