#SweatworkingWeek Hydrated by Propel: Lunch and Learn – Fueling Creativity through Fitness
When:
June 8, 2017 @ 12:00 pm – 1:00 pm
2017-06-08T12:00:00-05:00
2017-06-08T13:00:00-05:00
Where:
Breather
645 N. Michigan
#424, Chicago
IL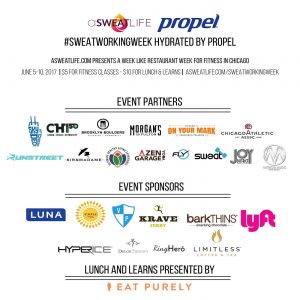 There's something in the air in Chicago. We know that June means a whole lot of love in this lakefront-path-running city of ours, but it also means one more thing: #SweatworkingWeek. We're excited to announce our third edition of #SweatworkingWeek with an incredible schedule curated by some of our friends at some of our favorite places coming at you June 5-10.
What's #SweatworkingWeek? It's a restaurant week for fitness put on by asweatlife.com that seeks to get Chicago moving twice a year. We put all of our blood, sweat, tears and imagination into creating a schedule that excites you to amp up your wellness routine in and out of the gym.
Erica Robinson's life and training revolve around helping creative people live their best, most creative lives. Together, we've sewn that fabric of creativity throughout her day.
For lunch, Erica will team up with Jenny Finkel – yoga teacher and improv instructor – to talk about using your fitness routine to be more creative. Sound mutually exclusive? Not so – your brain, your body and your creative juices are more linked that you may know. Included with your ticket is delicious organic lunch from Eat Purely.
Need a Lyft? We worked with Lyft to make it easy to eliminate the last excuse to try or get to class.
New Lyft users can download the Lyft app and enter the code "Sweatworking" to get a $20 ride credit.
Existing Lyft users can use the promo code "LyftForSweat" for 15% off ride