6 Interior Design Hacks for Your Rental Apartment
Nobody wants to compromise when it comes to style, especially when it comes to our homes. But with about 34% of Americans choosing to rent (and an even higher number of Millennials and Gen Z-ers), sometimes it can feel like we're prisoners to our lease agreements when it comes to decorating our spaces to reflect our style.
Design in a rental apartment can be tough. So how can you make a stark rental unit feel more like a cozy home? It's easier than you might think. Here are some simple updates that almost anyone can do to class up your space while also making sure your security deposit goes back into your bank account.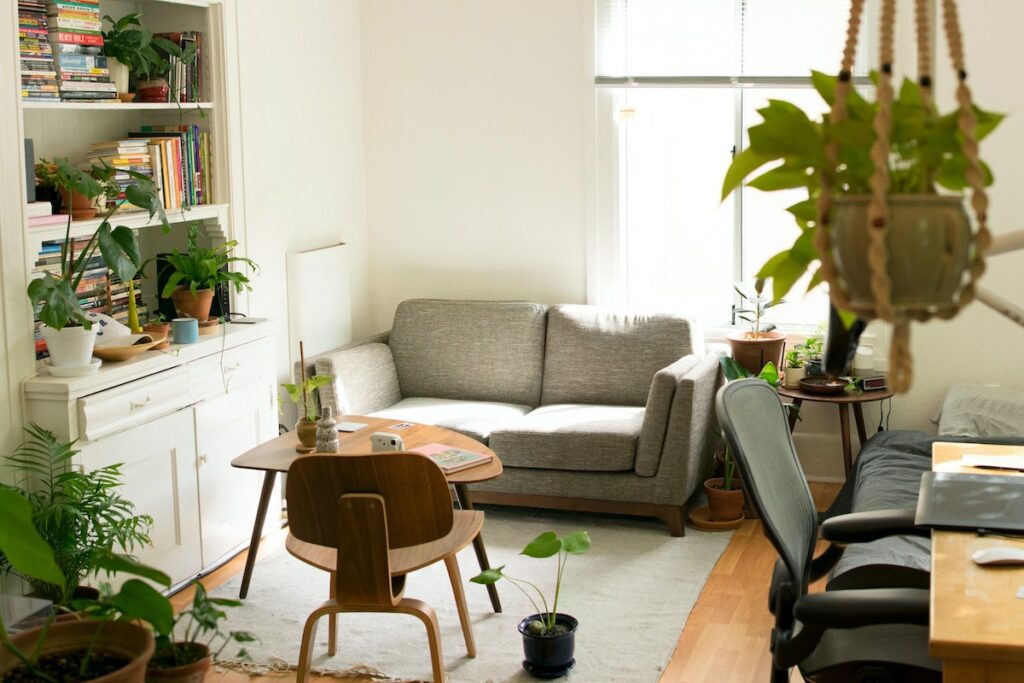 1. Get your glow on
One of the easiest ways to update a typical renal unit is by swapping out the light fixtures or adding new ones. Flush mount dome lights and Hollywood-style vanity lights are common in rentals because they're cheap. But you're not stuck with them — and as long as you offer to put the old ones back up before you move out, you should be fine. So buy yourself the pretty chandelier you've always wanted, soft under cabinet lighting, or sconces to cast a pretty glow throughout your home.
No outlet? No problem. Retrofit any fixture you choose with remote-controlled pucks or lightbulbs. Electrical work isn't as intimidating as you might think (just make sure to shut off that breaker box and have a voltage tester handy) but hiring someone to come in and swap out the fixtures is also an option if you're nervous (some landlords will do it for you too). Guaranteed you'll glow in an Anthro light you picked versus that cheap boob light your landlord loves.
2. Smart apartment
Even if your apartment was built in practically prehistoric times, you can still benefit from a few strategically placed smart plugs throughout your home. Install them anywhere in your apartment and control your lighting, coffee maker, and even air conditioner remotely or on a routine schedule.
Voice activation through your Alexa or Google Home is handy (and honestly, pretty fun to play around with) even when you're not home and enables your house to step into the future…until the day you get that touch screen fridge, that is.
3. Update your hardware
Changing out your toilet seats, faucets, and showerheads is an easy way to get rid of old grime after moving to a new place. Toilet seats are cheap — and if you know how to use a screwdriver, you can have an almost brand-new throne in about two minutes. And believe it or not, there are many different kinds — antimicrobial, quiet-close, plastic, wood, and even heated seats. Go wild, but just be sure to note the color and shape of your original seat so you don't pick up the wrong one (been there).  
For kitchens and bathrooms, you can update your faucet to a touchless or touch-activated configuration, or choose a fancy soap dispenser or sprayer in the kitchen. Just be sure to note the number and placement of the holes in your original sink or counter to be sure you buy a compatible one.
Turning off the water lines and owning a basic tool kit with some plumber's putty and Teflon tape is all that's required for this simple swap out. However, a specialized tool for changing the faucet (especially in older apartments due to corrosion or rust) makes it even easier.
For showerheads, it's even easier. Ivy Kenney, a design consultant who owns Ivy Neat, a home organizing and space planning company out of southern Connecticut, recommends treating yourself to a new one when moving into a new place. "A rainfall showerhead adds a luxurious touch and a spa-like feeling," she says.
Keeping the old fixtures in a storage space or closet ensures you won't make your landlord mad when you leave. But any improvement you make to a rental (especially on your dime) is usually a green light. (It's still always a good idea to ask first, though.) 
Have a screwdriver? Install a new towel bar, or toilet paper holder, or take off those plastic handles on your kitchen cabinets and update with something a bit classier. World Market, West Elm, Anthropologie, and even Amazon have great selections according to Kenney, but it adds up depending on how much hardware you have.
"If you don't want to buy [new ones] because they're too expensive, you could also spray paint the current hardware," Kenney says. "They make metal and plastic-specific spray paint."
4. Put up a wall
Don't think you're stuck with boring white walls from move-in to move-out either. There are many ways around this rental standard. Kenney says the key is playing around with removable (or reversible) options. If you can't even put a nail in the wall per your lease, turn to decorative vinyl.
"Instead of putting things on the wall, put up decals," Kenney says. "When you move or you want to change it up, you just peel it off." Kenney recommends customized decals on Etsy or even Amazon for a fresh look.
In the kitchen, get the subway tile look you've always wanted with peel-and-stick tile backsplash. It's easy to measure, cut, and hang up in about 10 minutes.
Many landlords will allow painting as long as you paint it back to the original color before you leave. The possibilities are endless, including magnetic and chalkboard paint if that's your style. If painting's a no-go, turn to wallpaper.
Don't worry — the secret is to stick it up with liquid starch. When you're ready to move out, simply wet the wall and peel it off. It's also considerably cheaper than the renter fave, removable wallpaper (which is also an option if you're willing to spend a little more). The liquid starch technique can also be used with fabric if you find a pattern that you absolutely love.   
Kenney says Command strips and Velcro are a lifesaver for those who want to hang art on the walls but aren't confident with a hammer.
"The Velcro [strips] are good for light frames but nothing extremely heavy. You wouldn't want to hang a mirror with [it] but you can get away with a couple of light frames, canvas, or signs," she says. "And read the instructions! It helps the product adhere so they'll work properly and be long lasting."
5. Counter culture
Don't forget about your countertops either. A simple way to update your surfaces in the kitchen or bathroom is with contact paper (I know — you don't believe me, but hang in there).
With a little bit of patience, a hair dryer, and a squeegee, you can have a marble or granite look over those cheap, peeling laminate surfaces in no time. They clean easily, are a cinch to repair if you nick it, peel up like a dream when you move out, and fool almost everybody. 
6. Small space decorating
Other smart styling tips for rental spaces, according to Kenney, include utilizing any vertical space you have such as over-the-door racks or adhesive bins on interior doors, using divided spinners in the kitchen or bathroom, under-the-bed bins, vacuum bags, or zippered bags for seasonal items, sticking to a neutral palette with colorful accents, playing with mirrors to bounce light, and Command hooks for anything and everything. Kenney says the key to a happy home is making sure you take care in creating a space you love, even if it's a rental.
"It's arranging things tastefully. And the way to accomplish that is by having everyday items out of sight but nearby, and anything you love should be out and on display," she says. "You want options that are stylish and visually appealing. The idea is: When you come home, you want to walk into serenity."