The Best Allergy-Free Fall Snacks to Add to Your Cart
Fall is one of my favorite times of the year. Besides cooler temperatures and shorter days (all the more reason to get your hygge on), there's also apple and pumpkin picking and, of course, Halloween. Let's not forget fall football and tailgating. Need I say more?
The season of fall also brings with it fresh fare and flavors found in fall appetizers, desserts, and snacks. However, if you live with a dietary restriction or food allergy, you may be looking for ways to enjoy an allergy-free fall — and that includes finding allergy-free snacks.
Grab your grocery list and add these items to it ASAP because here are some of the best allergy-free fall snacks perfect for the season.
*Disclaimer: If you live with a food allergy, always read the ingredients labels and lists before enjoying any of these fall snacks — or any snack for that matter!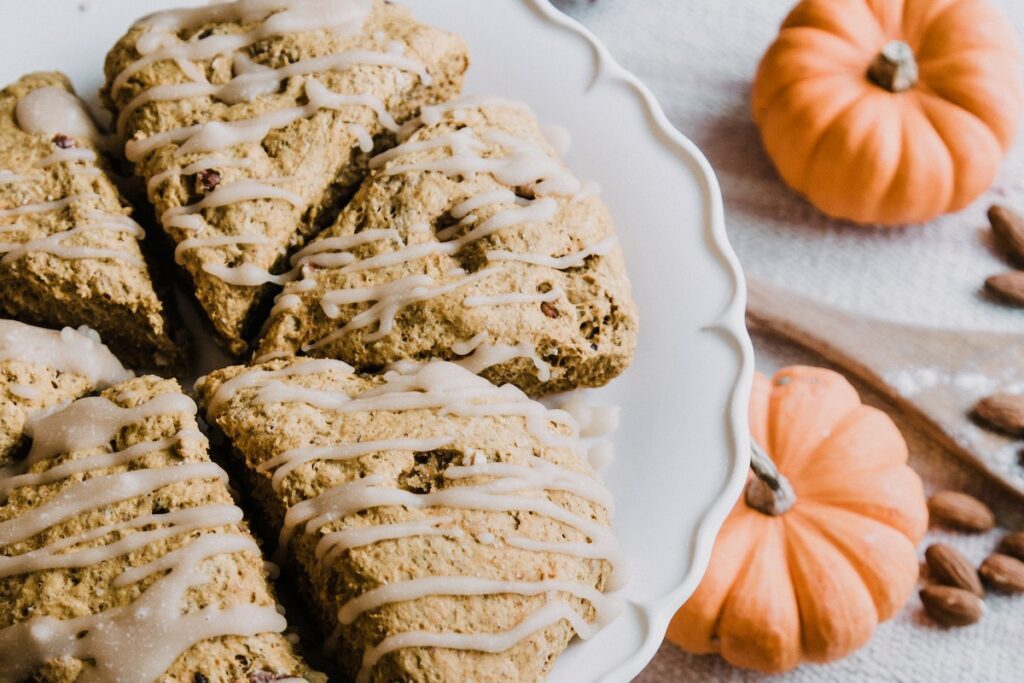 The best allergy-free fall snacks
Cinnamon maple + oat thin bars
Need a quick allergy-free snack on your way to the apple orchard, fall football game, or pumpkin patch? Grab 88 Acres Cinnamon Maple Seed + Oat Thin Bars.
Inspired by autumn flavors, these bars are crafted with hearty oats, warm cinnamon, protein-packed seeds, and a dash of Vermont maple syrup. These bars are made without the top nine allergens as well as artificial ingredients like palm oil.
Seed-based crispy treats
Nothing says fall like a homemade batch of rice crispy treat bars. Save yourself stress in the kitchen by opting for a box of Blake's Seed-Based Crispy Treats.
These treats are free from top allergens like eggs, milk, peanuts, sesame, soy, tree nuts, and wheat. They come in a variety of fun flavors including chocolate dipped and pumpkin spice, just in time for fall y'all.
Tortilla chips
One of the best parts about fall is football, and what better allergy-free snack for a football game is there than chips and salsa? Enter Chicas.
Their chips boast fresh ingredients, crispy texture, and authentic flavor with real tortillas and higher quality oils than other store-bought brands. Chicas chips are gluten-free, Non-GMO Project Verified, and vegan.
Tip: If you have a corn allergy but still want to enjoy chips and salsa, opt for a grain-free option instead, like Tia Lupitas cactus tortilla chips, which are entirely grain-free.
Pumpkin spice caramels
Just in time for candy season, Cocomels Pumpkin Spice Caramels are back for a limited time. The brand is also offering a new maple caramel variety, made with real New England maple syrup. (You can't get more fall than that, people!)
Cocomels is proud to be free of the top allergens as well as cholesterol, corn syrup, and dairy. They're also non-GMO, plant-based, and vegan.
Sweet potato chips
Sweet potatoes are a fall food that can totally get you grounded, but what about a sweet potato chip? Umm, yes, please. Jackson's sweet potato chips contain either avocado or coconut oil, which are well known to provide antioxidant and anti-inflammatory properties, and are free of artificial ingredients, low-quality refined oils like canola, and polyunsaturated fatty acids. (If you have a coconut allergy, you may want to opt for the avocado oil kind.)
Jackson's uses heirloom, non-GMO sweet potatoes, which are high in fiber and loaded with antioxidants. Additionally, their sweet potato chips are super friendly to just about any diet out there as they're gluten-free, grain-free, and peanut-free. They're also suitable for keto, kosher, paleo, and vegan diets.
Snickerdoodle clusters
Craving something crunchy but with a fall twist? Enter Lil Bucks Snickerdoodle Clusterbucks. The savory yet sweet cinnamon flavor is perfect for the fall season. Clusterbucks are gluten-, grain-, and nut-free, making them a great alternative to traditional granola options.
Peanut-free cookies
Another childhood classic is homemade cookies — but instead of baking up a batch, swing by the grocery store aisle and grab a box (or two) of Mavericks Cookies.
Made with 40% less sugar than other kids' cookie brands, these fun lightning bolt-shaped cookies are 100% plant-based, certified non-GMO, and only contain five grams of sugar. Plus, they're made in a peanut-free facility.
Granola butter
What if granola and oats were transformed into a delicious dip or a mouthwatering spread? Well, they have thanks to Oat Haus granola butter. This one-of-a-kind granola butter is free of the top 14 allergens (including celery, crustaceans, eggs, fish, gluten, lupin, milk, mollusks, mustard, peanuts, sesame, soy, and sulfur dioxide).
All of their amazing products are also dairy- and glyphosate-free and are organic and vegan. Everything is handmade from scratch in their nut-free facility too. All of their flavorings are delectable, but if you're really looking to channel those fall feelings, opt for a jar of their Pumpkin Spice Granola Butter.
Cheese balls
Need another game day allergy-free snack for fall? Try Outstanding Cheese Balls, the world's first dairy-free cheese balls. (This is thrilling for the nearly 70% of the world's population that's lactose intolerant. Who knew?!)
Crafted by Dave Anderson, the former executive chef at Beyond Meat, Outstanding Cheese Balls are a delicious and highly nutritious snack that have four grams of protein and 20 vitamins and minerals per serving, including iron, zinc, B12, B6, and vitamins D, E, and A.
They're available in four finger-licking flavors and are 100% dairy-free, gluten-free, kosher, non-GMO, plant-based, and vegan. If you want to pass out a fun Halloween trick-or-treat snack that isn't candy, they also offer 1.5-oz snack-sized bags.
Baking mixes
Get your fall baking on with Partake Foods. Whether you choose crunchy cookies or soft-baked cookies or want to bake your own sweets with one of their baking mixes, Partake offers allergy-friendly cookies and delicious baking mixes. All of their products are gluten-free, non-GMO, vegan, and free from the top nine allergens.
Keto soda
Whether you're packing the cooler for a fall foliage road trip as a leaf peeper or you're loading up the cooler for a fall football tailgate, include a few cans of Perfy, the first ketogenic soda that's packed with real fruit flavors and without the sugar rush.
It's truly a juice box-like experience for adults as well as kiddos. All of their soda options are also completely allergen-free.
Vitamin-packed coffee
So this isn't technically a snack, but all of those allergy-free snacks for fall are going to need to be paired up with something — and what better way than with a hot cup of coffee? Made from 100% Colombian Arabica coffee beans, Plantee Nutrition includes added minerals and vitamins to your morning cup of Joe.
Plus, all of their beverages and coffee products are gluten-free and soy-free. They're also keto, vegan, and made in an allergen-free facility. Yeahhh, you may want to reconsider giving up that cup of coffee just yet.
Plant-based ice cream
I scream, you scream, we all scream for ice cream…even when it's fall outside! Grab a spoon and dive into a carton of Sacred Serve.
These plant-based pints can be enjoyed on their own or paired with your favorite piece of homemade pumpkin pie. You may want to try a scoop (or two) of the Salted Caramel. Talk about a quintessential fall flavor!
All of their flavors are strictly free of corn, dairy, eggs, GMOs, gluten, nuts, and soy as well as anything artificial like gums, stabilizers, and sugar alcohols.
Applesauce
You may have some extra apples from the apple orchard, but instead of making your own apple sauce, try sanaia applesauce. Completely allergen-free, all of sanaia's products are free of dairy, gluten, high fructose corn syrup-free, and refined sugar.
They're also non-GMO and vegan. Plus, they're kosher with no artificial ingredients, flavors, or preservatives. Just pure applesauce with an adult spin, aka delicious.
Seed-based granola
Seedwise is a line of allergen-free and grain-free snacks that pack a seedy punch. By being baked in-house, Seedwise ensures all of its snacks are free from the top nine allergens.
Their clusters and granolas are packed with fiber, healthy fats, micronutrients, and protein all while being low in sugar. They're also certified gluten-free, grain-free, keto-certified, non-GMO Project Verified, and vegan.
Spiked apple cider seltzer
If you're really feeling festive for fall, kick things up a notch with Spindrift Spiked and their first-ever limited-time seasonal release: Spiced Apple Cider.
Certified gluten-free and non-GMO, this flavor only contains five simple ingredients: alcohol from fermented cane sugar, apple puree, carbonated water, cinnamon, and citric acid.
That's right, no added sugar. This is a fall beverage you'll absolutely fall in love with. (Sorry, but we just could not help ourselves!)
Whole fruit gummies
Solely's Organic Whole Fruit Gummies are made from just two or three ingredients, real, whole fruit, and nothing else. Adults and kids alike will love each of the sweet flavors like Mango & Orange and Mango & Guava.
By gently and slowly drying their fruit in their own processing facilities, the tasting experience is that of biting into a fresh fruit in aroma, taste, and texture, without all the added sugars and preservatives most gummies on the market contain.
Raisins
Raisins, you say? For an allergy-free snack? Umm, yes way! Whether you're creating a batch of fall-flavored handcrafted trail mix or whipping up some fabulous fall appetizers, Sun-Maid raisins are the perfect snack for an allergy-free fall.
If you think raisins are basic and boring, think again. Check out some of these fall-inspired raisin recipes:
Fall and food allergies can still play nicely together in the sandbox as long as you do some brand research first — and we've started that research for you. (You're most welcome). Now, go forth and enjoy an allergy-free fall with these allergy-free snacks. Oh, and happy fall y'all!