4 Skincare Ingredients That Are Perfect for Fall
The changing of the seasons means a change in foods, skincare, and wardrobe. That's right people, skincare has seasons too. If you're looking for some fall skincare tips, then look no further than your very own kitchen. 
Whether you love apples, cinnamon, or pumpkins, these all have a place in your fall skincare routine. Who knew some of your favorite fall flavors and foods could double up as fall skincare ingredients to give you dewy, glowing, and radiant fall skin? Here are skincare ingredients perfect for fall.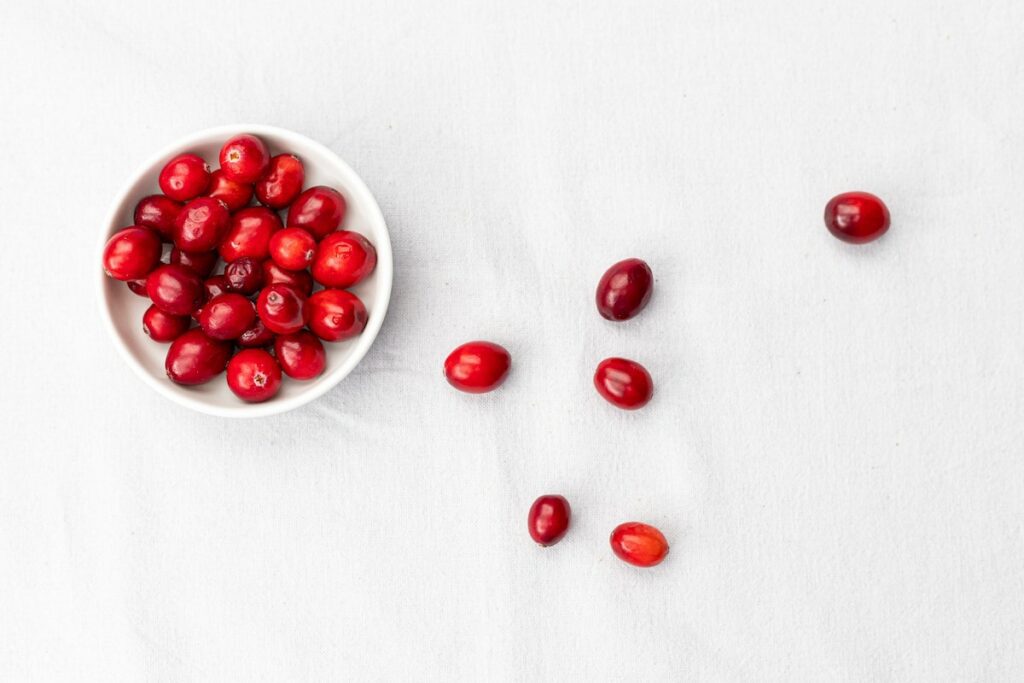 Fall skincare ingredients
Cranberries
Cranberries are a food naturally rich in vitamin C, which is essential for collagen production and skin elasticity, says Cory Gaskins, MD, dermatologist and resident medical expert at SkinCV.com. Cranberries are also packed with antioxidants, which help protect the skin from damage caused by free radicals.
Oats
Kathryn McDavid, founder and CEO of Editor's Pick, licensed cosmetologist, and registered esthetician, says one of your favorite breakfast staples may be one of the best fall skincare ingredients — oats.
"Super nourishing and anti-inflammatory, oats and oat oil have been used to calm irritated skin for ages," shares McDavid. "This tiny grain is brimming with amino acids, antioxidants, calcium, and vitamins B and E, all of which support the greatest organ in your body, your skin."

McDavid explains that oatmeal powder can be used as an exfoliator to remove dead skin cells, debris, and oil. Oatmeal may also be used for cleansing, irritation reduction, and moisturizing. "Typically, doctors advise patients to use colloidal oatmeal on their skin as this powder has been finely ground," notes McDavid.
Pumpkin
Another fall skincare ingredient, which is basically the unofficial flavor of fall, is pumpkin. "Pumpkin is good for acne-prone and oily skin types as it helps to regulate sebum production," says Gaskins. "The antioxidant and anti-inflammatory properties of pumpkin make it ideal for preventing and treating damage caused by free radicals and environmental stressors."
Pumpkin also has antibacterial and wound-healing properties, making it an excellent choice for those with sensitive skin. 
McDavid explains that pumpkin enzymes contain alpha-hydroxy acids (AHAs), which promote mild exfoliation of the skin. Pumpkin also has the antioxidant vitamin C, which brightens and tones the skin, vitamin A, which promotes collagen development, and zinc, which can balance oil and lessens acne. 
"Since pumpkin enzymes gently exfoliate the skin without causing irritation or harm, exfoliating masks and scrubs are where you will typically find them," says McDavid.
Rosehips
Rosehips may not be something you think of for fall skin, but McDavid explains that since rosehips are best gathered and consumed after the first frost, they're another autumn staple.

"Rosehip berries can be used in jams, jellies, and pies, but rosehip oil is a superhero, particularly for the face," McDavid explains. "The nourishing rosehip will soothe hyperactive skin and encourage the creation of healthy new skin cells in addition to being used to lighten age spots and treat hyperpigmentation. We adore it in our skincare because of this."
Where exactly do you find rosehips? Luckily for you, all different kinds of skincare treatments, from lotions to serums, contain rosehip oil. McDavid says you can apply rosehip oil in the morning and the evening. The most common uses for this oil are to add it to your favorite moisturizer or apply it directly to the skin.
When hitting the community farmers' market for your favorite fall ingredients, keep in mind many of these foods can duplicate as fall skincare ingredients to give you the most fabulous fall skin this season. Fall skincare tips? You're welcome!