Why You Should Work Out Barefoot More Often
One of the best feelings after a long day is stripping off your shoes, whether those are six-inch heels or tightly laced tennis shoes. There's a reason people love sticking their toes in the sand on the beach or getting their feet rubbed during a pedicure — our feet are not meant to be bound up all the time.
"Your feet are platforms upon which to spread the stresses of standing and moving," says Debbie Rosas, founder and co-creator of Nia, the original pioneer of mind-body fusion barefoot fitness. "To be steady and reliable, they must be pliable, strong, resilient. Shoes box them in, constrict their circulation and hinder the mobility of their joints, the full strengthening of their muscles."
It turns out that working out barefoot, in particular, can have some serious benefits for your feet. Keep reading to learn more, with tips on incorporating barefoot workouts into your fitness routine.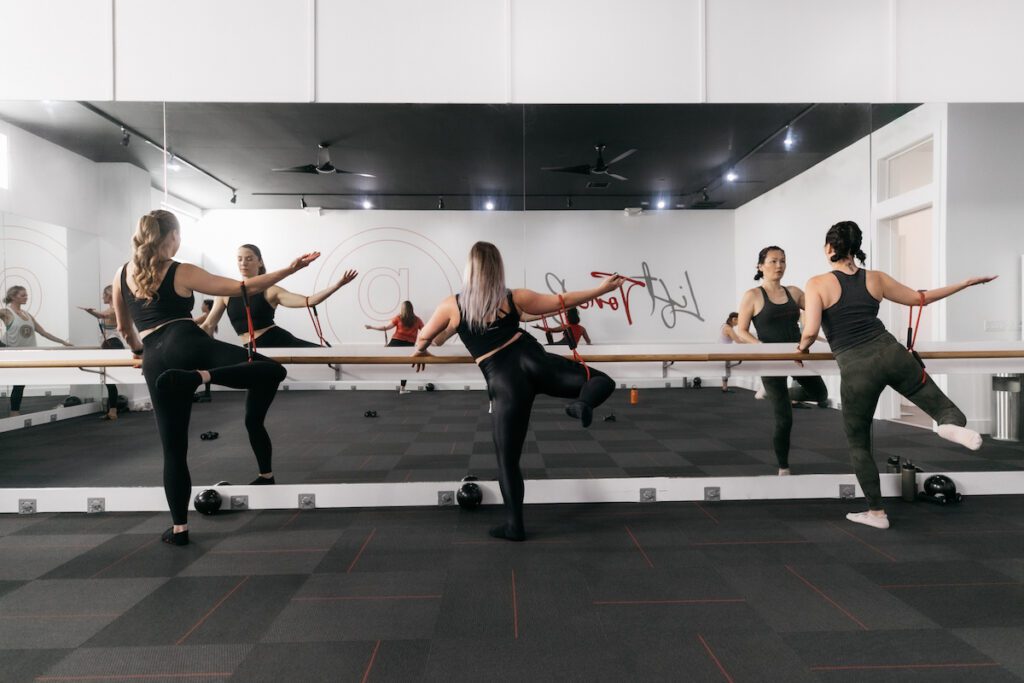 The benefits of working out barefoot
Unfortunately, many people spend most of their days constricting their feet in shoes, working from 9 to 5, then hitting the gym and possibly grabbing dinner or drinks with friends afterward.
While taking the subway and walking around downtown with bare feet may not be a hygienic option, you could incorporate more shoeless workouts into your schedule to stretch, strengthen, and soothe your feet.
"The direct contact of flesh with the floor allows your feet to give you a spontaneous, accurate readout on the efficiency and safety of the way you're moving," says Rosas.
What Rosas is describing is proprioception — or awareness of your body's position and movements. Improved proprioception can help prevent workout-related injuries like shin splints and stress fractures.
"The moment you feel tension in your feet, you can be sure something is amiss with your carriage," she adds. "By keeping your weight evenly spread across the entire surface of your feet, you'll protect your ankles and knees and free up your toes to do their best job of monitoring the safe distribution of your weight."
Along with improved proprioception, Danielle Cote, director of training operations for Pure Barre, explains that barefoot workouts can offer more opportunities to challenge your stability, balance, and control.
So, which workouts can be done barefoot?
The answer is pretty much all of them, but you must take equipment and your environment into consideration.
First off, think about what type of equipment you'll be using. Shoes are recommended when exercising on a treadmill, spin bike, rower, elliptical, or any form of high-intensity cardio equipment. In the weight room, shoes can protect your feet from falling weights.
When it comes to the environment, you may want to avoid running or jogging outside without shoes due to uneven surfaces, sharp objects, and the temperature. However, most other outdoor workouts are probably safe to do barefoot if you're on even ground and the weather isn't overly hot or cold.
Cote also warns of performing higher impact exercises if your feet are accustomed to the arch support and protection that shoes would provide. If you're just starting to add more barefoot workouts to your routine, it's best to begin with movements that are gentler and low impact.
"The key to monitoring a safe barefoot workout is to get to know your feet and learn to stay within your sensory comfort zone," says Rosas. "Begin to develop a relationship with gravity, the skin, bones, joints, and muscles of your feet, and the floor underneath you."
With that in mind, below are some of the best barefoot workouts to start incorporating into your fitness routine a few times a week:
Yoga
The ancient mind-body practice of yoga is best done without shoes. Plus, you don't have to worry about the cleanliness of the floor if you're using your own mat.
With many styles of yoga to choose from including restorative and power-focused classes, you can challenge your balance, flexibility, and muscular endurance and strengthen your mind-body connection.
Barre
Incorporating elements of ballet, yoga, and Pilates, barre is a great form of exercise to perform without shoes. Each section of a barre class (i.e., arms, core, legs, and seat) involves small, targeted movements using light weights and resistance to strengthen and tone your physique.
Barre is proof that you don't need expensive training shoes and the high-impact repetitions of a HIIT class to feel the burn. After each section of a barre workout, you'll be sweating and your muscles will be completely fatigued.
"The floors in our studios were chosen to best accommodate our technique and what exercises are included in each of our class formats," says Cote about the offerings at Pure Barre specifically.
Pilates
Whether you're doing mat or reformer Pilates, shoes aren't part of the equation. (However, on the reformer, you'll need to wear a pair of grip socks to avoid slipping.)
"Pilates is a system of exercises designed to strengthen, lengthen, and balance out the body while also being gentle on the joints and muscles," Jessica Roberts, an instructor for Club Pilates, told aSweatLife earlier this year.
A few major benefits of the practice are improved core strength and stability and better alignment of the body, aided by the direct connection of your feet with the floor and equipment.
No wonder the practice, which was founded over 100 years ago, is having a moment lately and is loved by celebrities like Normani, Miley Cyrus, and Harry Styles.
Strength training
While it isn't recommended to enter the weight room without shoes, you can perform all kinds of strength training exercises with bare feet at home or outside, perhaps in your yard or the park.
Squats, lunges, single-leg deadlifts, pushups, crunches, etc. — the possibilities are endless, and the benefits are equal to, if not more than what you can achieve with shoes on. Be sure to consult with a trainer to determine what moves are best and safest for you.
Photo courtesy of Pure Barre