I Struggled With My Asian American Identity As A Child – Here's How I Embrace It Now
Hello aSweatLife!
My name is Emily Yao! I am a newbie to the community (joined last Summer), and am honored to be guest writing aSweatLife. A few fun facts about me: I am a Harry Potter and Disney nerd. I love to read mystery novels. My favorite workouts include dancing, running, lifting, and HIIT cardio. And, I just adopted two new kitties: Harvey and Duck. Any tips on kittens are very welcome!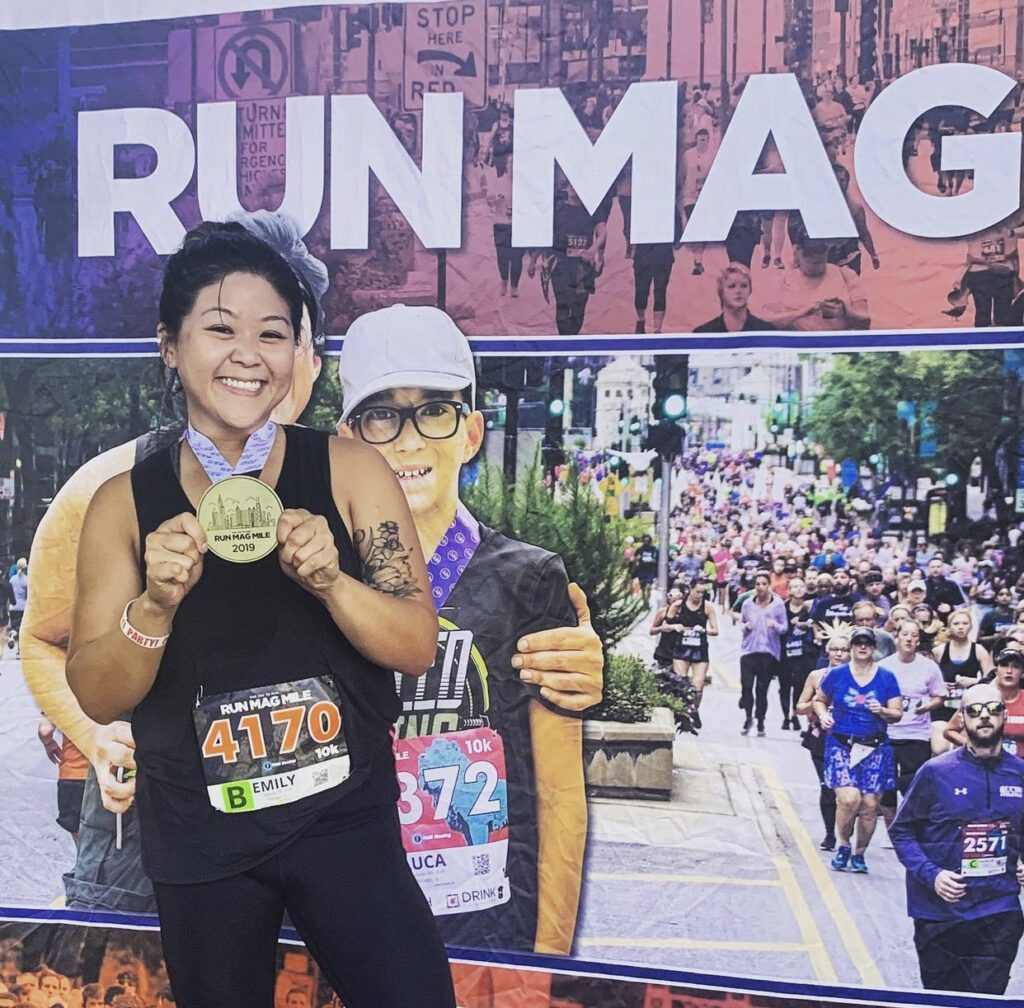 May is AAPI month, which stands for Asian American Pacific Islander Heritage Month. This recognition pays tribute to the generations of Asian and Pacific Islanders who have enriched American's history, and are instrumental in its future success. Asian Pacific encompasses all of the Asian Continent, and the Pacific Islands of Melanesia, Micronesia and Polynesia. We celebrate in May to commemorate the arrival of the first Japanese immigrants to the US on May 7, 1843 and to mark the anniversary of the completion of the transcontinental railroad on May 10, 1869. Chinese immigrants were a majority of, and critical, workers who laid those railroad tracks. 
My journey with embracing my Asian American identity
So, why is this month important to me? To be completely frank, I struggled with my identity growing up and still struggle today. I feel like my whole life has been a juxtaposition of trying to fit in while also being proud of my heritage. My parents are immigrants from the Philippines and Taiwan, so being a first generation American, I was left to figure out how to meld both cultures together, and do it well. As you can imagine, it's hard when you feel like two sides of you are being ripped at the seams to feel included from either culture. 
I wasn't Chinese or Asian enough to be accepted into Asian communities: I was no longer fluent in Mandarin, I don't know how to wrap dumplings or cook traditional meals, I am "too tan" to be Chinese, and I have a double eyelid fold (which is where you can see part of my eyelid when my eye is open, a sought after look but isn't prevalent in Asian eyes).
However, in America, I wasn't accepted because I was "exotic," or made fun of because people thought my lunch smelled funny. I had to be good at math, and it was expected that I would be complicit in all requests simply because I was Asian. Most people didn't think I actually spoke any English, so to combat that, I adopted a very American accent and forced Mandarin out of my head. Looking back, I wanted to change everything about me to fit into America. I dreamed of being a blonde haired, white girl for most of my youth – because they fit in so easily, and were adored.
Now, in my 30's, I am a bit mad at myself for not honoring my Asian culture more. I allowed the American culture to shape me into someone who was no longer proud of my heritage. I wish that I allowed all the things that I was ashamed of growing up, to still be a part of me. Language, food, culture. Only in the past 5 years have I allowed more of the Chinese culture to reintegrate into my life and daily habits.
So this month, being about our heritage, shows me that people are starting to pay attention to the true details of Asian culture, and traditions. Society is curious and wants to perhaps change what tropes pre-exist today. This brings me to three topics of conversation worth having during AAPI Month:
1. Look at the media you're watching
Ask yourself: do you see any AAPI representation? If yes, great – but what role or stereotypes are they perpetuating? Asians are still misrepresented in the media, usually only in Kung Fu or Karate type roles, or in roles that are overly characterized as weird, quiet, evil, conniving, or super smart. Why can't an Asian just play a person who has flexibility to be whatever they want to be? Or why does a typically Caucasian person play a role written for an Asian? Let's talk about it.
Examples of strong mis-representations: Breakfast at Tiffany's, Old Bugs Bunny Cartoons, Ghost in the Shell, The Hangover, Freaky Friday with Lindsay Lohan.
Examples of changing the future: Joy Luck Club, Crazy Rich Asians, To all the Boys I've Loved Before, The Farewell, The Half of It.
2. Hate crimes
In 2020, hate crimes targeting Asian people increased by almost 150 percent according to an analysis done by California State University, San Bernardino. Did you know you can anonymously and safely report incidents that you have experienced or you have seen someone experience? StopAAPIHate.org not only allows you to log targeted hate crimes, but is also a resource for individuals who have experiences any kind of anti-Asian or Anti-AAPI hate.
I believe that COVID-19 was described with racist and ethnic rhetoric that assigned blame to a country and an ethnic group, and by extension to all Chinese Americans and all Asian Americans. Things like "China Virus," "Kung Flu," and "Chinese Virus" lead us to recreate our past. In 1871, the largest mass lynchings in American history took place in LA against Chinese people. Did you know that in 1882, there was a Chinese Exclusion Act? Chinese immigrants were banned from the US for 10 years, and it was the first time a federal law proscribed entry of an ethnic working group. Chinese-Americans were vilified as dirty, filthy, immoral, vectors of disease and sickness and Chinese women in particular were assumed to be lewd prostitutes and carriers of venereal disease.
These pre-existing ideals have perpetuated their way down generations, changing slightly but overall keeping the same ideal that Asians are "other."
3. Being an ally
There need to be resources directed specifically to Asian community organizations that are working, boots-on-the-ground, to report crimes and provide victim assistance. We need to see more Asian American representation in higher and highest levels of Government. There needs to be more Asian Americans seen in the media. We need to talk about the history and how we can change it for the future. How can you help?
Overall, we still have a lot of work to do together and can support each other throughout this process. I have a few more suggestions on local restaurants to try, and virtual tours to view, and documentaries to soak in. Feel free to reach out to talk about any of the above!