Meet the Founder of the Chicago Meat Collective
Butchery is often associated with gruff-looking dudes sporting blood-stained aprons with meat cleavers in their hands looking like they could star in some gangster mob movie. Scratch everything you think you know about butchers and butchery and meet one of Chicago's female butchers and founder of the Chicago Meat Collective, McCullough Kelly-Willis.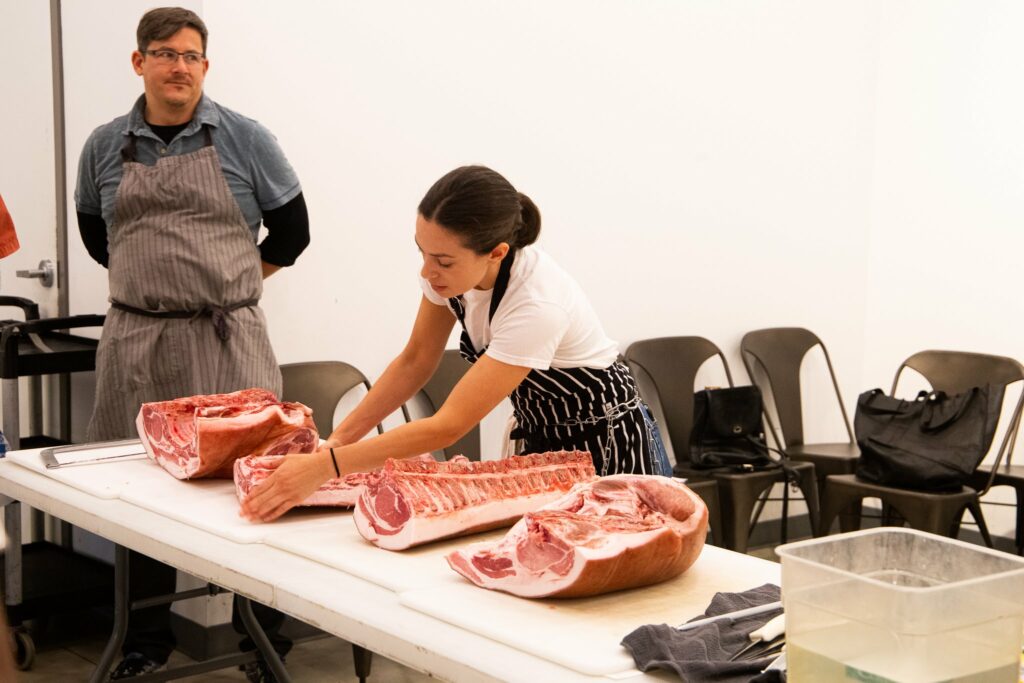 First of all, what exactly is a meat collective?
Kelly-Willis: A Meat Collective is a one-of-a-kind meat community resource and school that offers hands-on classes to consumers in whole-animal butchery, charcuterie, and cookery. For each Meat Collective class, local farmers sell whole animals to students. In turn, students learn how to transform a whole animal carcass into food and delicious meals.
In a meat collective, farmers get to sell directly to consumers who support humane and sustainable farming practices. Butchers and chefs get to share their craft, while students get to go home with a lot of high-quality fair meat that they butchered themselves and an increase in rare knowledge. The result? A growing community of informed omnivores who are inspired to eat meat more responsibly and to support a more responsible meat production system.
How did you decide you wanted to become a professional butcher?
Kelly-Willis: I grew up on the East coast in New York City and spent roughly the first 12 years of my life there. Food was a huge part of my life growing up in my family. Around my formative years, probably ages 10-12, I started to develop a passion for food.
I then spent my college years out in the Pacific Northwest in Portland Oregon where I attended Reed College. There, my passion for food further developed, especially having access to the Portland foodie scene. It was there that I was first exposed to whole animal butchery and the concept of sustainable meat.
On a whim, I signed up for a basic pig butchery workshop through the Portland Meat Collective. It was right then and there that I was hooked. I decided to pivot from entertaining a potential Ph.D. in French Literature to butchery.
Wow, that is quite the pivot. What did you do next?
Kelly-Willis: In the summer of 2013, I had the opportunity to move from Portland to the Midwest. I landed in Chicago where I decided to continue learning about whole animal butchery. This led to a six-month internship at The Butcher & Larder. After my internship, I was lucky enough to join the team full time so I could continue honing my butchery skills while learning about the wide world of charcuterie. (Yum!)
Tell us more about the Chicago Meat Collective.
Kelly-Willis: I founded the Chicago Meat Collective in 2018 where we started off teaching classes. Once the pandemic hit, like everyone else in this world, we had to make a shift. That is when we decided to start whole animal shares where our community members could get a mix of cuts at lower prices. Similar to Butcher Box except without the door-to-door delivery and more localized meats from community farms. This change allowed our community to support our female-founded company, local farmers, and sustainable farming practices. Now, we have extended our meat shares to local Chicago farmers markets and even offer private classes.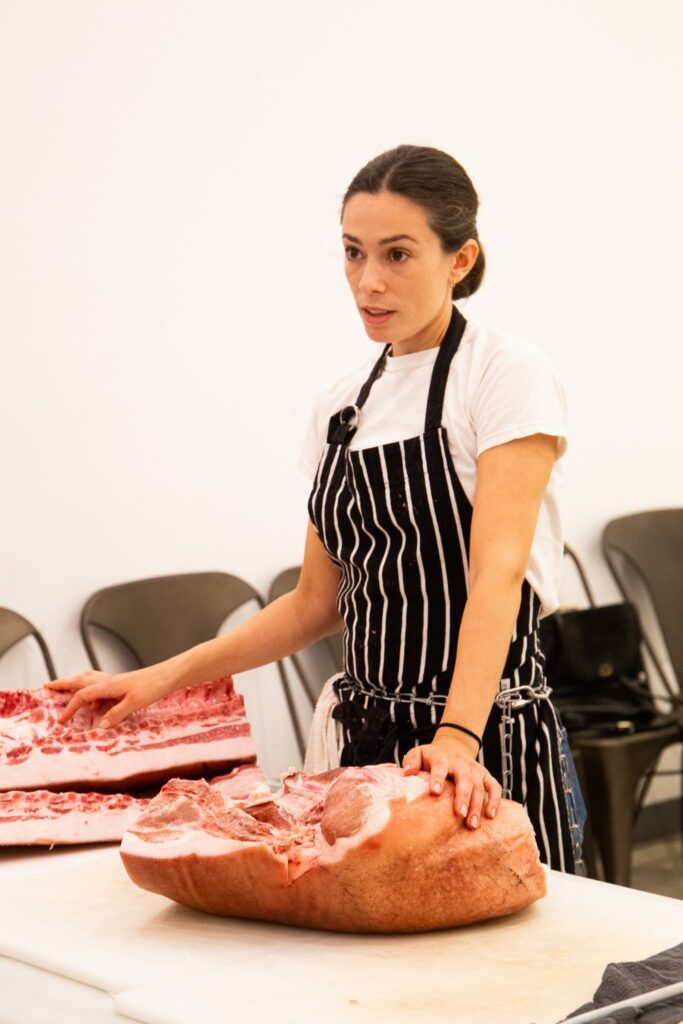 Was it intimidating to enter the field of butchery?
Kelly-Willis: It is a misconception, but butchery is not as macho as many people think. It requires a lot of attention to detail, finesse, skills, and the right tools. I definitely entered the industry with the mindset of "I am here to learn, but don't underestimate me." I was lucky enough to work with great men and women. It's important to have other women who have been in the field to look up to for mentorship and sisterhood. It is important to get more women and women of color in the industry.
What do you love most about being a butcher?
Kelly-Willis: Getting to work with farmers is a privilege. I love connecting people with high-quality meat. I really encourage people to try a hands-on class where they can really feel the difference in their meat. Touch is really important. You can physically feel the difference between a sustainably raised piece of meat versus a piece of factory-raised chicken purchased from the store.
Do you have any advice for someone interested in learning more about whole animal butchery?
Kelly-Willis: Go for it. Anyone can do this no matter their cooking experience, gender, or stature. Butchery is an incredibly empowering experience. Whether you purchase a whole chicken and watch one of the many YouTube videos on how to break down an entire chicken or you decide to sign up for one of our classes, you can find something to gain from learning more about butchery.
Also, the point of learning about whole animal butchery is not just so you can say, "Hey I can break down a whole beef!" It is learning how to source meat better. It is understanding how to bone out a chicken breast, or just how much salt you really need to use when you are cooking meat. These bite-sized pieces of information will help you be a better cook and a more conscious meat consumer.
Finally, you do not need a smoker in your backyard with a Weber grill and a whole pork shoulder to learn how to butcher a whole animal. You can start wherever you are on the culinary totem pole.
Learn more about the Chicago Meat Collective.