How INFKNIT is Changing the Fashion Game
The fast-fashion world and the sustainable fashion industry seem to be gaining steam simultaneously. In August 2018, while on a Michigan State study abroad analyzing business sustainability and entrepreneurship in Costa Rica, Jackie Smythe and Olivia Miller chose to embrace the latter with their business: INFKNIT.
Building the INFKNIT brand
While in Costa Rica, the girls dreamt up a fashion concept that embraced sustainability—from the production to the shipping to the street. Originally designed to satisfy their class's final project, Smythe and Miller were encouraged by their professors to make INFKNIT a reality.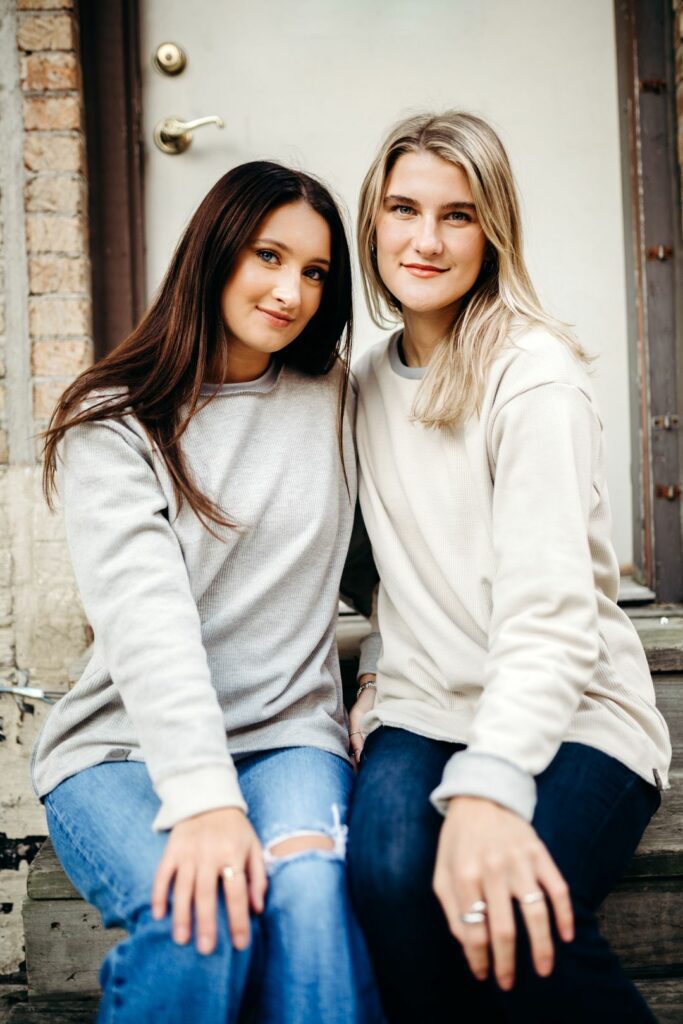 After developing INFKNIT at Hatch, MSU's on-campus business incubator, for six months, Smythe began working with a manufacturer, Josh York, from Soft Goods Detroit. She designed with York and created prototypes for INFKNIT's first staples including the No. 1 Dress, Back2Back, and Jack of all Trades.
In October 2019, the Kickstarter campaign was launched and raised $10,000 ($3,000 over their target amount). All of this was being done while the girls were enrolled and taking classes at MSU—impressive.
"My biggest accomplishment in regards to INFKNIT was running a successful Kickstarter campaign," Smythe said. "Around 70 percent of Kickstarter's fail, so running a successful campaign was a huge deal."
Eyes on the prize
Navigating academics with life is a challenge alone in college; however, building and managing a business on the side further complicates the work-life balance. For Smythe, she's found the name of the game to be sacrifices. Since working on INFKNIT, she's realized this harsh reality by skipping out on social events for extra sleep and procrastinating assignments when a customer needs help.
"In complete honesty, I tend to prioritize my business over anything else," Smythe said. "There have been times I've had to miss class for something business related, and not all professors are understanding. This is just the reality of owning a business as a student, you have to make sacrifices."
All of her work has certainly paid off since INFKNIT continues to grow. Smythe and Miller, as young entrepreneurs, take pride in the values and mission of their company. INFKNIT promotes sustainability, transparency, and ethics while being owned, designed, and managed by women.
"The reality is, women are few and far between in the world of entrepreneurship," Smythe said. "Over 70 percent of businesses are owned by men, so for Olivia and I, being women owned is huge."
The mission
INFKNIT products not only use sustainable fabrics and manufacturing methods—like being hand cut and sewn—but are also versatile enough to minimize the average closet's needs.
This aspect of INFKNIT was developed while Smythe and Miller were in Costa Rica and struggling to find multifaceted and stylish apparel that fit in their suitcases. After identifying this need, Smythe got to work in developing INFKNIT's unique style: travel chic.
"My goal as a designer is to solve this problem by creating reversible, wrinkle free
products with pockets and various design features to make them as travel friendly as possible," Smythe said. "Our products are completely reversible and offer functional features intended to maximize small spaces."
Their website offers an extensive sustainability section that illustrates the procedures that INFKNIT uses to ensure their products satisfy their mission. TENCEL™ Lyocell is a fabric made from raw material wood, responsibly grown organic cotton, and cotton deadstock—leftover fabric from previous production. This sustainable fabric is used to limit the environmental impact of INFKNIT. Furthermore, packaging for shipped goods are made from recycled materials.
To fulfil their versatility goals, INFKNIT offers apparel that can be worn from professional settings, to a dinner date, to sleep. "The Lightweight Set," "The Day to Night Set," and "The Thermal Set" are their primary products to help shoppers find the pieces their closet needs.
The industry meets the industrious
INFKNIT's journey isn't over. Smythe says that she's most proud of running a sustainable business that never settles and instead, innovates. Her and Miller's dedication to their mission, and dedication to making a positive impact on fashion and the environment has led to significant success. It is also catching the attention of the fashion world, including British Vogue.
"[A] big accomplishment is our upcoming feature in British Vogue. British Vogue reached out to us this summer which is still so surreal," Smythe said. "I'm a huge Vogue reader so it honestly felt like a dream come true."
The statement: "INFKNIT ways. INFKNIT impact" is displayed on their website and truly reveals what keeps Smythe and Miller motivated. As a relatable source to many young entrepreneurs, Smythe offers advice to those with big dreams.
"Playing it safe will not lead to some large pay off in the future, nor will it promote personal happiness. Now is the time to take a risk," Smythe said. "If things don't work out, you always have the ability to climb back into the safety net of a secure job but at least you can say you tried."
As Smythe and Miller continue to grow INFKNIT, they are determined to keep it an enjoyable experience. They want to challenge the predisposition that there will be a payoff for a job dreaded. Focusing on their mission and balance has helped them keep their products sustainable, while maintaining a sustainable lifestyle as well—one where doing what you love prevents you from burning out.
"You only get one life, spend it doing something you love," Smythe said. "Your passion has the ability to change the world."
Our INFKNIT picks
This dress will be your new best friend while traveling. It can be dressed up or down to fit any occasion while offering you a black and grey option—see what they did there?
These joggers change the game when it comes to sweats. They come in two color combinations: natural with light grey and black with olive. You seriously won't regret picking these up!
The short sleeve crop is a key style in INFKNIT's Day to Night collection. Its high neckline paired with comfort makes it perfect for a morning run or under a blazer at a meeting.