5 Size-Inclusive Swimwear Retailers for Summer
It's that time of year again! Summer is almost here and no matter what size you wear, swimsuit shopping is probably one of the least fun parts of the season.
While we look forward to the day where women of all sizes have access to similar options, this isn't always the case when it comes to swimwear. Still, everyone deserves to feel and look good in a bathing suit, and some brands are doing it right, offering the same or very similar swimsuits for a range of sizes and body types. Here are five size-inclusive swimwear retailers that are leading the way, along with our favorite swimsuit picks from each one.
Trina Turk
Trina Turk is one of my favorite places to shop for swimwear. This brand has high-quality one and two pieces as well as coverups with cheerful, vibrant colors. The quality of these pieces is reflected in the slightly higher price point. It is also important to note that while the plus-size options aren't exactly sparse, it would be great if they offered even more selection in this category.
Our pick:
Sunrise Stripe is available in one-piece and two-piece styles as well as a caftan. While the regular and plus size suits aren't exactly the same cut, they're equally cute.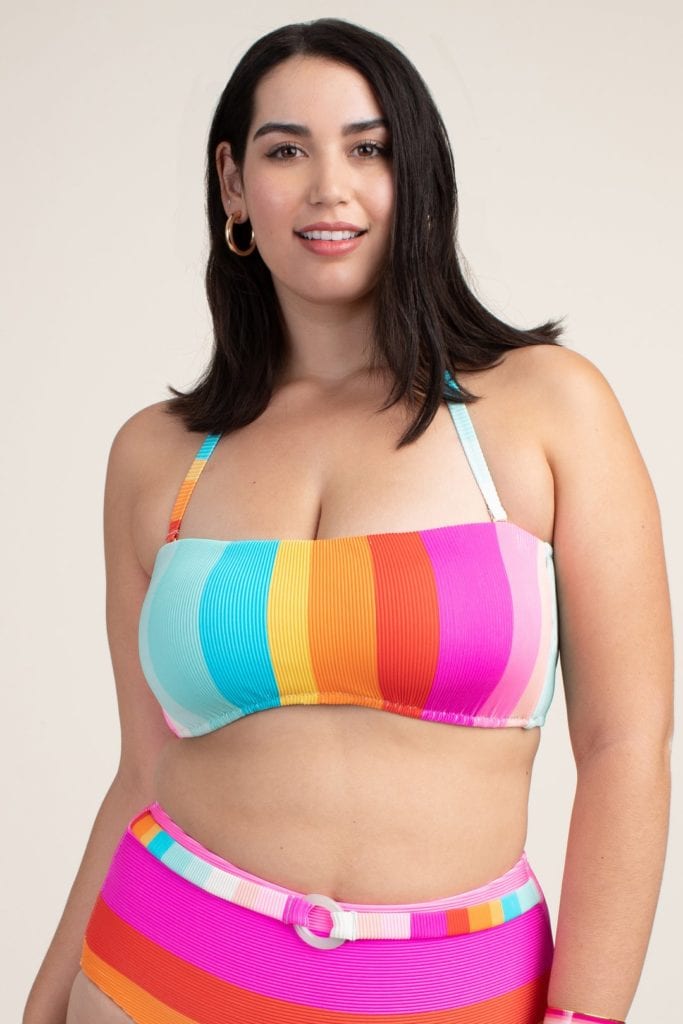 Summersalt
Summersalt is a great size inclusive swimwear line with clothing and loungewear as well as swimwear. With solids, prints, and the brand's signature colorblock designs, there's a nice variety with something for everyone, including rashguards and maternity. No matter what you go with, all the suits are flattering and wearable. While it varies with each suit, sizes 0-24 are available.
Our pick:
The brand's collaboration with The Home Edit (yes, that The Home Edit) has several options but The Ruched Sidestroke in Small Scatter Stars in Deep Sea really stands out. It has a trendy one-shoulder cut that's comfortable and sexy without showing off too much skin. Plus, it's still comfortable. It's made in sizes 2-22.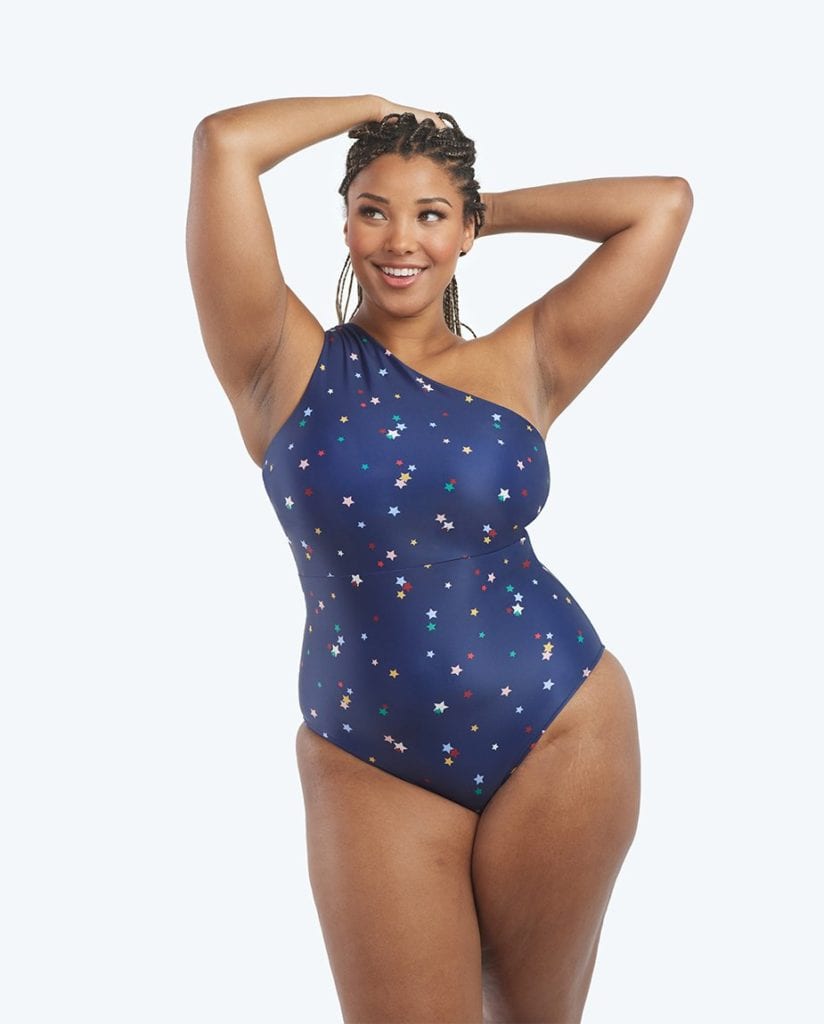 Modcloth
If you like fun, trendy prints, and retro looks, you will love Modcloth. They have a generous yet curated selection of great bikinis, one-pieces, and suits that are somewhere in between.
The best thing about shopping the site is that there are very specific sorting options including length (long, midlength, and short), as well as trending by decade from 40's-90's, colorblocking, critters, and other design choices. Modcloth has a vibe that doesn't take itself too seriously.
Our pick:
The Joanna One-Piece Swimsuit is a one-piece that almost looks like a bikini, but with just a bit more coverage. The lobster print is fun and perfect for the pool or beach. It's made in sizes XS-3X.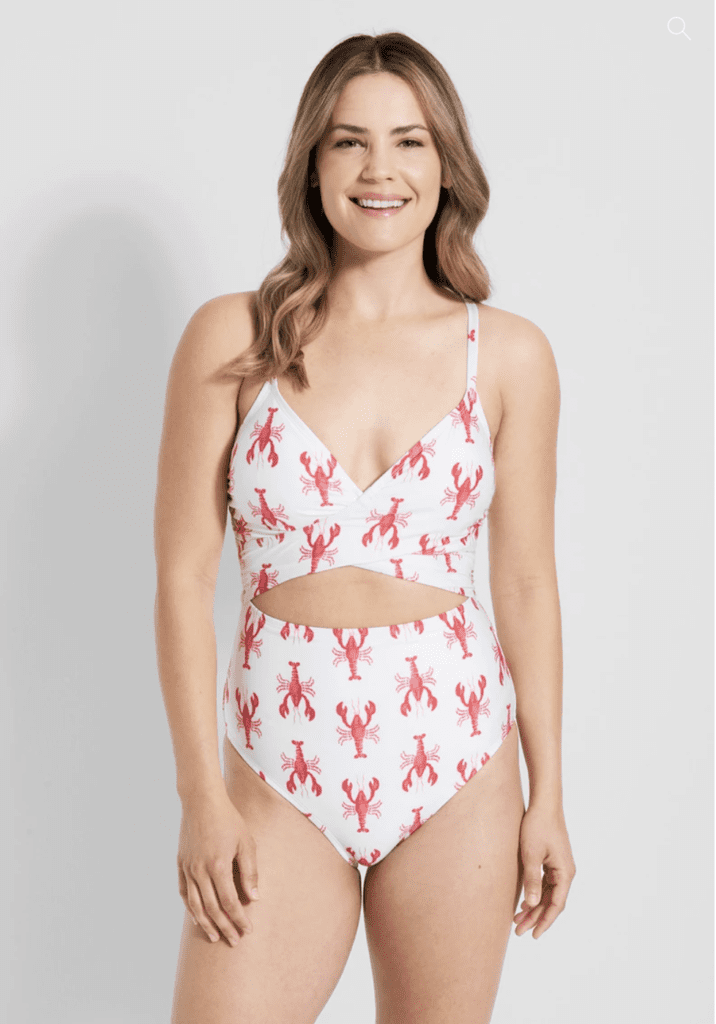 Amazon
Buy swimwear, sunscreen and lube all in one place. But seriously, Amazon is one of the best places to buy a bathing suit (and just about anything else you need). The return policy makes it possible to try on a lot at once, in the privacy of your own home, and quickly return what doesn't work.
While Amazon has lots of different size inclusive swimwear brands and sizes, I've been really impressed with what Cupshe has to offer. This is also one of the most affordable swimwear lines out there. I recently ordered several of their suits and the quality is much better than the price would have you believe.
Our Pick:
The One Piece Swimsuit V Neck Tummy Control Cross Back and Women's Black White Gingham Ruched Plus Size One Piece Swimsuit are virtually the same thing. Fun and sexy looking, it would be great if Cupshe offered more colors for the plus-size option. But either way, it's a good deal.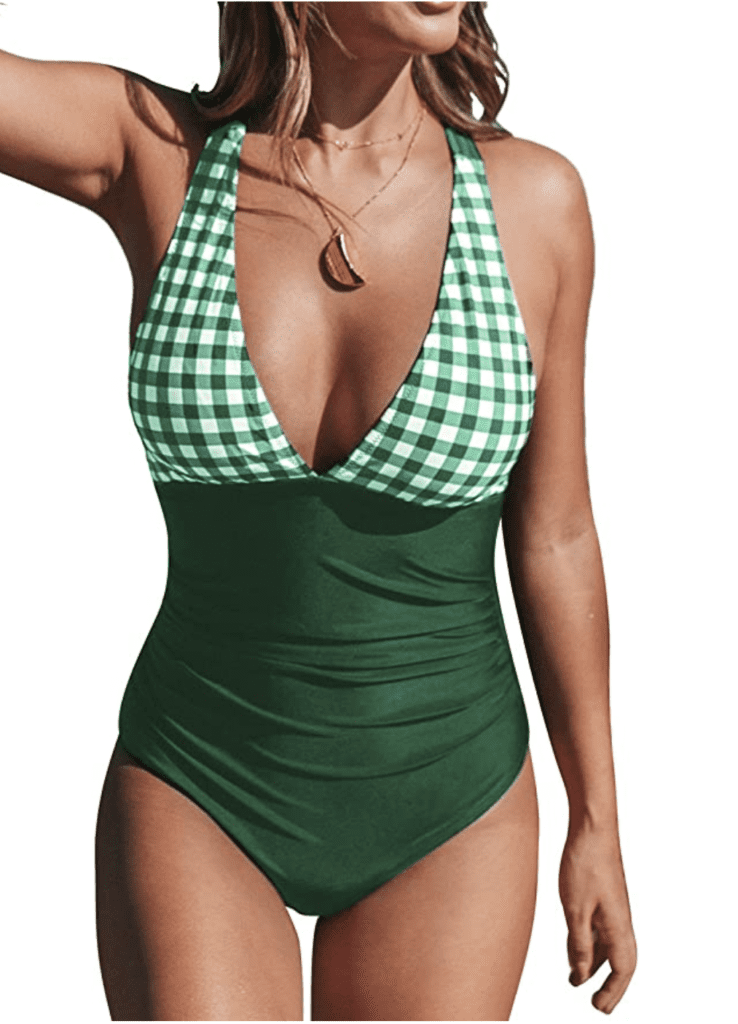 ASOS
If you need a large selection of swimwear in order to make a decision, ASOS surely will not disappoint. Fortunately, the website also has lots of filter and sorting options, so you can find exactly what you want including Plus Size, Petite, Main Collection, Fuller Bust, Maternity, etc. So, it's as easy as possible to get the right fit. There are lots of different styles including bandeau, plunge, underwire, and high-waisted fits. No matter what you have in mind, there is a very good chance you will find it at ASOS.
Our pick:
This fabulous polka dot bikini is made in both regular and plus sizes. In addition to being super cute, you get to choose the top and bottom sizes separately to get the best fit for your body.