AKT Is Finally Opening A Studio In Los Angeles—Here's Why That Matters Now
Opening up a fitness studio in the middle of a pandemic isn't easy, especially when it has been a long time coming. This is especially true for AKT, which is finally opening up its first location in the bustling West Hollywood neighborhood, with plans for additional outposts in Downtown Los Angeles, West Los Angeles, and Culver City.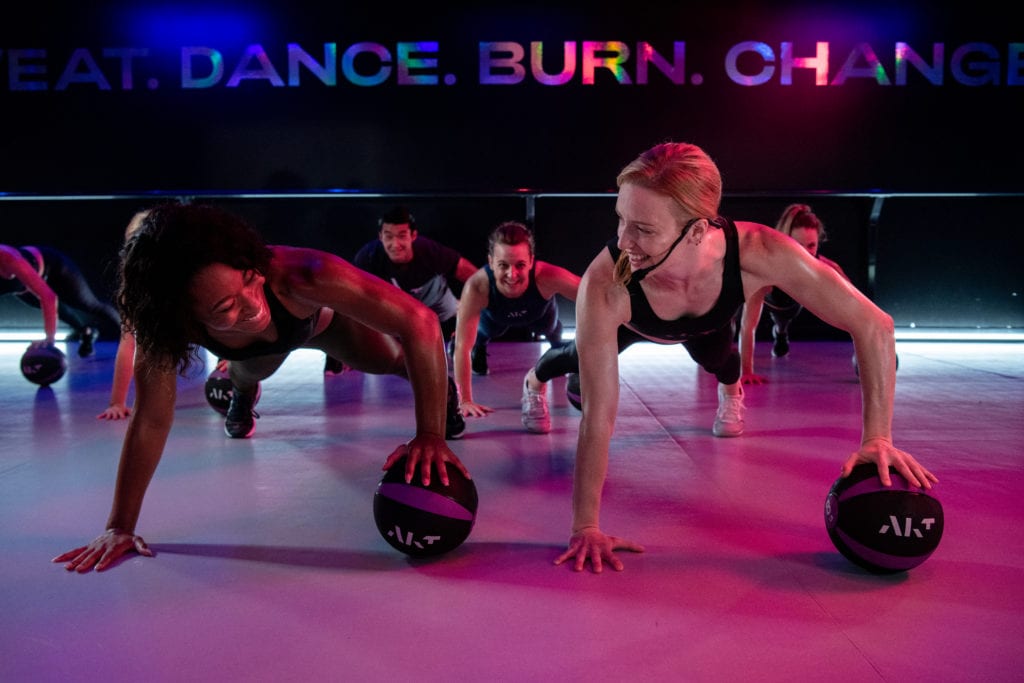 This is very exciting because while the studio has been ready to go for several months, California has been one of the most restrictive states for allowing gyms and studios to operate indoors during COVID. Governor Newsom finally gave the okay in March with some restrictions including required masks.
"A few weeks before the initial shutdown in March 2020, AKT hosted a pop-up at the Platform in Culver City, the AKT WeHo staff, trainers, members, and fans of the brand all attended for a free dance party and brand launch! We had over 200 people attend that night, and that solidified our initial desires and plans to open in LA that Spring," AKT's Chief Marketing Officer, Tori Johnston, tells me. Unfortunately, due to the shutdowns, construction came to a halt.
This isn't the first time AKT has tried to open up in Los Angeles. Several years ago, there were two pop-ups in Hollywood and Westwood located in dance studios. (Full disclosure: I was a brand ambassador for AKT at the time.) While the workouts were top-notch, the studios weren't quite as luxurious as the other options available at the time. However, all things considered, it did well.
"It took time to find the right franchise partners and a few COVID delays, but we are well on our way to a large expansion in the LA Market, beginning with the WeHo Studio," says Johnston.
In 2018, AKT was acquired by Xponential Fitness and has been expanding rapidly ever since. There are more than 20 franchise locations open and over 100 franchise licenses sold. Some of these locations include Orange County (which was the closest location to Los Angeles until now), Seattle, Denver, Detroit, Raleigh, Dallas, Long Island, Cincinnati, Columbus, Atlanta, New Jersey, Phoenix, and Charlottesville.
The new digs
AKT's West Hollywood studio is fresh, new, and spacious. At 2600 square feet total, the main studio has enough room for 25 people. It's a vibrant, fun space complete with a disco ball. Much like spin classes, AKT's studios are dimly lit. This creates a feeling of intimacy and being away from the outside world, which really ups the ante in terms of "me time."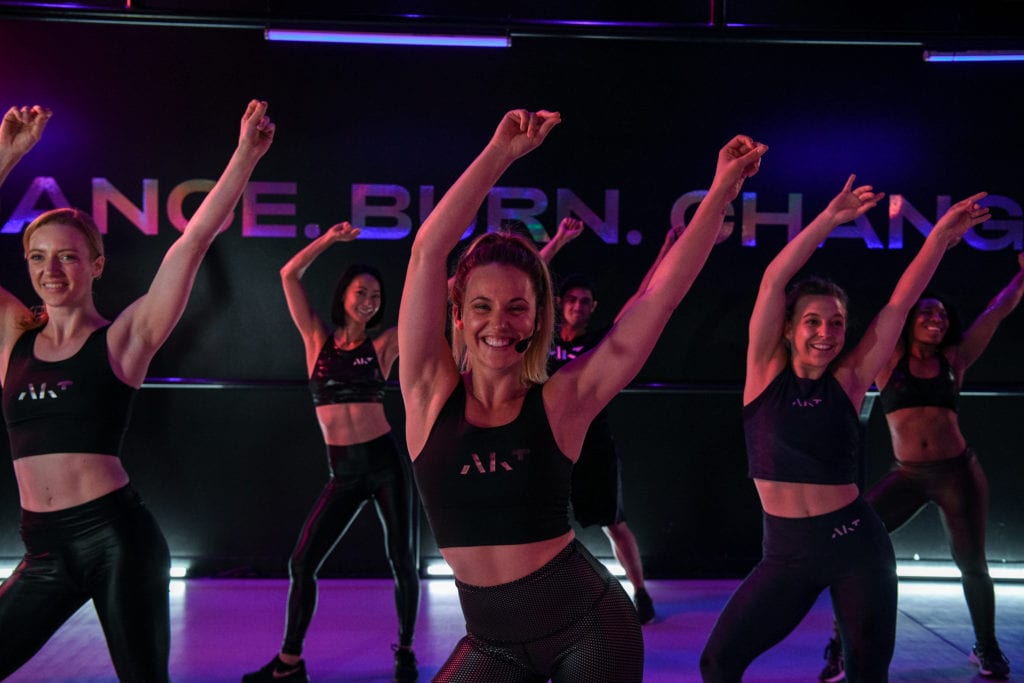 In addition to the main studio, there's an additional studio for small groups of up to five or private sessions. This will probably get lots of interest because some people may still be somewhat cautious of larger groups right now.
"This studio was always designed to have a private training room in addition to the main studio space for group classes, but we didn't know the need for small groups and private training would become so apparent during the pandemic. We want AKT clients to be able to work out however they are most comfortable and for many people, private training is a great option as they're entering back into their fitness routine post-COVID," says Johnston. "Having two separate rooms allow for more flexibility in our scheduling, more space to socially distance, and the opportunity to offer private training and small group sessions to those who would prefer that environment, all while still getting the same amazing AKT workout."
And of course, there are plenty of precautions being taken to keep everyone healthy. There's a large emphasis on sanitization including hand sanitizer available at the front desk and equipment being sanitized after each use. The studio will also be routinely sanitized with CDC-approved cleaning products. Social distancing measures will also take place in the studio with members standing six feet apart from one another.
In addition to that, contactless check-in is available on the AKT app. There's also more leniency if a client or staff member isn't feeling well. They will be more than happy to reschedule.
In addition to all of this, the lobby is its own shopping experience with lots of chic activewear from brands including Vooray, Nux, Noli, Lululemon, Onzie, Pheel, and Emily Hsu.
The workout
AKT was founded by celebrity trainer Anna Kaiser in 2013. It's an enjoyable yet challenging dance-cardio full-body workout that includes intervals, strength training, and toning that's great for people of all fitness levels.
AKT currently offers four signature classes: Dance, Bands, Tone, and Circuit. This is in addition to a 45-minute intro class, which I recently took privately. After not doing AKT for years, it was a warm welcome back. A truly unique workout, it combines the basics of the signature classes for an intense, full-body workout. One thing that sets AKT apart is that the bands are suspended from the ceiling. I've taken a variety of group fitness classes everywhere and AKT is the only studio I've been to that integrates bands in this way.
"Each AKT studio class is between 45-60 minutes in duration and incorporates a full spectrum of fitness elements from dance to strength training and plyometrics. AKT has four different class modalities that are a mix of low rep/high weight to improve muscular strength, and high rep/low weight to improve muscular endurance," Johnston tells me.
One of the best things about AKT is that every workout always stays fresh. This is because new choreography and content are created every three weeks. This prevents boredom, is challenging for the body, and good for business.
Why this is important now
Prior to the pandemic, West Hollywood and the surrounding neighborhoods had more fitness studios than Starbucks locations. Unfortunately, the industry was hit particularly hard and so many businesses in this area were forced to close. California was the last state in America to allow indoor fitness classes to resume. AKT's opening is the sign that things are finally turning around and we are ready to sweat out the stress of the past year.