How to Take On the Infamous Tone House Workout as a Beginner
New beginnings often come with nerves. Whether it is entering a new home or starting a new job, the uncertainty of what is to come leaves us with butterflies in our core.
Entering a new gym, of course will be no different.
Here at Tone House, we eagerly welcome our Rookie athletes to the Turf.
Often recruited by word of mouth or social media, a first time Rookie to the House never knows what to expect. They may hear of the intensity or the "Warm-up," but it is not until their first session where they truly understand how they will "Unleash Their Inner Athlete."
Here's what it's REALLY like to try Tone House for the first time.
What Tone House is like for beginners
Tone House Athlete Denise Bailey-Castro recalls her first session on the Turf, feeling the natural intimidation of walking into a new place, however excited with a bit of overconfidence. Hearing of Tone House from a friend highlighting the difficulty, Bailey-Castro states "I was up for the challenge. But little did I know what I was in for."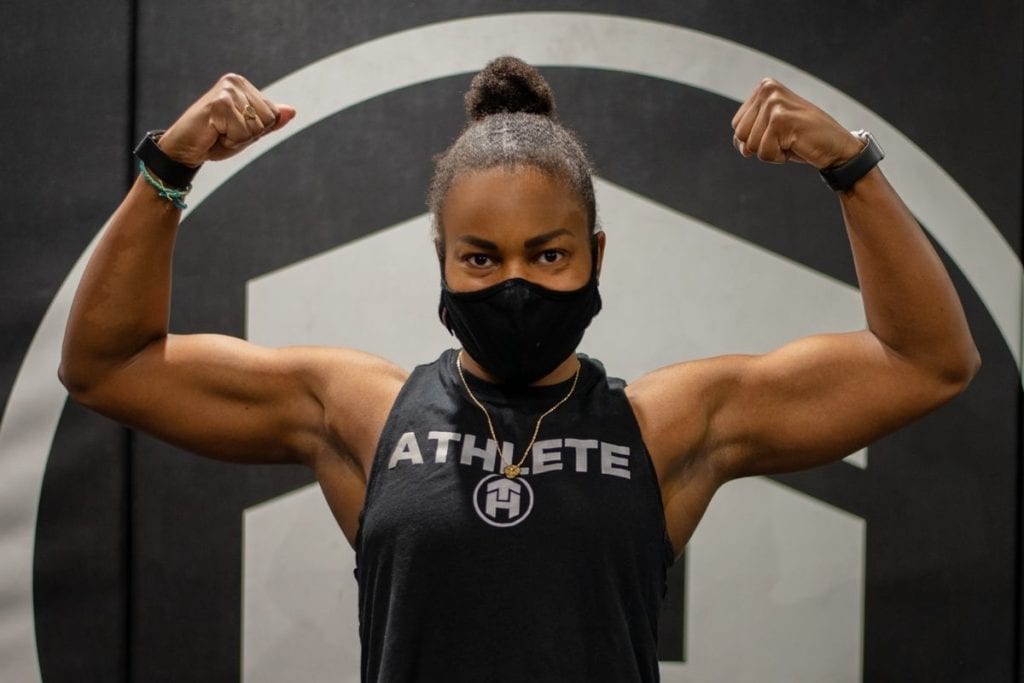 After her first session, she recalls feeling "humbled, accomplished, and determined," a feeling that has been carried with her ever since.
Any Rookie might feel intimidated by other conditioned athletes working out alongside them. However, that should not be any reason to feel apprehensive to book your first session.
Head Coach Yusuf Jeffers assures that first time athletes can step foot on the Turf with confidence they can complete the workout without comparable pressures.
Jeffers states, "[Tone House] is set up so everything is doable by anyone off the street. The workouts are in a team-based environment, where teams are inclusive and everyone is welcomed."
Bailey-Castro also speaks highly of the team environment and the community built in the House, recalling her return with the gym's reopening as feeling "like home again."
You'll never feel alone at Tone House, as your team is there, cheering you on through the gallops and bear crawls. And in moments that you may second guess yourself, like any team, your Coach is there to push you to your potential.
Jeffers states that the Coaches are there to have athletes "feel challenged and supported." Like any team, Rookies will be introduced to the group and provided with any modifications for anything that may be too advanced for first timers. Coaches also screen for any injuries or limitations for first time athletes, providing necessary adjustments while still providing the challenging workout they signed up for.
How Tone House ensures new athletes get well-rounded training
In Fall 2020, Tone House added to their 360-approach to athletic training, by introducing Strength sessions. Complementary to the well-known Conditioning program, Strength sessions focus on traditional weightlifting techniques designed to build skeletal muscle mass and muscular endurance. The combination of these two athletic training modalities creates stronger athletes on and off the Turf.
"Both types of sessions cover a wide range of modalities when it comes to fitness. Athletes often lean toward one type of training over the other, whether they focus on their strength and lifting, or conditioning with increased heart rate, they are often missing the other key component to their training," says Jeffers.
Jeffers adds "what we have here is the mix of those two things that are focused on overall performance. Here is an opportunity to work on your weakness."
As a competitive power-lifter, Bailey-Castro, has seen athletic improvement attending both types of sessions. With powerlifting focusing on the one repetition max, she is seeing an improvement in athletic and power based movements from attending Tone House sessions.
Bailey-Castro states, "I am able to build on power, speed, and fast twitch muscles. That allows me to become a more efficient and tighter lifter."
Here's how you can try Tone House too
For any Rookie outside of the NYC area, Tone House offers an opportunity to join their workouts on-demand. Through Tone House Television, athletes around the world can take their workouts to their living room or the park. Debuting in January 2021, new athletes can join Head Coach Joe Rodonis in the Rookie Series, a guided strength & conditioning progressive program perfect for those new to training wanting to build a solid foundation.
With a variety of options to choose from, Rookies can truly discover what it feels like to Train Like an Athlete with the support of a Team behind them.
Ready to try a session? Visit our New Athlete Page and purchase your Rookie Pass today. aSweatLife readers can use promo code ASWEATLIFE to save an additional $10 off your purchase. We hope to see you on the Turf soon!