Out of Cooking Inspo? Try Recipes From These Unexpected Places
Although some cities have opened up, we're all eating out a lot less due to the pandemic. And of course, there's always the imminent threat of a shutdown wherever you are. While many of us got on board with an air fryer, MultiPot, or new recipes at the beginning of the pandemic, some of us didn't (I'm raising my hands here). And now, we're unfortunately bored of everything we've been eating. So, as the year comes to a close, it couldn't be a better time to learn how to make something new. No matter what you like to eat, these are all great resources to find cooking inspo.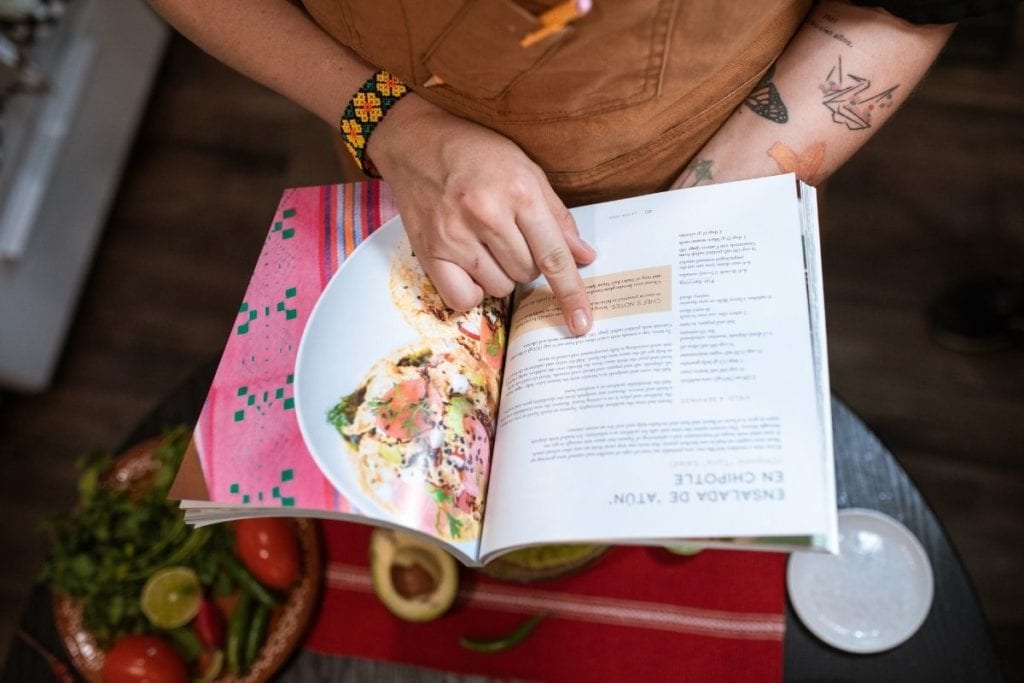 @ArielleLorre
Lately, I've noticed lots of people posting recipes on Instagram. One of my favorite accounts is Arielle Lorre. She's a wellness influencer and podcaster who consistently posts the most delicious healthy recipes. 
One of my personal favorites is the Tahini Bowl. Not only is it easy to make, but you can also customize it any way you'd like. Don't like carrots? Make it without. Do you love mushrooms? It's not in the recipe but feel free to add them in—I do. This is also a great recipe for meal prep. I get at least five meals every time I make this. It works with any type of protein, or it can be made entirely vegetarian. 
Lorre also has downloadable cookbooks available to purchase on her blog, The Blonde Files. And if you're into healthy baking, (hello Salted Carmel Cookies), you will be wowed. Her personal and food photos are beautiful and her captions are wonderfully honest.
MyNetDiary
MyNetDiary is a really helpful app for anyone who wants to lose weight, count calories, or be on a specific diet like keto or the Mediterranean Diet. While core functions such as calorie counting and daily analysis are available for free, the premium version of the app is worth the money because there are so many great benefits, including specific diets and personalized guidance from registered dietitians. Premium membership can be activated for $8.99 a month and one of the best features is the recipes.
There are healthy versions of treats that are truly easy to make such as this Pumpkin Spice Latte. Another great recipe is the Healthy Eggplant Parmesan with Mushrooms. If you've ever been into healthy swaps, this app and website is the place for you. 
It's also ideal for the busy. There are over 300 premium recipes, the majority of which only take 20 minutes to make. So it makes eating healthfully or staying on a diet is as easy as it possibly can be.
The Modern Proper
The Modern Proper is a recipe blog (they also have a beautiful Instagram feed) with lots of interesting meal options. One of the best things about it is that they have really helpful filter options by Season, Courses (there's even Dessert and Cocktail), Dietary (Keto, Gluten-Free, etc), and Convenience (one pot, 30 minutes, Freezer Meals, etc). 
It's a great resource for anyone who feels bored with what they're been eating. With roundups like 60 Best Chicken Breast Recipes and 60 Best Easy Dinners, there is something for everyone.
This is one of the best websites for anyone who doesn't consider themselves the most experienced home chef. Lots of the recipes are easy to make and there are beautiful photos as it's being made, so you can see if you're doing it right.
Nigella Lawson
Fans of The Great British Baking Show or British things in general will appreciate recipes from this famed chef. If you're looking for super healthy fare, Nigella Lawson's website isn't the place to go, but if you want to make some treats like Holiday Hot Cake With Eggnog Cream or Ice Cream With Cranberry Syrup, look no further. Pro tip: don't forget to click the toggle so the measurements are set for the US (unless you're more familiar with the metric system).
The search function on this site really simplifies the process because you can search by ingredient. All the recipes are from Lawson's books and you might end up wanting to buy one as a holiday gift for yourself. You can also search for Express, Vegetarian, Baking, and Gluten-Free Recipes.
If you're in the mood, there is a small library of video content. You can also find lots of her old television shows on YouTube. She's a delight to watch, and who doesn't like a British accent?