How to Make Your Own Mulled Wine

If you have ever attended a local Christkindlmarket, you may have enjoyed a mug or two of traditional mulled wine. Mulled wine, also known as spiced wine, is a beverage usually made with red wine along with various mulling spices like allspice, cardamom, cinnamon, cloves, ginger, orange peel, star anise and sometimes raisins. Served hot or warm, this traditional alcoholic winter beverage is most commonly enjoyed around Christmas time. (Nonalcoholic beverages are also available).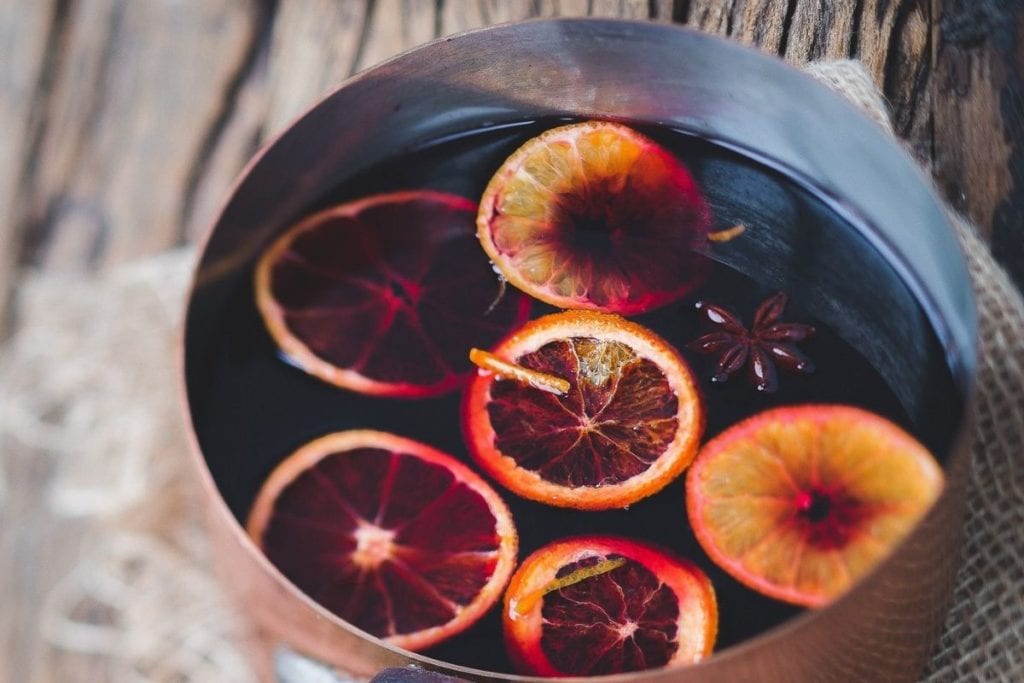 Homemade mulled wine is one of the easiest recipes for holiday gatherings and cold winter evenings. Whether you are having a cozy date night in or are hosting a larger family holiday party with a dozen guests, mulled wine is super simple to scale and can be customized anyway you and your taste buds like. Plus, it's better than any store bought candle because it smells absolutely amazing, making it perfect for holiday hygge.
If you are interested in making your own easy mulled wine, here is a healthy mulled wine recipe you and all of your holiday guests can enjoy that will be sure to warm everyone up on the chilliest of nights.
Healthy mulled wine recipe
1 bottle of dry red wine or white wine
1 fresh orange, sliced
8 whole cloves
2 cinnamon sticks
2 star anise
2-4 tablespoons sweetener (In traditional mulled wine recipes, sugar is usually used, but you can opt for a natural sweetener like honey or maple syrup).
Optional: ¼ cup liqueur like brandy, bourbon or cognac
Optional garnishes: Citrus slices (orange), cinnamon sticks, raisins and star anise
Directions:
1. Combine wine, orange slices, cloves, cinnamon sticks, star anise, sweetener of choice and liqueur (optional) to a large saucepan. Gently stir until all ingredients are well combined.
2. Heat the mulled wine on a medium-high heat until it barely reaches a simmer. Be sure it doesn't boil or bubble, which may burn off all of the alcohol. Reduce heat, cover and let the wine simmer for 15 minutes or up to three hours.
Liana Green from Liana's Kitchen suggests using a slow cooker to really infuse the spices and enhance the taste.
"You can make larger batches in a slow cooker—this is especially useful for dinner parties or large gatherings. Simply add all the ingredients to the slow cooker, cover with lid and cook on low for 2 to 3 hours. You can leave the slow cooker simmering on low (with the lid off) when your guests are there so they can help themselves when they want."
3. Strain the mulled wine using a fine mesh strainer. Remove and discard the orange slices, cloves, cinnamon sticks and star anise. Taste test a small sip and see if you need to add any more sweetener or liqueur.
4. Serve in heat proof mugs with optional garnishes such as fresh orange slices, cinnamon sticks, raisins and star anise.
Easy mulled wine tips
Ksenia Prints, food blogger and photographer at Immigrant's Table, has a few things to keep in mind when making your own mulled wine:
Don't worry about purchasing an expensive bottle of red wine, Print says. "Most of the subtle flavors in a good bottle of wine will evaporate with extended cooking."
When selecting a red wine, avoid anything too dry. The whole taste of your homemade holiday mulled wine depends on this natural sweetness, so choose something that is sweet or semi-sweet in flavor. 
Serve homemade mulled wine in beautiful, transparent, but thick edged glasses, so that you can see the beauty of the drink and avoid thin wine goblets. 
Enjoy this mulled wine recipe all winter long, especially around the holiday season. Cheers everyone!