Five Kitchen Gadgets to Level Up Your Soup Game
There's nothing quite like a bowl of hot soup on a dark cold day. If the good vibes of slurping a bowl under a blanket with your favorite movie aren't enough to convince you that you should be eating more soup, the fact that it packs a major nutritional punch might. Lots of soups are stuffed with vegetables while being filling and lower in calories than many other dishes. With so many awesome recipes out there it's easy to find a soup that will fit into any diet. Plus, soup is an awesome asset to have in your meal prep arsenal because it's easy to batch and freeze for future you.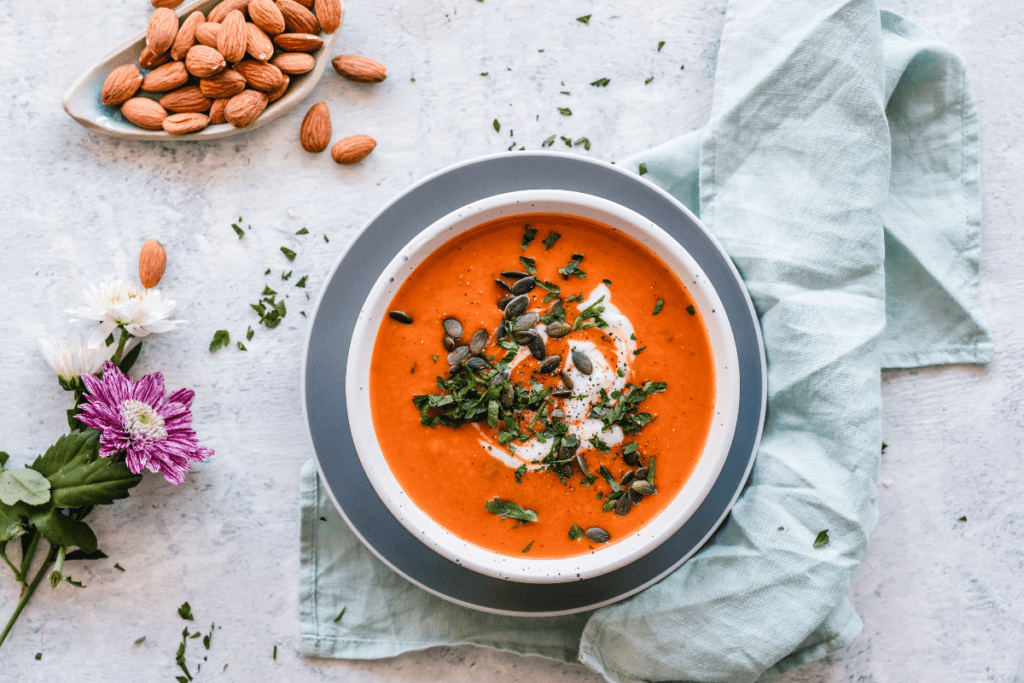 Hopefully by now you're feeling convinced that soup is an underrated food group and ready to get cooking. If you're wondering how to make good soup, a killer recipe and a few tools will help you level up your soup game for a tasty and cozy winter.
If Ina Garten has taught me anything, it's that even if store bought is fine, homemade is preferable. Enter homemade stock. Perhaps one of the easiest things to make from scratch but one that we frequently overlook, homemade stock will make your soup taste fresher, save you money, and cut down on your food waste—all while being better for you, since *you* control the ingredients that go in.
While any pot will get the job done, stock pots are generally bigger than your typical pot, making them more efficient for batching homemade stock which you can freeze to make soup at a moment's notice.
Dutch oven
If you're planning to make a lot of soup, consider investing in a Dutch oven. These cast iron powerhouses are sturdy and evenly conduct heat for that perfect slow simmered Sunday night dinner soup. Additionally, Dutch ovens are the perfect pot for a breadth of kitchen tasks from braising meat to building pasta sauces. In fact, if I could only keep one pot, it would be my Dutch oven—and soup is one of my favorite dishes to cook with it.
If you feel like splurging, there's nothing quite like a Le Creuset and this pot will last you the rest of your life if you treat it with proper care. However, if you're looking for something a little more budget friendly Lodge makes an excellent product as well.
If you have a busy life and want something that's going to do the heavy lifting for you, a slow cooker is the way to go. With a slow cooker, making soup can be as simple as dumping some veggies and broth into it and hitting a few buttons. A few hours later, dinner is ready for the week. And if you want to level up your slow cooker game without much extra work, we've got you covered.
Pureed soups are one of my favorite ways to get some extra veggies into my diet in the winter, but cleaning the blender is possibly my least favorite kitchen task. If you feel similarly, a hand blender is an indispensable tool for keeping your fridge stocked with all of your favorite soups. If you're not familiar with an immersion blender, these handy gadgets blend your dish directly in the pot so you don't have to transfer in batches to a blender and back to the pot.
The right ingredients
Soup is one of the most versatile dishes you can make because you can make it out of pretty much anything. If you have the right base ingredients on hand you can use soup as a way to use up produce that's about to go bad, finish off a roast chicken, or mix and match grains that you can't find a use for.
While you can make soup out of anything, it always helps to have basic ingredients on hand. Traditionally that means carrots, celery, onions, and a few aromatics like ginger and garlic. Luckily, these items all boast a pretty long shelf life, so keep them in the fridge and you're never more than a half hour away from a cozy bowl of soup.