How to Cope With Shorter Days
Daylight Savings Time is coming up in a couple of weeks, and apart from the extra hour of sleep, I can't say I'm looking forward to it. Early sunsets in the colder months are never my favorite, but this year in particular when so much of my social life is outdoors, I'm feeling extra nervous about the dark and cold months.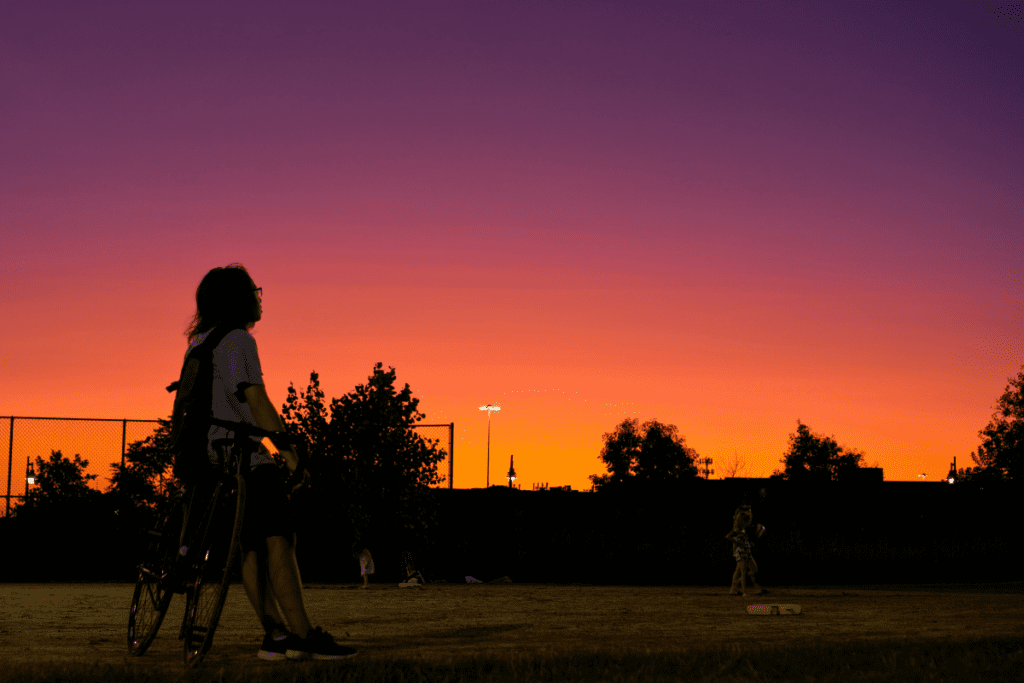 For some, the winter months can be particularly troublesome due to seasonal affective disorder (SAD), a type of depression attributed to decreased daylight in the fall and winter. This year, the added layer of social isolation and uncertainty about whether it's safe to spend time with loved ones, particularly indoors, may exacerbate symptoms for people who struggle with SAD.
I reached out to Julia Katzman, LMSW for tips on how we can take care of our mental health as the seasons change and the days get shorter after daylight savings time. Here's what she had to say.
Spend time outside
Less daylight doesn't mean no daylight, and Katzman emphasizes the importance of taking full advantage of the outdoors this winter.
"It's still extremely important to be outside, even if it's not a perfectly warm and sunny day," she says, encouraging us to prioritize this daily. "If that's hard for you to do during the winter, you can create a schedule with built-in outdoors time to help bridge the gap in motivation," she suggests. 
"Let's be real," she says, "when it's foggy and kind of gross out, many of us might not have a strong desire to go outside, even though it will still be helpful to your mood."
And if you need ideas for activities that are still fun outside as the season shifts, we've got you covered.
Get moving
No surprise, exercise helps keep symptoms of SAD at bay and supports mental health in the darker months of daylight savings time. Katzman encourages us to consider teaming up with others to maintain an exercise routine this winter.
"If you can, consider joining a socially distant outdoor exercise group," she says. "It might feel miserable to be outside in the cold and dark by yourself, but when you're with other people it can feel more like a gang of friends banding together to accomplish a shared goal."
Need inspiration or a built-in group? Check out your local November Project chapter.
Bring the outdoors in
Despite doing everything we can to be outdoors in the winter, the reality is that we'll most likely be spending more time in our homes than we were over the summer. That doesn't mean you can't still reap the benefits of the outdoors with some thoughtful decor choices.
Katzman encourages us to take stock of our homes and make them feel outdoorsy. "Switch out your light bulbs for soft white bulbs, get the brightest possible bulbs you can, and keep a lamp adjacent to your workspace," she suggests. Then, make sure you're getting the most light you can in your space with mirrors to bounce light around your home.
"Don't be afraid to hang up some big pictures of the outdoors," Katzman says. If you're decorating on a budget, she suggests that you "go to a local thrift store and check out the supply of framed Impressionist prints."
Finally, Katzman urges us to consider which rooms we're choosing to spend time in. "If you've got a room that's painted a brighter color than another room, spend extra time in the bright colored room," she says. "Grey walls might be trendy, but cream walls are better for boosting moods."
Prioritize joy
In addition to setting aside outdoor time, Katzman encourages us to set aside time for activities that bring us joy.
"If you can do things that give you the same positive energy as sunshine, then you should spend time doing those things."
Whether it's reading a book, drinking tea, FaceTiming a loved one, yoga, cooking, arts and crafts, listening to music, or taking a walk, making time for these things will have an indispensable impact on your mood. "Light and sunshine can come in different forms than physical light," Katzman says, "and you can find these forms by prioritizing things that make you feel fulfilled, good, and energized."