What Does Sustainability Look Like During a Pandemic?
A year ago, in honor of Earth month, I took my first major step towards building sustainable habits and used as little plastic as possible for a month. Since then, I've made additional moves towards living more sustainably including eating less meat, composting, learning about sustainable fashion and beauty, and reading and absorbing everything I can about the incredibly complex topic of sustainability.
Like many people, I didn't worry too much when I first heard about COVID-19. I figured I could go about my life as usual, be sure to wash my hands for a full 20 seconds, and that would be all. Fast forward and as the virus made its way across the globe, I got more anxious and made small compromises. I grabbed plastic produce bags for items I'd usually throw straight in my grocery cart, wiped my phone with single use wipes, and when hand sanitizer became a hot commodity, I ordered mini bottles (plastic of course) to keep in my car and purse.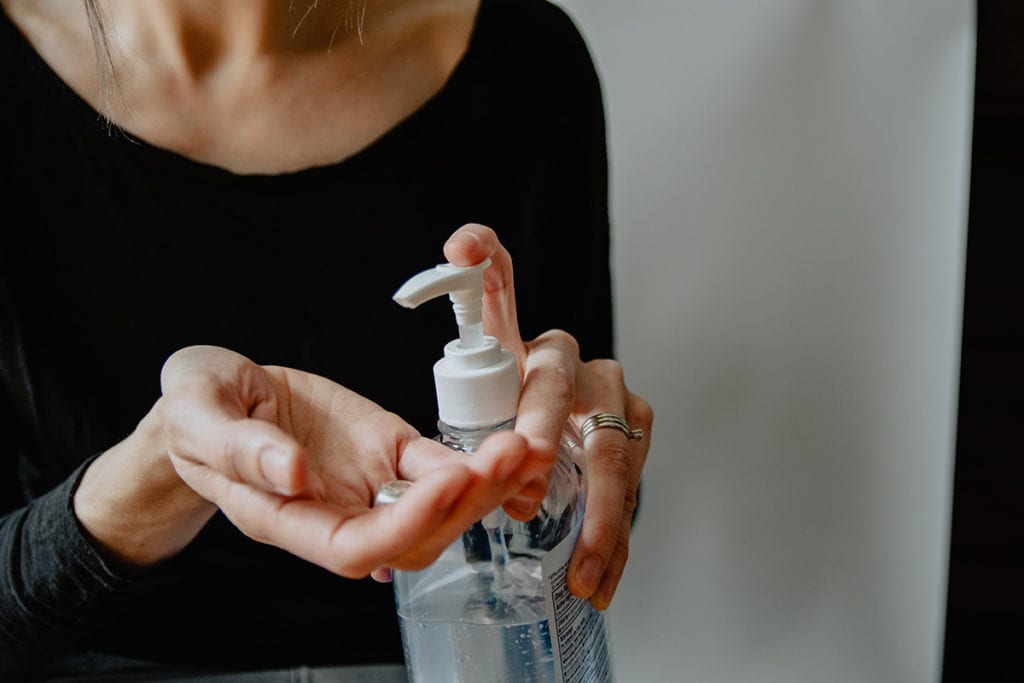 As the situation continued to escalate, I saw headlines about major chains prohibiting reusable cups, received guidance to drive rather than taking public transportation, witnessed a surge in single-use plastics among my friends and family, and even read about pioneering figures in the zero waste movement justifiably increasing their consumption of packaged goods in anticipation of what was to come. The more research I did on what this pandemic will mean for the sustainability movement the more I learned that it's complicated.
Confused and frustrated I turned to two experts in sustainability, Dr. Geoff Buckley, Ph.D., a professor at Ohio University specializing in urban sustainability and Ashlee Piper, former political strategist turned eco-lifestyle expert and author of Give a Sh*t: Do Good. Live Better. Save the Planet. Here's what they had to say.
Think deeply about sustainability
Dr. Buckley encourages us to use this opportunity to really consider what it means to live a lifestyle with sustainable habits (hint: it has to do with more than plastic).
"We oftentimes think in terms of presses and pulses when it comes to sustainability and resilience," he says. Presses refer to things like "global climate change, sea level rise, and other things that are always there in the background" while pulses are "shocks to the system like hurricanes, economic downturn, and pandemics."
"This period that we're living through affords us an opportunity to think deeply about the kinds of lives we're living," Buckley says while warning against overconsumption. He cautions that in this climate "a lot of manufacturers will play to our fears – if you want to protect your family and your health then you have to have this item."
Instead of falling into that trap of hoarding and panic buying, Buckley urges us to be mindful of our consumption. "We can continue reducing our plastic use," he argues as long as we "make sure we're using that material in ways that make sense."
For example, do you really need to buy so much hand sanitizer in plastic bottles or is there an alternative solution? Piper weighs in on this point stating that "regular hand washing and general home and personal sanitizing are the most effective line of defense, especially when in your home. Washing hands, showering, washing dishes and clothes regularly can all be done with more eco-friendly alternatives."
[Psst… we have a great round-up of eco-friendly cleaning products right here]
Be creative with sustainable habits
Piper offers advice for how to gear up and stay safe throughout this crisis while still behaving as sustainably as possible.
"While our first inclination is to buy a bunch of stuff from Amazon to outfit our home for more consistent stay, we're seeing this with gym and electronic equipment; for instance, you can still socially distance and either swap or borrow from neighbors (think no contact drop offs and vigilant sterilization)," she argues.
Alternatively, and perhaps preferable, "make do with what you have," she says. "It's amazing the things already in our homes that will work beautifully for your needs." For example, trying to stay fit but don't have any weights? Consider lifting water bottles.
Use up what you have
It may seem obvious but how many half empty beauty products, bags of rice, or tubes of toothpaste do you have in your home? Probably a lot.
"The adage of making do here really resonates because it works. Whether it's beauty products, food, cleaners, or clothes, use what you have. Instead of putting a burden on the delivery system or stores, take this as a time to go through the rag tag shampoos you have in your shower, the body lotions crowding your cabinet, the big bag of oats you thought would live in your pantry forever. Now's the time to use them," Piper advises.
Support our communities
Buckley implores us to consider the role that inequities in society play in this crisis which "reminds us that some people are able to shield themselves from the worst consequences but the most vulnerable in society can't do that."
Piper urges us to help mitigate these consequences for vulnerable populations by donating.
"If you have loads of hand sanitizer, gloves, masks or toilet paper at your home, 1) why? and 2) you need to get donating those to hospitals. Moreover, if you have a ton of travel soaps and toiletries, extra blankets, and other hygiene products, consider putting them in a grocery bag (maybe add some clean socks? Some granola bars? And bring them to where you know persons experiencing homelessness spend time. You don't have to physically interact to do some good and help keep vulnerable populations healthier."
Moving forward
Both Buckley and Piper's guidance suggests that we must weather this storm and come out the other side in a way that serves our communities and our planet. "Hopefully we learn from this so that the next time something happens (and it will) we can do better" Buckley warns.
We can ensure that we continue to do good for ourselves, our communities, and our planet by being mindful of the sustainable habits that we're building during this time. If you need to increase your use of single use plastic and other wasteful packaging over the coming months to protect your health and your family, by all means do so. However, resist becoming complacent with unsustainable habits and vow to return to more eco-friendly practices once this crisis has passed. On the flip side, if you find yourself developing any positive habits like walking and biking more frequently, use this opportunity to permanently adopt those habits.
As we build a new normal throughout this time, be thoughtful of how that new normal is shaping for you and be even more mindful in how you incorporate changed sustainable habits once things return to the old normal.