9 Holiday Hair Hacks For Festive Occasions
Tis the season to avoid bad hair days! Or at least try to. Getting ready can feel like such an ordeal, but it doesn't have to be this way with these holiday hair hacks.
Instead of feeling stressed about your hair or trying to style it like that YouTube video and failing—take a breath. And don't skip the gym either! (Or tell me you've never had to choose between your workout and your blowout!) Then, try these holiday hair hacks for the best tresses of the season!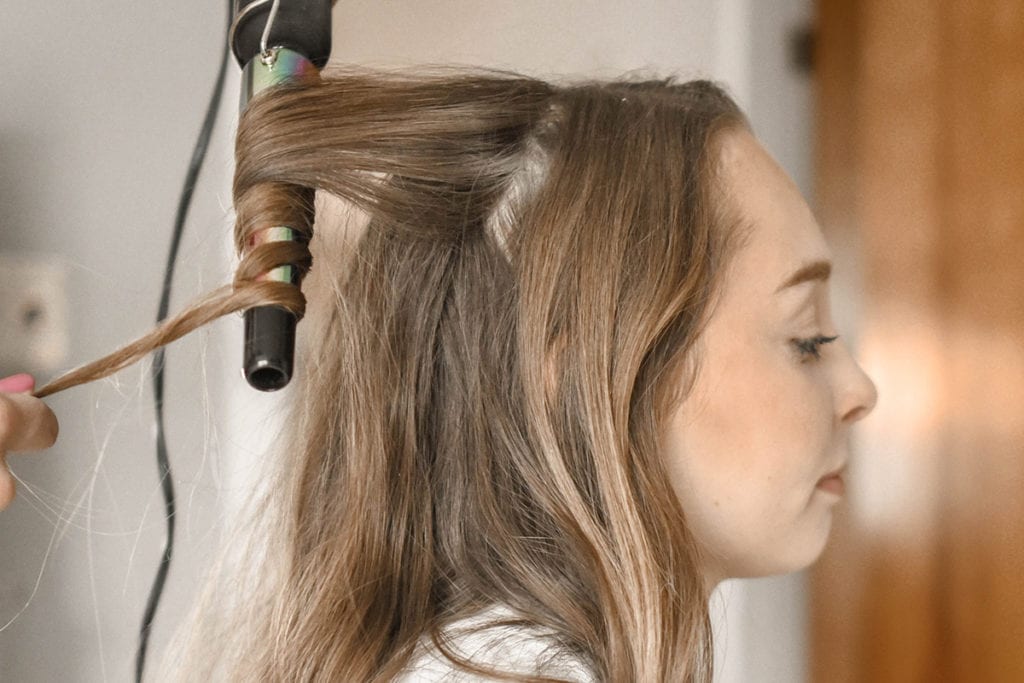 Clip-in extensions
Some of us are not born with Disney princess hair (raise your hands!) but that doesn't mean we can't have it. Clip-in hair extensions are the biggest game-changer for holiday hair hacks and completely worth the investment. Whether you want more volume, length or both, it's the fastest way to have a good hair day. 
I also find them especially helpful if you are going straight from the gym to an event and you don't have time for a full-on blowout. Just add a little dry shampoo and no one will know how dirty your hair really is (our secret, right?).
Hollywood hairstylist Anthony Pazos just launched a new line of clip-in extensions that I'm obsessed with. Made of 100 percent remy human hair, they even have a free color matching service to make sure those babies blend in with your natural color! They are incredibly comfortable to wear and easy to put in. They also come with good karma because a portion of each purchase is donated to My Friend's Place, which is an organization that helps homeless youth. 
Book GlamSquad
Instead of making an appointment to get a blowout, have the blowout (and makeup) come to you with GlamSquad. If you have a lot of events over the course of a few days, it's more than worth it to get a professional blowout. Then, follow these tips to make it last:
GlamSquad's Artistic Director Giovanni Vaccaro shares that shampoo is an easy hack. "I highly recommend GlamSquad's In-Between dry shampoo because it actually brings your hair back to life by soaking up oils and impurities while giving you that day one volume you crave."
He also shares that sleeping on a satin pillowcase can help keep your blowout longer because it prevents frizz, breakage, and damage to the hair while you sleep because of it's smooth, silk material.
Learn how to give yourself the best blowout possible
If you are going to a last minute party, professional blowouts just aren't in your budget, or you simply want to be able to style your own hair, buying a blow dryer brush can be a game changer. The Revlon One-Step Hair Dryer & Volumizer Hot Air Brush is affordable (under $40) and incredibly easy to use. This dryer can help get your hair pretty close to professional looking and save time.
Because it's coated with ceramic, the heat is distributed evenly and it won't dry out your hair. You'll never use a conventional hairdryer again (don't say I didn't warn you!).
Style in festive beach waves
The Beachwaver is such a well-designed hair tool. It gives you the waves of a wand without the anxiety of wondering if you're going to singe your fingers (could accidental burns be any less festive?). The device has a shorter clip than a traditional curling iron, so the hair easily wraps around the barrel, which rotates with the push of a button. It's very easy to use, especially if you are going for the mermaid look in the winter. 
Beachwaver just launched a new dual-voltage model, which makes this tool ideal for international travel.
Invest in A Dyson Airwrap
I haven't tried this yet, but I hear it's selling like candy canes in December! The Dyson Airwrap is definitely a holiday hair hacks splurge (it's $550), but you get a lot for your money. This hairdryer/style hybrid (it does both at the same time) has seven attachments to dry, curl, smooth or pretty much complete any kind of air style. 
Because there are no clips or clamps, it's a great product if you have dry hair or want to shave time off getting ready.
Braid your hair
If you want your hair look special, why not try braiding it? Beachwaver's Braid Balm is formulated to help you create smooth, frizz-free braids. You can also put in loose braids before you sleep so you can wake up with chic waves sans any heat.
Keeping hair fresh after a workout
If you've ever had to decide between working out and having a good hair day, you don't need to do that if you keep a few things in mind. Vaccaro recommends adding dry shampoo both before and after you get your sweat on. This allows the product to absorb during your workout. 
He also recommends wearing a headband to absorb sweat on the hairline. "This is typically where your hair is the frizziest and most difficult to tame, so keeping those hairs down is a must!"
Then, bring hair back to life with a texture spray like GlamSquad's The Untamed. Vacarro suggests flipping your hair upside down and spraying through to give yourself the ultimate texture, volume, and bounce.
No matter what you do, use dry shampoo
Vaccaro says it's a good idea to use dry shampoo at night before you go to bed.
"This helps the product activate while you sleep and keeps your hair from looking oily when you wake," he says.
But, if you're applying throughout the day, Vacarro suggests allowing your dry shampoo to sit on your hair/scalp for a minute before working it in to allow it to absorb, then brush through, don't just use your fingers.
"Use a boar bristle flat brush to brush the product through so it can be evenly distributed," he advises.
Take care of your hair
It's easy to damage your hair this time of year, so hair expert and creator of his namesake line Philip B recommends hot oil treatments, whether you stay home or travel.
"Relax and indulge in hot oil treatment before a big blowout or updo," he says. "My Rejuvenating Oil is TSA friendly and the best food to feed your hair with a rich blend of the right blend of essential oils. But in a bind or without my store-bought, using a great high-quality single dose of olive oil, grapeseed oil, sesame oil, avocado or almond oil will do," he says.
Philip also recommends not using the products in your hotel room (well, except for maybe those fancy shower gels) but rather investing in travel-sizes of your favorite products, especially those designed to extend the life of your last blowout.
"We created Philip B travel kits just so our globetrotting clients could continue their routine. A literal bouquet of botanicals it will keep hair hydrated for body and lushness. The Weightless Shampoo and Conditioner will moisturize and hydrate, smooth and illuminate hair, bolstering hair with a protective coating that's featherweight— combine with the Conditioning Water. You can extend the days between wash and go on holiday."
Hard water can be another problem when you travel. Luckily, there's an easy solution, he explains.
"Even the best products can be totally sabotaged by water. Hard water has higher concentrations of dissolved minerals usually the highest of which is magnesium and calcium from natural rocks along with copper, iron and lead and a super high pH. Potentially good for the body, but not for the hair and in some areas of the world, the mineral contents vary greatly in shower water." 
If this is the case, he recommends using bottled water and a clarifying shampoo like Philip B Peppermint Avocado Shampoo.