Do You Need Your Own Boxing Gloves?
Boxing is a great workout—it torches calories in minutes, builds strength, and works that core hard. Yet, it does require some equipment, as you can't box on a heavy bag with bodyweight alone.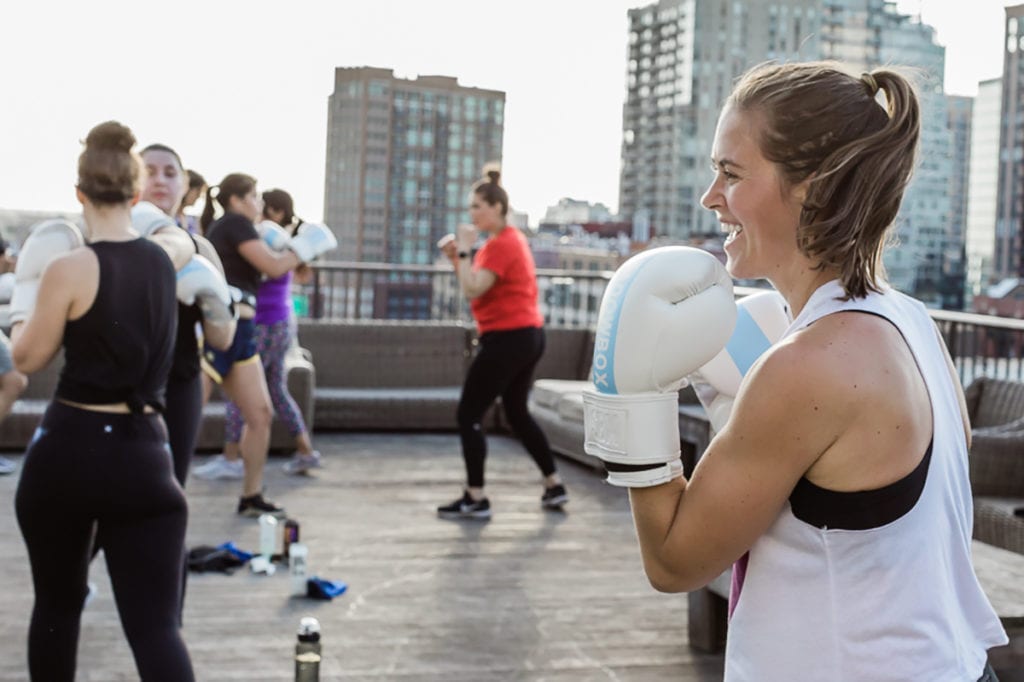 Boxing gloves protect your hands and wrists when you're throwing punches against a bag or fighting an opponent, and while some studios do provide boxing gloves for free (for instance, Shadowbox in River North in Chicago does), others do not.
And if you are a consistent boxer, paying to rent gloves for each workout can add up over time. What's more, some gyms in apartment buildings, offices, and hotels have bags, so if you're traveling and see one, you'll need gloves of your own, too.
Still though, it's an investment. So, do you actually need a pair of your own to box? Here's what the experts have to say.
The pros
A major pro? You don't need to share sweaty gloves with other people. "For sanitary reasons having your own gloves is great, you know who wears them and how they are being cleaned," says Rubie Canton, instructor at Shadowbox in River North in Chicago.
"Secondly, most studios buy large quantity of gloves that are low in price in order to offer gloves for people who don't have their own. The downside of this is not having the best materials used to create these gloves as well as little to no padding," she says. When you purchase your own gloves, you have the option of choosing the best gloves for wrist and/or knuckle support. And that'll improve your performance and provide the most protection and comfort.
What's more, "gloves eventually form to your fist and become more comfortable/personalized," says Gideon Akande, CPT and instructor at Shadowbox in River North in Chicago. So, by having your own you can wear them in and get them to mold perfectly to your hand and needs.
Plus, you can use your gloves as motivation to stick to the sport, says Akande. If you invest in a pair, you're investing in yourself—you wouldn't want to waste that money or watch them sit in your closet unused. It's that added nudge to get to the boxing gym or bag and let loose.
Cons
A con might be limited space in your bag. "Gloves take up valuable bag space," says Akande. Also, carrying gloves to and from classes can become a hassle just because they are so bulky, adds Canton.
Plus, immediately after use, the gloves are super sweaty, and you probably don't want them near other personal items. Yet, a fix could be to stash them in a bag to then place inside your main bag or to keep them in a separate pocket.
Another drawback is not getting the right size or style.
"A con might be not knowing what gloves style or size to wear (training gloves, bag gloves, MMA gloves, kickboxing gloves, 10 ounces, or 16 ounces)," Akande adds. If you want gloves and are unsure, ask a professional for help.
Lastly, there's the price. "One con would be the price of your gloves. The better gloves that last longer can run you close to $150," says Canton. If your studio of choice does give you gloves when you arrive for free, it might not be as worth it.
What to look for when buying boxing gloves
If you are down for your own gloves, here's what to keep in mind.
"Gloves are like shoes, it really depends on what you are specifically looking for. There are gloves for more wrist support, while there are other gloves that have more cushion to support your knuckles," says Canton.
"The first material I usually look for are leather gloves. They typically last longer and if you box a lot like I do they won't break as easy," she says. They are the ones that best adapt to the hand and better withstand impact, as well. So, go with leather when possible.
Some design aspects that are important are comfort, weight, and the type of materiel the gloves are made out of, too, so experiment and see what feels and looks best for you.
So, should you buy your own boxing gloves?
"I would say YES, buy your own gloves! They feel better, look cooler and are a more sanitary choice," says Canton.