How to Make Your Own Granola Bars
Granola bars evoke mixed reactions. Some people praise them for their convenience, portability, and nutrition, while others vilify them as being glorified candy bars. The truth is they vary greatly from one brand to the next, with some being awesome options for a healthy snack and others basically being dessert. It's not necessarily a bad choice to sub a granola bar for dessert at night but probably not your best bet for a
healthy snack
, breakfast, or pre workout option. Everyone looks for something different in granola, protein, or snack bars which is another reason that not every bar is great for everyone or for every situation. The best way to have total control over the nutritional profile, macro breakdown, and flavor is to make your own. Follow these guidelines to DIY these convenient snacks so that you can get the flavor and nutritional punch that's right for your needs. Whether you want a true "granola" bar with granola as the base or a nut bar, protein bar, or seed bar, they should generally consist of something crunchy, something sticky, and something sweet. While the mixture is fairly guesstimate-friendly, you can generally aim for two parts dry, crunchy base to one part sticky binding agent. From there, feel free to add in anything else you want to add flavor, texture, nutrients, or just for fun!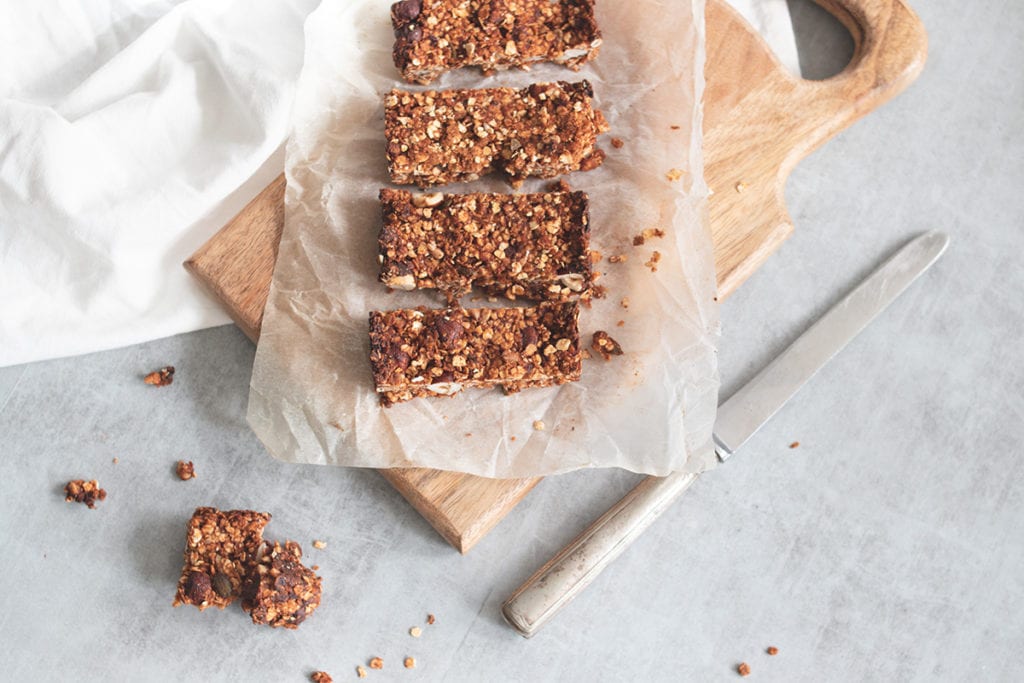 How to Make Your Own Granola Bars
Ingredients
Something Crunchy
A crunchy, substantial base is the foundation of your DIY granola bar, whether it's actually granola or not. You can also use mixed nuts, seeds, or a combination to serve as the base of your DIY bar. Depending on the texture you're going for and the base you're using, you can leave your ingredients whole or chop them as finely as you'd like.
Something Sticky
In order to create a bar, you need something to bind your base together. My favorite option is any kind of nut butter because it brings protein, a bit of natural sweetness and salt. Melt your nut butter in a saucepan or in the microwave and mix it with your base in a bowl before setting.
Something Sweet
The best part about DIYing your granola bar is that you can make it as sweet (or not) as you like. Choose any sweetener you like, whether it's regular sugar, honey, maple syrup, agave, coconut sugar, or some other sweetener. Go ahead and add that in with your binding agent while heating it up to get the sweetness evenly incorporated throughout the bar.
Extras
Here's where you can really have fun and create a granola or protein bar perfect for you. Add in chia seeds,
protein powder
, dried fruit, chocolate chips, or anything else to create the flavor and nutritional profile perfect for your needs.
Method
Once you've chosen all of your ingredients including a crunchy base (roughly two parts), sticky binding agent (roughly one part), sweetener, and add ins, go ahead and make your bars.
In a small saucepan, melt your binding agent and sweetener.
Add crunchy base and mix to combine.
Remove from heat and stir in any extras, making sure mixture is cool before adding in things like chocolate chips that will melt if the mixture is too hot.
Pour mixture into a shallow cake pan and press down until bars are desired thickness throughout.
Place mixture in the fridge until set. Cut into bars.