Celebrity Trainer Autumn Calabrese on How to Keep Healthy Habits During the Holidays
The holidays can be a really challenging time to eat healthfully and exercise. But, that doesn't mean they have to be. It just requires a bit of strategizing and a commitment to yourself. There's also no reason to go into deprivation mode either. You can eat treats, enjoying a cocktail or two and attend any festivities. The key is to be smart about it. 
I recently spoke with Autumn Calabrese, who is the face of BeachBody, creator of the 21 Day Fix and so much more to find out how we can all get a handle on our health this season. From buffets to smart cocktail hacks and squeezing in some exercise, she shares some of her best tips.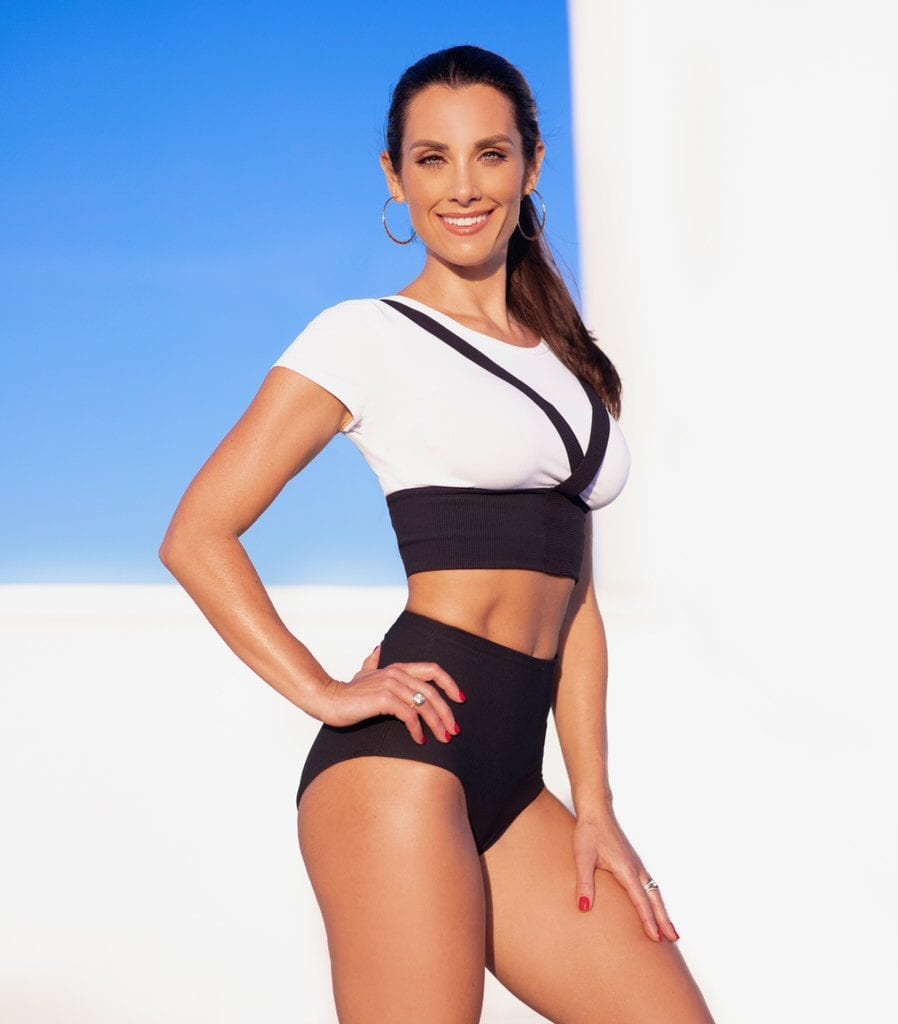 How do you manage to eat healthy at holiday parties?
I don't ever go to a holiday party starving. If it's a buffet I scope out all that they have first, then decide what I want to eat. Once I put my food on my plate, I don't hang out near the buffet, that's where mindless eating happens. 
I pay attention to when I'm satiated, not full but satiated. That's important, you don't want to eat till the point that you are physically full and uncomfortable. 
What are the best and worst foods to eat during the holiday? 
Well, if I'm being very generic about it, the best foods are veggies, fruit, lean protein and healthy carbohydrates and the worst are highly processed sugars, flours, cakes, treats, alcohol and fatty meat. 
But if we dive a little deeper into this it's hard to say because it's really all about how the food is prepared, the quality of the ingredients, what ingredients specifically are used and how much of it you eat. If you're making pumpkin pie from my cooking show, Fixate, then it's actually not bad for you and if you eat the proper portion size, you're golden. But if you're eating a store-bought pie loaded with sugar, white flour, and preservatives and you eat huge slices of it, well, that's not great.
What are some healthy dishes or foods to bring to a holiday party?
I love bringing a big delicious salad or vegetable crudités with a healthy dip. Bringing a side dish of some sort of cooked vegetables is always great. I recommend any of the recipes from my cookbooks and show Fixate. There's always going to be plenty of dessert and carb-heavy dishes so it's nice to be the person that brings something healthy and delicious.
Want to try a couple of Autumn's recipes for yourself? We love her Sweet Potato Casserole and her Orange and Fennel Salad with Kalamata Olives!
Are there any cocktails that are "better" for you?
Look out for cocktails that have a lot of juice or soda as mixers. These are the worst. Sticking with a glass of red wine or clear alcohol mixed with soda water is the best bet. You can always ask them to muddle in a little fresh fruit or my favorite, cucumber and mint, to give your drink a little more pop of flavor.
Do you have any tips for squeezing in a workout during the busy holiday season?
I don't think the holidays are any busier than the rest of the year but I do think we tend to use that as an excuse. So, I say let that excuse go. Schedule your workouts so you know when in the busy day they are happening. You can always get in a little more by doing fun things with the family, friends, and kids. Go sledding or ice-skating, go to an indoor trampoline place and let everyone bounce out their energy, or take a walk to see holiday lights. But, if your fitness and nutrition are important to you, you'll make time for them.