How Flight Attendants Stay Fit When Traveling a Ton
Staying healthy when you travel can be a challenge, but it doesn't have to be. No one knows this better than sisters Casey and Shelby Zack who are respectively a certified fitness trainer and flight attendant. They recently published Fit For Flight, which is a guide about how to stay healthy when you travel.
And yes, I just happened to blurb the book (not to brag or anything). There are so many things I love about their approach—it's completely practical and realistic. As someone who can't get through a flight without a small bag of chocolate chip cookies, I'm all for balance.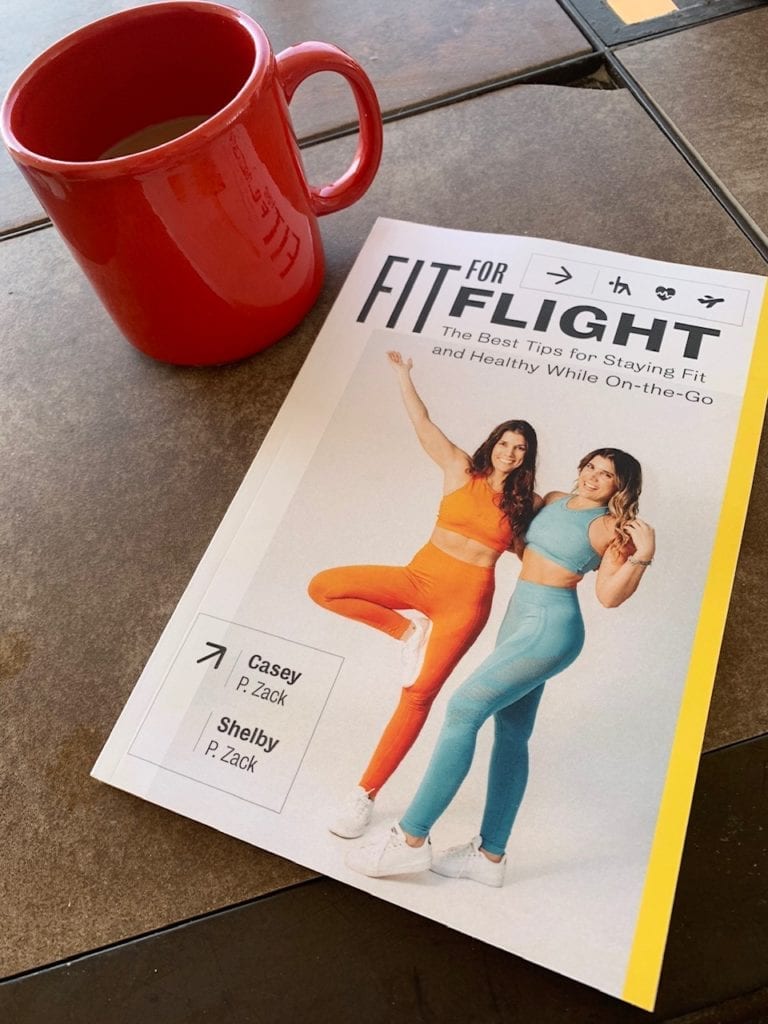 Initially, the book was going to be a program for flight attendants, but the sisters realized a larger audience could benefit—anyone who is away from their normal routine or just living a busy life on the go (I'm raising my hand!) I recently sat down with the sisters to talk about the writing process, airports and how to practice self-care thirty thousand feet in the air.
What was it like writing a book together?
Casey: At first, it was a little overwhelming! We decided to split it up to where I would take on writing most of the nutrition and exercise portion of it and Shelby would tackle the travel/packing and self-care tips. It worked out really well that way since my background has been mainly fitness and Shelby's background was basically living the life of already being someone on-the-go with a career as a flight attendant and learning the travel and self-care tips throughout the years.
Shelby: We have always wanted to do something together to help others and this felt like the right thing at the right time to do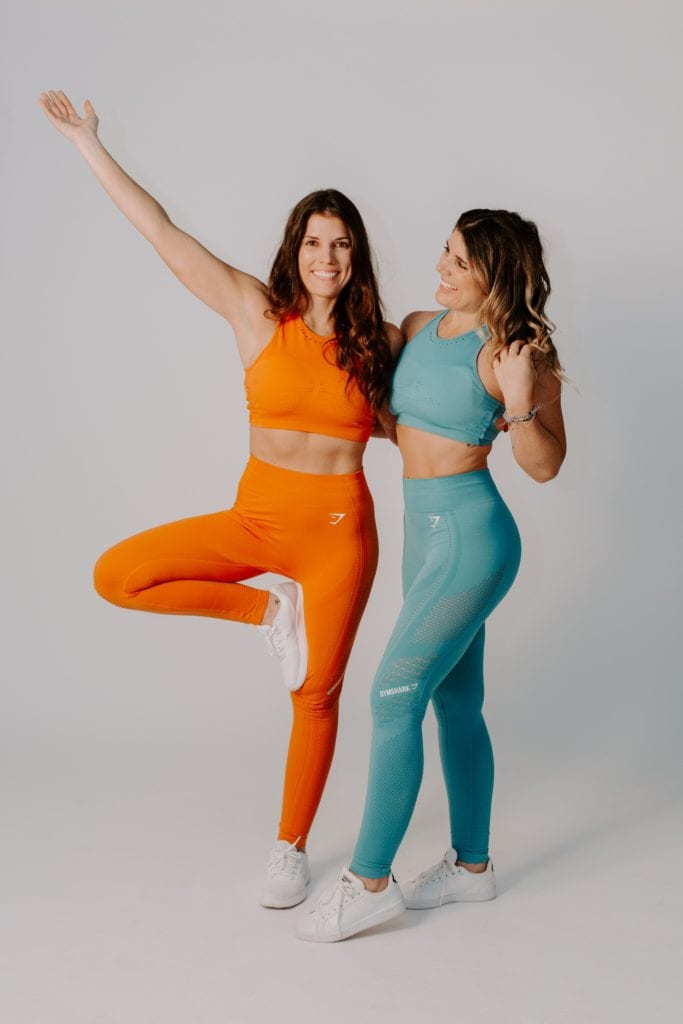 What are both of your fitness routines when you travel and when you are home?
Casey: When I'm at home, I will normally hit the gym and lift weights, but when traveling, I like getting outside or finding cool hikes to go on. I also like to try out new studios. I'm a big fan of Barry's Bootcamp! I have a gym membership in New York when I'm in-between trips. I create my own workouts and share them on my Instagram.
Shelby: I love a good HIIT workout and lifting weights when I'm at home. When I'm on the road I utilize the hotel gyms and do my own routine with dumbbells or I like to find a class to try, like Pilates! Sometimes I'll follow a yoga routine on YouTube in my hotel room if I'm short on time between trips. I'm trying to work on being a better distance runner when I can get outside on a good layover, but lately, I've been all about HIITs!
Why do you think it's so hard to be fit and healthy when you travel?
Casey: I think what's difficult about staying in shape and eating healthy when you travel is the fact that you're away from your normal schedule. When we're in a habit of a daily routine, it's hard to carry those habits outside of that schedule either from just not knowing what to do for a workout or not knowing what to eat since sometimes we're not able to cook exactly what we want.
Shelby: The most difficult thing I've seen a lot of fight attendants struggle with, and I'm sure the avid traveler struggles with too, is consistency, being able to have a set schedule to do things at certain times from planning your meals and managing your time to fit in a workout. With traveling you can have such odd hours, especially when you cross multiple time zones.
Have you ever worked out on a plane or in an airport?
Casey: I haven't actually done a full workout in an airport other than doing 10 squats when going to the bathroom— and it adds up! But, I have done exercises on a plane in uniform with a co-worker! We have done pushups and calf raises in the galley which is basically what we call the kitchen on our flights. When not working, I have done knee raises or ab squeezes, when sitting in my chair, but on longer flights, I always recommend getting up to walk around.
Shelby: I mean if running to catch a flight, whether for work or leisure, in 3-inch heels counts as cardio, then yes, I have worked out in an airport!
If someone wanted to teach a yoga class or boot camp in the terminal before a flight I'd be all for it! But like Casey, the ab squeezes and getting up to stretch your legs on a long flight, really helps to keep your body from getting stiff or cramping up!
What are some best airports for healthy food and wellness options?
Casey: Some of the best airports to grab healthy foods I would say are any that have salad bars to make your own salad, like New York's John F. Kennedy airport. But you can find healthy food at any airport! It's all about just knowing and planning them out such as grabbing a pack of almonds or fresh fruit at a convenience store, which is one of the many nutrition tips our book talks about!
Shelby: I find the bigger/busier airports have the most variety. Some of my favorite airports are Chicago O'Hare, Washington Raegan and San Francisco's airport. I can usually find healthy options easily in those airports!
My tip would be to stay away from fried greasy foods and stick to less processed. The best bet is to grab a pre-packaged salad or order a protein bowl or smoothie if restaurants offer those options! You can almost always find a food court area or small market-place store like CIBO Express that offers healthy prepackaged foods like nutrition bars, fruits and again salads or protein boxes.
What are some of the worst?
Casey: Some of the worst foods you could eat would be fried foods or foods loaded in sodium! Not only do that bloat you, but also they'll leave you feeling even hungrier later on which may cause you to overindulge.
Shelby: Not that they're the worst, but small airports typically don't have a lot of options. You're kind of limited there. But typically flights out of those airports are shorter, so you're good with just grabbing a coffee or light snack!
Why do you think your approach to staying fit while traveling really works?
Casey: Our approach to staying fit while traveling and showing that it can, in fact, co-exist works because it's realistic. We're not telling anybody to go on a diet or try the next fad. We are teaching how to make fitness, nutrition, and health be a part of somebody's lifestyle that works for them. The tips we have in the book are what we have personally used time and time again and if we can live the busy lives that we do while staying in shape, working, traveling, and still enjoying our favorite foods like Oreos and rosé, so can anybody else.
Shelby: I've found what works for me. At first, it was hard not having a set routine, but I have learned to adapt to the constant change in my schedule and day-to-day activity. I've learned to embrace the spontaneity of this career. Traveling makes it more fun to be able to go to different workout studios, explore different cities and find cool healthy places to eat! And for Casey and I, we find that if you can just set aside 20-45 minutes a day, maybe 4-5x a week, you can make staying fit a priority while traveling. You can maintain a healthy diet by creating a habit to make healthier choices when it comes to your nutrition when traveling. We understand not everyone is going to eat the same things or workout the same way. With our book, we wanted to lay out just how to do it.
How do you fit in exercise and how do you eat healthy meals?
We created the building blocks we found that work for us to maintain the two aspects. It takes the guesswork out of it and building a structure to help others learn how to navigate and build their own fitness and health routines.