Traveling and the Significance of the Human Factor
In November, I wrote a post about being more neighborly with anxiety. It sent an empowering message to the reader.  At the time, I was trying to remind myself of my own strength. Not long after that post, I hit a period I now refer to as The Dark Night of My Soul. I stopped being able to focus at work, struggled to hold a conversation with even my closest friends, and certainly was not living any kind of sweat life.
When I was home in June for summer, my parents and I had booked a trip to several cities in China, as I am a current resident of Shenzhen. When I returned home early for Christmas, having taken a leave from work, I could not see how this trip would ever be possible. The only truth I saw for my future was that I would forever be stuck in some vegetative state, blocked off from any metaphorical dawns, shut out from accessing feelings of hope and joy.
I am here writing today because the Dark Night did pass, with a good deal of rest, family, friends, therapy; all the things. What did then dawn was what has felt like a new lease on life. As I have reconnected with myself, with an appreciation for the beauty of each new day, the opportunity for this trip with my parents took shape again. Luckily we had never canceled any of the reservations we had made during the summer months, so the trip could go on as originally planned. While I have been living in Asia for nearly three years, the trip that began in Beijing was their first to this side of the globe.
After a whirlwind 12 hours in Beijing, we touched down in Guilin, a scenic city that rests along the Li River. I had not arranged transportation to our lodging, but, after we had gotten our luggage and were heading toward the exit to get a taxi, we were fortunate enough to make the acquaintance of Frank, a Chinese man who would be our driver and guide for the next two days.
It has been my experience on occasion — and likely something you have been warned about if you have traveled outside of the United States — that as a tourist, I have been taken advantage of. Frank was a reminder that not everyone is out to get us. In the 36 hours we got to hang with Frank, he was ridiculously attentive to our whims, was a lovely lunch companion, and, was a comforting presence on the chairlift up to Yao Mountain for this heights-fearing woman.
On that ride up the mountain, my parents sat in the chairlift just ahead of Frank and me. I watched on, nestled into my fright juxtaposed with awe of the mountains, as countless Chinese people waved enthusiastically, shouting out hello as they passed the only Westerners in sight.
A good handful of times on the trip, a smiling and hopeful Chinese man or woman would approach my mom or dad, or all three of us, asking to have a photo taken with one or all of us. Thinking back to these moments brings an effortless smile to my face as I found these to be small scenes of unity. Amidst the media frenzy of talks of trade wars and tension, what do most of us really want? Connection. To feel in a handshake that we're all just human here, trying to live our best lives.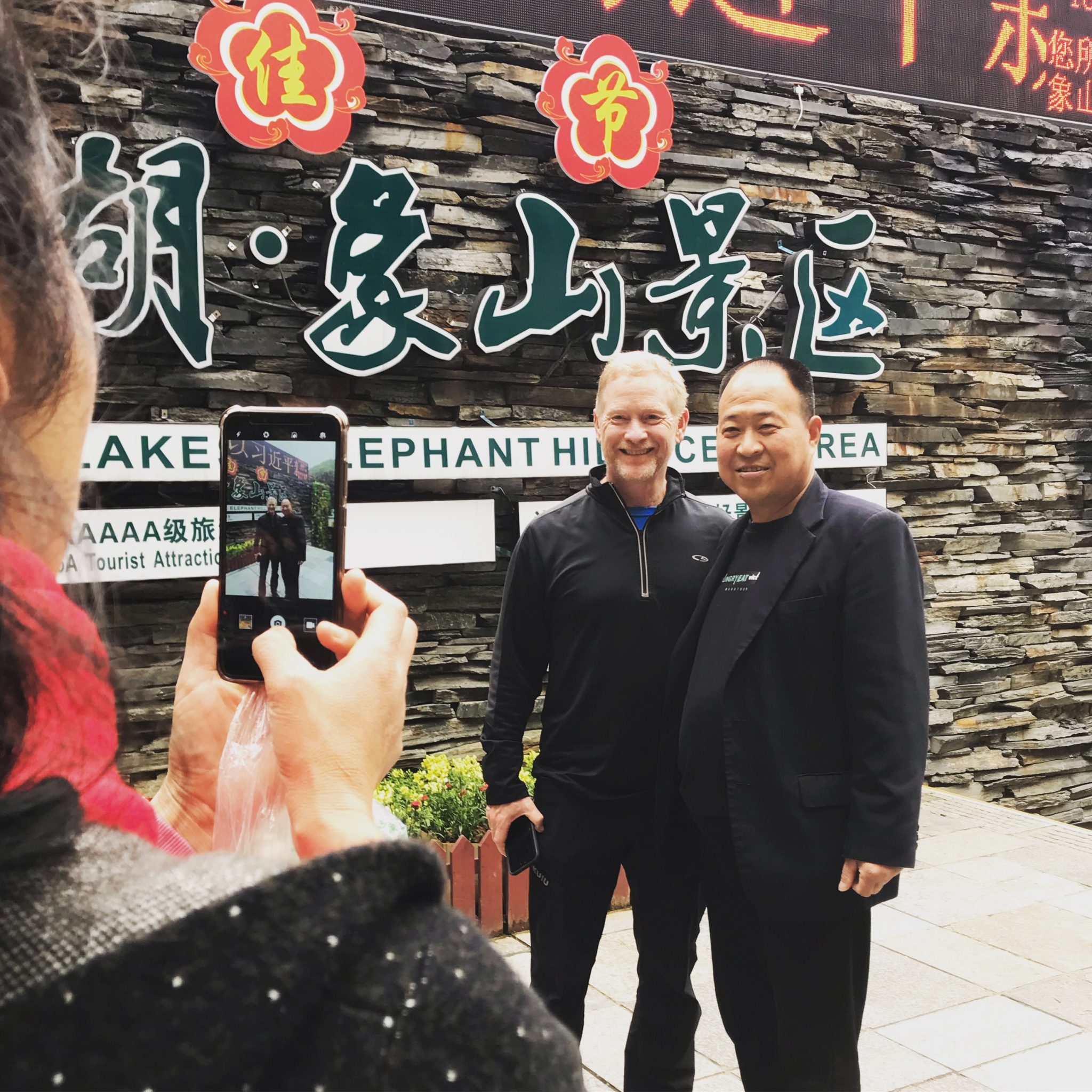 We were living our best lives on this trip, and it was made even better when we made another new friend at our hotel in Guilin, the Zen Tea House. We arrived to our cozy abode as it was rather cool and raining. We were enveloped not just by the physical warmth of the place when we entered, but of the hospitality.
When we arrived back from dinner our first night in Guilin, the owner and host of the hotel was seated at the handcrafted wooden table pouring himself tea from a little clay teapot into a small teacup. I peeked into the room and he invited the three of us to join him. For the next hour, our host told us of the organic tea that he was growing on nearby land, shared with us the finest tea that he imports from Taiwan, and explained the significance of tea to Chinese culture.
After such a beautiful impromptu tea ceremony, our host then offered my dad, who had thrown out his back before dinner, his special back brace. Keep it for the night he said. There is much to enjoy when staying at a 5-star fancy hotel, but it often does not come with this kind of kindness, this beautiful glimpse into what the people in our host country truly represent.
Throughout the trip, we certainly got our steps in as we walked through places like the Forbidden City, and all over the central area of Hong Kong for a day of sightseeing and then a delicious food tour. We rode bikes through the beautiful mountains of Yangshuo. Dad and I went for a run, too, breathing in the clean China air that is abundant in the countryside.
Getting sweaty all over the world, taking in new vistas while also getting in a workout, yeah, it's sweet. But the longer that I live abroad, and travel to places near and far, the more that I note how much I love that these experiences are about stretching so much more than my muscles. They continue to be about expanding my soul.