How Rachel Hollis is Helping Women Get What They Want (Plus, 3 Takeaways to Try Yourself)
Rachel Hollis is the anti-Kardashian we all need in our lives right now. Her new book, Girl, Stop Apologizing, the follow up to Girl, Wash Your Face, was released on March 5th.
If you don't know about Hollis yet, here's a little background. She's a New York Times bestselling author, founder of The Chic Site and a podcaster. As an influencer, she has over a million followers on Instagram. Did I mention she's also a top motivational speaker? And she only has four children…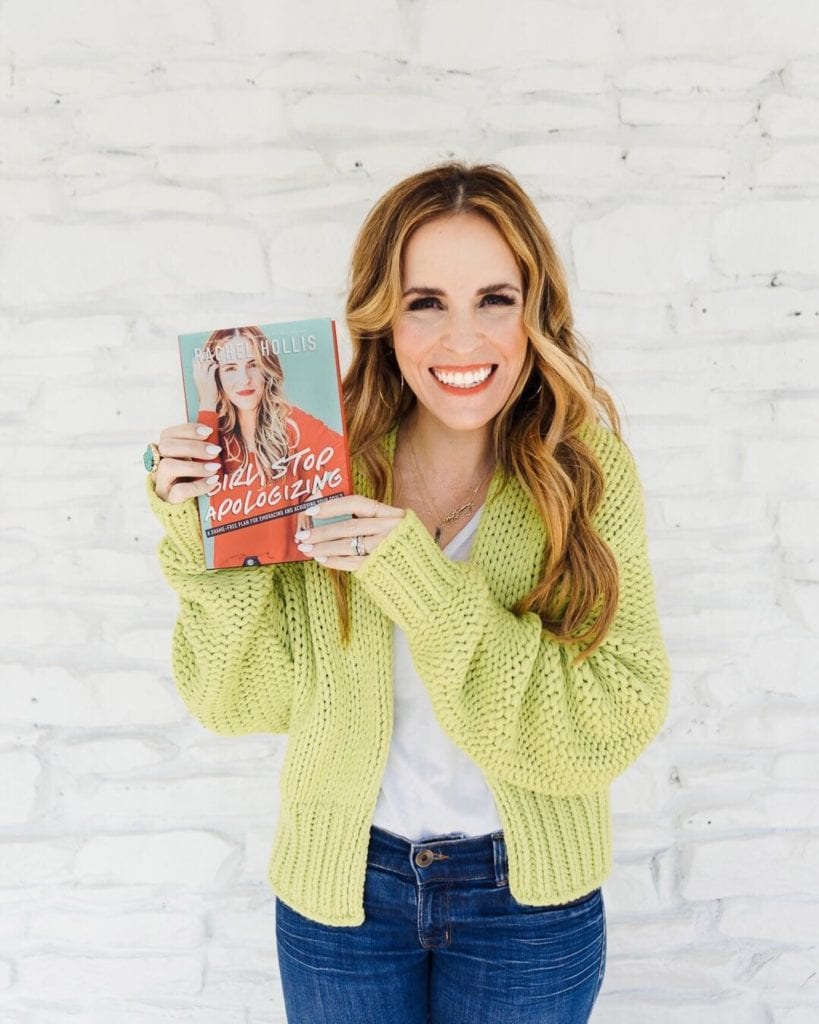 A high school diploma and a Google search bar
While Hollis has had her fair share of critics (please cue Mean by Taylor Swift), in my opinion, she has even more credibility. Hollis is entirely self-made. She didn't grow up with money and her household was, to put it very mildly, chaotic. She built her business with, as she says, "A high school diploma and a Google search bar." While so many influencers only show the likeworthy, Pinterest perfect versions of themselves, Hollis is open about her struggles just as much as she is her triumphs. 
Girl, this is for everyone
In Girl Stop Apologizing, Hollis addresses a problem so many women have—having to apologize for who they are and for wanting more. What's great about her approach is that it's just as applicable to the entrepreneur who wants to be a multi-millionaire as it is to the stay-at-home mom who really wants to run a marathon this year.
Hollis not only gets into the emotions behind why we have trouble achieving our goals but also gives very practical, actionable tips in plain English. Essentially, she's that girlfriend you love hanging out with and maybe slightly wish you could be when you grow up. 
Want a teaser of her advice in the book? Here are three actionable ideas you can try yourself as you attack that Big Hairy Audacious Goal.
Tip #1: "If you want something you've never had, you have to do something you've never done." 
This quote is the crux of the book. In order to reach your goals, you're going to have to work for it. Unless you're Kylie Jenner, no one is going to make things happen for you, but you.
What Hollis is so good at is breaking it all down. She has a system that works. Basically, it's to let go of behaviors that don't suit you and replace them with habits that do, make a plan of action and follow through with it. It's nothing that hasn't been said before, but it's way she writes and presents the information makes everything feel possible. She also shares about her mistakes and successes along the way. Hollis' unique voice and perspective shine though.  
Seriously, I'm surprised this book doesn't come with worksheets. After you treat yourself to this book, buy a nice new notebook and a fancy pen. I'd also potentially invest in a highlighter and sticky notes. If you really follow her instructions, you will learn that her approach to productivity and dealing with hindrances is truly practical. 
Your challenge: This week, challenge yourself to do one thing that kind of scares you, even if it's as small as upgrading from the 2lb to the 3lb weights in your barre class or as big as asking for a one-on-one meeting with your boss to discuss your trajectory at your company. By shaking up your usual routine, you get a little more comfortable with being outside of your comfort zone, making it easier for you to go after the big changes that are necessary for hitting your goal.
Tip #2: Ask for help
One of my favorite parts of the book is that Hollis talks about how she is unable to live her life without help. She's very open about the fact that she has a nanny, a housekeeper, an assistant and people who work for her company. 
She also knows this isn't a financial possibility for everyone. So she makes practical suggestions like asking your partner to watch the kids so you can train for that marathon, write that book, etc. She also talks about carving out time for yourself. There are ways to make things happen and we all have excuses when we fail. 
Your challenge: Ask for what you need this week. It can be ten minutes to shower while your partner watches the kids, or a coffee date with a potential connection who could give you advice on starting your own podcast. We know you're a strong, independent woman who can do it all on her own—but accepting a little bit of help means opening yourself up to a potential new ally and maybe, just maybe, making your life a little less stressful.
Tip #3: But really, stop apologizing
One of Hollis' best qualities is that she's grounded in reality. In her chapter about confidence, she talks about how feeling good about the way she looks, makes her feel more confident with everything. While we'd all love to live in a perfect world where we feel just as beautiful in no makeup and dirty hair as we do after 45 minutes at DryBar, not everyone does. Hollis shows that's okay because she feels that way too. 
While she knows people will criticize her for getting breast implants after the birth of her youngest son, she doesn't care. These things make her feel confident. Why should any woman have to apologize for doing something that makes her feel good? 
She also stresses that having her breasts augmented, getting her hair professionally colored, lash and hair extensions, aren't about achieving a specific societal standard, but rather, meeting her own standards. And that is different for everyone. It's not about looking good as much as it is how you feel about yourself. All of this transfers to other parts of our lives. We shouldn't ever apologize for who we are and whatever we need to do to "live our best life."
Your challenge: Instead of saying "I'm sorry for" in any emails this week, replace that line with "Thank you for." That way, "I'm sorry for the delay" becomes "thank you for your patience," and the recipient of your email feels appreciated instead of like they're being forced to forgive you.