How This Yoga Instructor Uses Improv on the Mat
"I'm comfortable when there's no plan," Jenny Finkel stated with a smile from her sun-filled Chicago living room. How many of you just gave your autumn-trip Google Doc — with its detailed itinerary of restaurants, running paths and trending nightlife — a sideways glance?
While ambiguity and unclear agendas may cause some level of anxiety in many of us, as an improv comedian turned yogi, Finkel thrives in a space where she is able to create a guide for — or be guided by — each moment as it arrives.
When I first caught wind of a yoga instructor that uses her improv skills to deepen her yoga practice, and that of her students, an inquisitive expression crossed my face. You mean there's an instructor out there making funnies while her students are in downward facing dog? Or heaven forbid an instructor making her students laugh while they are in pavanamuktasana, wind-relieving pose!
As it turns out, while Finkel can kill it on the improv stage, it is the skills, less the humor, that she has learned from comedy that have helped her become a sage yogi.
As with many of us, Finkel has found her way to her current life chapter through a series of unforeseen events.
In 2001, she moved to New Orleans. In 2005, Hurricane Katrina struck and turned the city upside down. As the disaster devastated the city, causing most of her friends to disperse to other places, Finkel coined New Orleans "The Big Difficult." At this point, Finkel — with a major in Human Sexuality and minors in Theatre, French and Art History — was working at Tulane Medical School.
If you allow yourself to feel the pull from the Universe, you may find yourself walking down unexpected paths, as Finkel did at times. It was an invitation to a friend's improv show in NOLA that bit her with the comedy bug again. In 2006, Finkel was back on stage, performing with Comedy Sportz, Funny Bones Improv, and God's Been Drinking.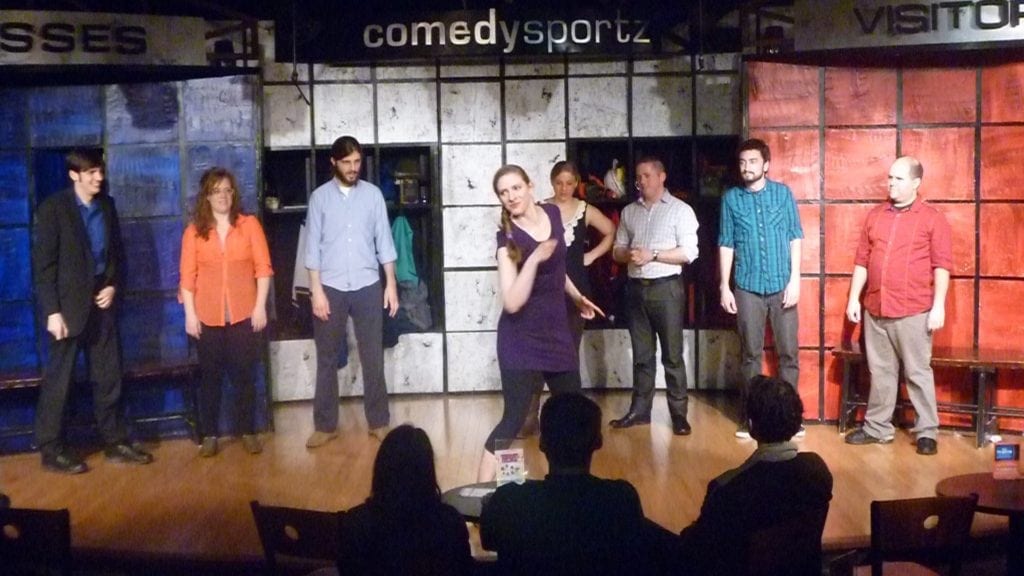 In 2011, the winds shifted, and Finkel made her way to Chicago, "the comedy capital of the world." She simultaneously worked in comedy, continuing to work with Funny Bones Improv while also pursuing additional yoga teacher training.
"Sometimes I am jealous of people who have such a clear path," Finkel expressed to me as we continued to speak of the way she continued to write her narrative that was influenced by her many passions. And then she found how her stage presence could connect to her presence on the yoga mat.
"Fundamentally both yoga and improv are both about listening, paying attention, and adapting," Finkel explained. Ahhh haaa I thought. An understanding struck me. So she's not cracking jokes while her students are trying to find their breath, but taking the essence of two seemingly disparate contexts and connecting them.
What at first appeared paradoxical became quite sensical as Finkel continued speaking.
In improv, you must pay attention to your partner. You must listen very carefully to what they are bringing to the stage, to see what your partner offers and see what then you can contribute in return. "Perhaps you had hoped to be a Russian spy in a set, but if your partner comes on as a farmer in Oklahoma, you may need to shift what you were bringing to the scene," Finkel said.
As a yoga teacher, improv has helped Finkel in practicality — she is comfortable with speaking to a room full of people, comfortable with the unexpected. Finkel may come in with a plan, but when she walks into class, her students may include women who are pregnant, someone experiencing vertigo, and another with a knee injury, so she adapts her plan for practice.
Finkel, drawing on her time onstage where she had to think on her feet and problem solve, also loves to deconstruct yoga poses to help her students accomplish poses that previously felt unapproachable.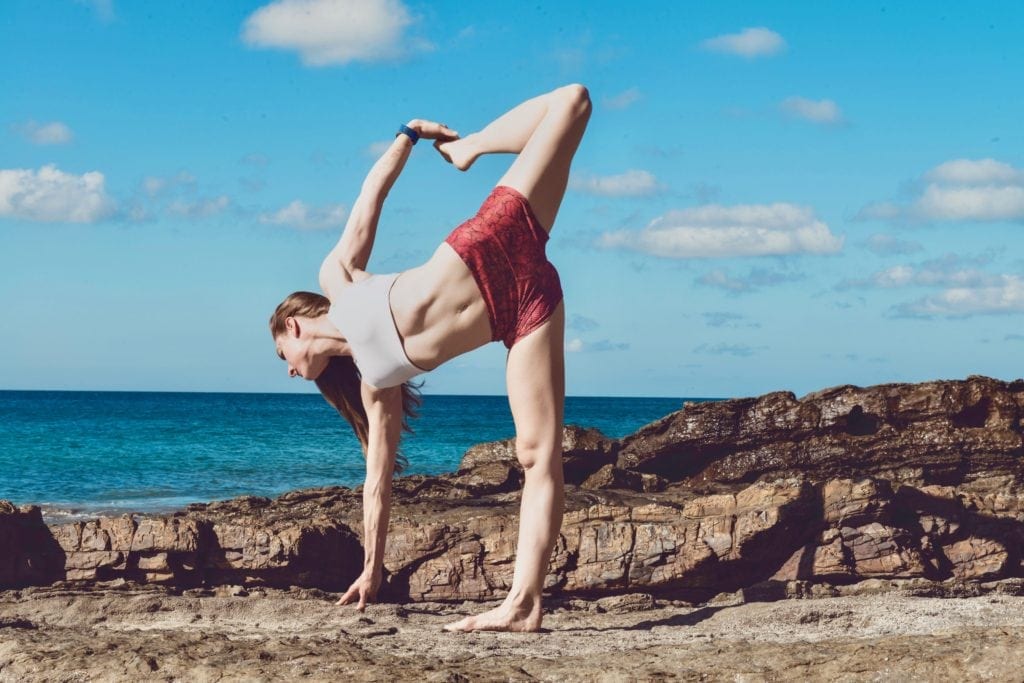 As one of her certifications is in cancer training, she may work with other yogis who may not be able to do all of the planned sequence. Thus, Finkel breaks down the pose to see what essence she can draw from it that is accessible to those of us that may have external or internal injuries we are working through.
During a Friday night in, rather than Netflix and chipping (those BBQ chips tho), I pushed play on Finkel's "How To Crow" on the SweatWorking app. After a hard workout the day before, and an entire week of English-ing my high school students, I felt like Goldilocks when she had found all of her "just right" stuff.  
As we were concluding our conversation, Finkel offered keen wisdom: "we should all unshackle ourselves from our expectations, and see what happens … there might be a plot twist."
Indeed, what Finkel has found for herself and what she helps her students to understand is that life is one beautiful improvisation.