Wellness Expert Sophie Jaffe on Superfoods, Staying Balanced, and Her "Philosophie"
Sophie Jaffe is seriously goals. Not only is she a mother of three, but she also has her own superfood line sold at Anthropologie, a major following on Instagram and a thriving podcast called IGNTD with her amazing husband, addiction specialist and author Dr. Adi Jaffe.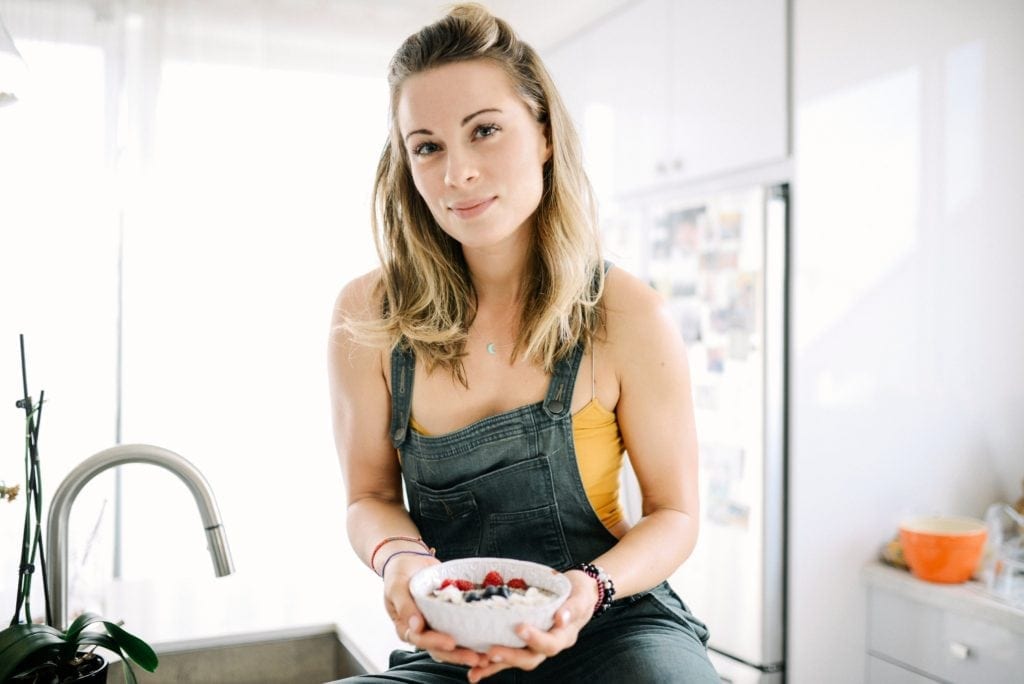 However, even with all of this success, she remains a warm, humble and frankly honest person. I recently sat down with her to discuss her the benefits of superfoods, starting her own line and how she really manages everything. Get ready to feel inspired by this amazing woman's personal Philosophie.  
How and when did you start The Philosophie?
I've always had a passion for health and wellness. After college, I worked at an organic raw juice bar down the block from my house and eventually became the manager of the store. I was so excited to help change the eating habits of others, and I was also able to change my own habits and find a path to curing some of my own discomfort that I faced with dairy, meat, and other foods that weren't working for me at the time.
I then became a certified raw vegan chef and my passion for healthy eating lead to Philosophie, which was sparked by my wish for an amazing blend of superfoods and proteins together in one, convenient jar. I didn't want to run out of maca or another individual ingredient and then feel like my smoothie wasn't complete, so I went all over LA searching for high quality, fair-trade, organic superfoods and then began packing them into mason jars and little bags. I started giving the blends to friends and family and making everyone workout and nutrition guides. One day, I was in the sea in Israel with my husband, Adi, and he turned to me and said, "You should really grow what you're doing and share it with more people, make it a company." And that's when it really took off.
What products do you offer?
Philosophie products include our signature superfood and protein blends made from whole, live, nutrient-dense foods which include: Cacao Magic, Berry Bliss and Green Dream.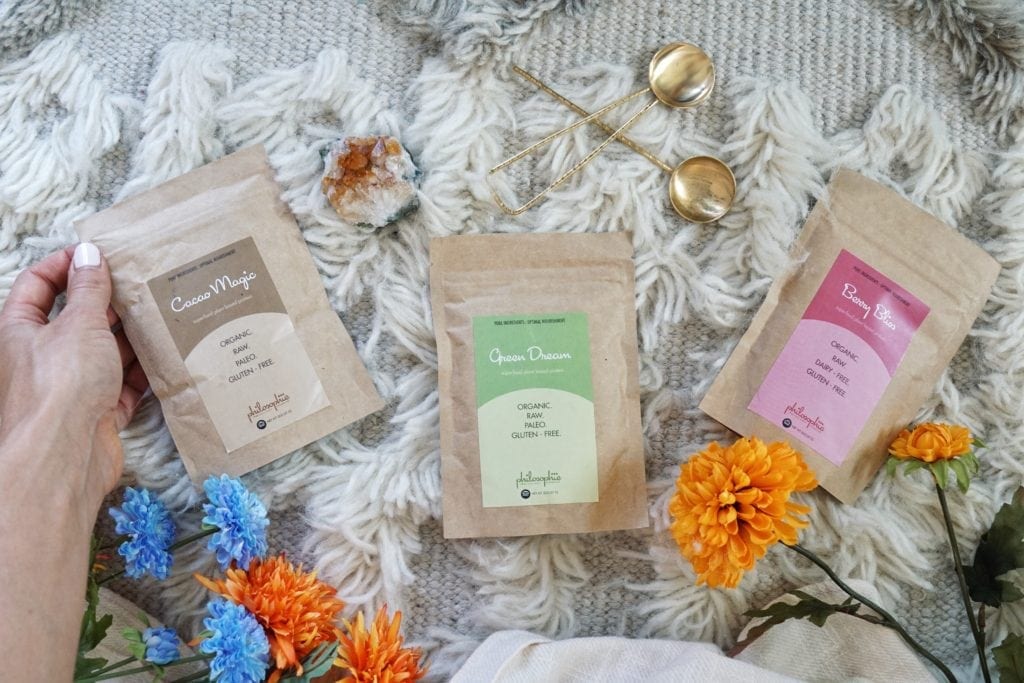 We also have superfood coconut butters made which include the same ingredients from our plant-based proteins and superfood manuka honeys. We offer cleanses from 1 day to a 14 day cleanse, e-books and a line of wellness products which include: Chrysalis Water, Detox Bath Soak, Magic Moon Satchel, Palo Santo, Sweet Grass, and more to balance your body and spirit.
How did you go about creating these products?
I have poured my entire self into creating and breathing life into these products. I'm so blessed to experience the growth of my business into a company that touches the lives of thousands. It's a small run operation but I have an amazing team that works tirelessly to help me create, package and distribute these products. I always add my own personal touch and love to every product we create. We recently revamped our coconut butter recipe so it's creamier, which is an example of how delicately we treat each product, making sure it's exactly the way we want it.
What ingredients are in them and how do you choose who you source from?
The Philosophie superfood + protein blends  (Green Dream, Berry Bliss, and Cacao Magic) are all vegan, raw, gluten-free, and have absolutely no filler ingredients. They contain nothing but the purest, most healing ingredients that have been deemed "superfoods" due to their exceptional nutrient density. I always decide where to get my superfoods from based on availability, consistency, organic, raw and price.
How did you get your products into stores?
We ship worldwide to our customers and work with carefully selected distributors. To date, Philosophie products were shipped to over 30 countries in 2017 and sold in 75 supermarkets, health food store and yoga studios in 12 states and Canada. I love working with companies and stores that support small business. They are the first I reach out to about a partnership. We are carried in Anthropologie, Urban Outfitters, and CAP Beauty; Switch Grocery in Canada; and are partnered with Amazon Prime.
What challenges have you faced as a business owner?
The hardest challenge is balancing a personal life and running a business. I used to feel so stressed about making sure that everything in Philosophie was moving forward while also being the best mother and wife I could. One day, it hit me — as long as my kids are safe, happy, and healthy, that's all that truly matters. Everything else is an added bonus in life.
There's never going to be enough time in a day. There's so much, too much to be done. And I really want to do everything that I can; I want to share wellness with as many people as I can around the world, but I also want to feel free, like I can hike, dance and play with my kids without being chained to my laptop all the time. I want to stop and smell the roses, and as a huge believer in the power of balance, I think everyone should be able to.
What has been your greatest accomplishment with The Philosophie?
The Philosophie products have helped everyone from George Clooney to my own dad and are continuing to help so many more people discover wellness and feel as vibrant and alive as they can. I love hearing stories from everyone—moms who have found success with their children by adding the superfoods to their normal foods, athletes with their performance improving and seeing some of the world's biggest names connecting and feeding their bodies Philosophie products.
Any advice for other women looking to get into the raw food biz?
Embrace being a woman; never stop being ambitious, strong, and compassionate. Ask questions, seek guidance, and don't see this as a weakness. Build a tribe and be there to support other women—success and happiness is not a finite resource, there's more than enough for everyone.
Can you share a favorite recipe?
This Cacao Magic smoothie is a perfect breakfast loaded with superfoods, fruits and topped with my favorite Kitchfix Grain-Free Granola.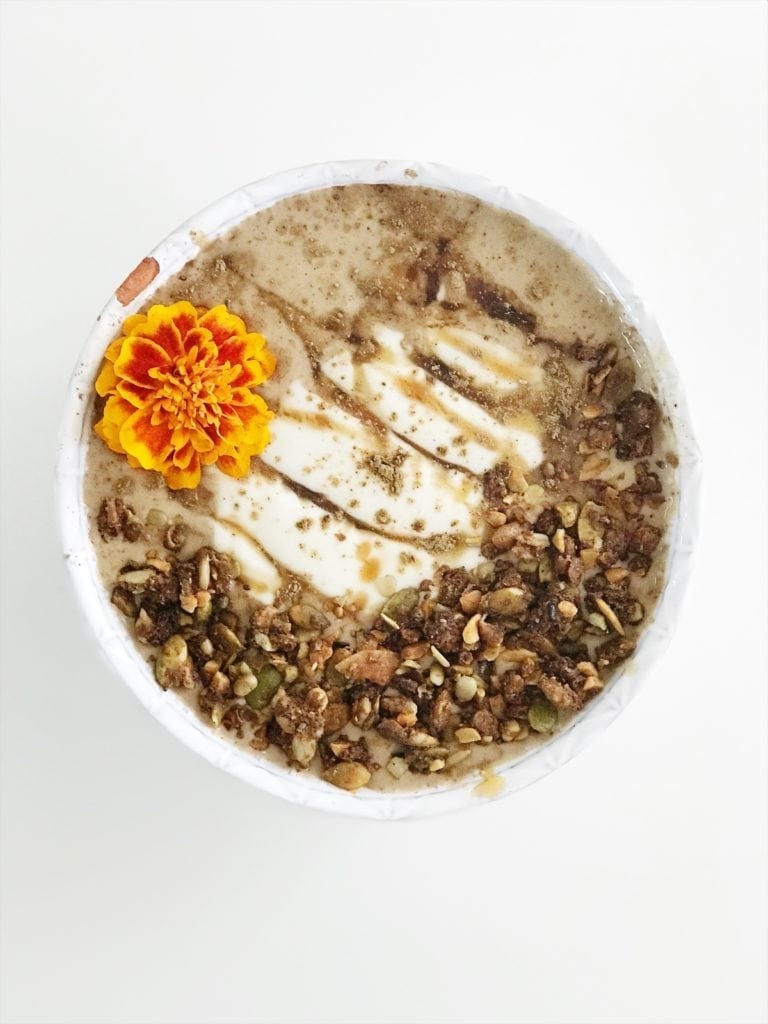 Gather This:
1 frozen banana
1 tbsp almond butter (or any nut butter)
1 tsp Cacao Magic Superfood + Protein Blend
1 tsp Coconut Magic Coconut Butter
1 tsp Vital Proteins Collagen (extra magic!)
1 tsp Sun Potion Women with Superpowers Powder
¼ cup dairy-free vanilla yogurt (we love Kite Hill)
Handful of ice
½ cup granola (we used Kitchfix)
Drizzle of Cacao Bee Honey
Do This:
Blend all ingredients into the blender, saving the yogurt, honey and granola for the toppings!
Pour smoothie into the bowl, spread a bit of yogurt on top, a drizzle of Cacao Bee Honey, and a sprinkling of Granola.