How Chicago-based Trainer Liu Gross Keeps Fitness Fresh
"Convention is the enemy of interesting," Liu Gross stated to me as he began to explain his philosophy on developing work outs. His words spoke to me, an international school teacher who broke with convention some years ago to seek adventure abroad. Gross is a Chicago-based trainer at CrossTown Fitness. I have been lucky enough to access his workouts, though, because he has also connected with SweatWorking app, currently offering 18 workouts that leave you feeling like a badass superhero upon completion — in a mere 15-20 minutes!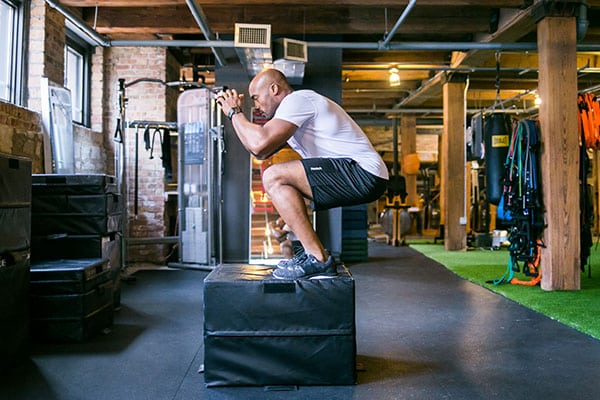 Gross's motto is Be Better or Be Basic. This is not to say that basic is bad — "it is a foundation," argues Gross, that you build on as you become stronger, so that you can move on to the next challenge. Gross does indeed know how to build a fitness challenge that will help you discover your inner Wonder Woman or Thor. I completed his Beyond Functional series on the app in January; I will own the fact that I had fun flexing in the mirrors at the gym, noting that I had never looked or felt as strong before, and I'd had a great deal of fun building those biceps with Gross's dynamic workouts.
What motivates an athletic trainer to be innovative?
Gross said that, for him, it's all about playing. "It's okay to fail," he proceeded. "I love to use the 'what if' method when developing workouts … I've got this squat going on here, so how do I make it more interesting? What if I do a squat and then step out and pivot?" I nodded as I listened to Gross continue to explain how he keeps all of those routines so fresh. This is largely what I loved about his challenge in January; the moves are not overly complicated, but they aren't necessarily combinations I would have thought to put together on my own.
Gross laughed as he told me how he had made peace with being the dude at the gym doing all sorts of funky moves that illicit some stares. This often leads to another gym-goer meandering over to inquire what he's doing, and Gross is always happy to explain how he is bringing a fresh face to fitness on any given day!
What might lead someone to become an athletic trainer?
For the past few months, I have appreciated learning from Gross through SweatWorking app. As we continued to speak, I found that, in addition to the workouts that he offers, there was a great deal more to like about him. Fifteen years ago Gross was working at Home Depot and doing construction. While watching the NFL Combine, Gross found a spark for a different passion: training athletes, beginning with the everyday athlete. "There's a certain gratification with working with someone that hasn't has this kind of [fitness] success before," Gross revealed to me.
His passion was further grown when Gross read Simon Sinek's Start with Why. His take away from the book: his calling was in helping people develop their most fit selves. When he is working with clients, he hopes to offer wisdom that travels beyond that particular training session, perhaps bits of fitness advice that the client will share with another friend, finding its way to more and more of those of us seeking to build up our bodies.
What is unique about Gross's approach to coaching?
In these past years, Gross has continued to build a brand around workouts that you can do in a 12×12 square — again, his workouts are my jam because I can do them in hotel rooms around Asia and in my tiny Chinese apartment. He works with clients on how to build not just their muscles, but their mindsets. "Just like a muscle, our minds can be weak or strong, which means they also needs to be trained," Gross explains. "Helping to cultivate a gritty mindset is important because no really meaningful goal has ever been achieved without it. So the way my athletes think, the words they tell themselves, their willingness to accept the unorthodox challenges I put in front of them — all that is a testament to just how strong their minds really are … I want to inspire confidence in every kid, every client," Gross expressed with such enthusiasm that I could not help but smile at his energy.
I can attest to the confidence that Gross is capable of inspiring. I continue to gravitate towards his workouts on the apps because they help me find muscles that that have been hibernating and give them a good kick. Last week I finished his Dumbbell Burn on the app. I woke up the next day hurtin' so good, giving Gross a mental fist bump for reminding me that there are a dozen ways to squat, waking up more than just my quads and inspiring me to continue to go beyond my basic and be better!