A Fit-cation on a Budget in Lake Geneva
(Disclaimer: I received an entry to run the Abominable Snow Race and the cost covered for accommodations at the Grand Geneva. As always, we only share the products and experiences we truly love and want to share with you. You can check out my BibRave review of the Abominable Snow Race here)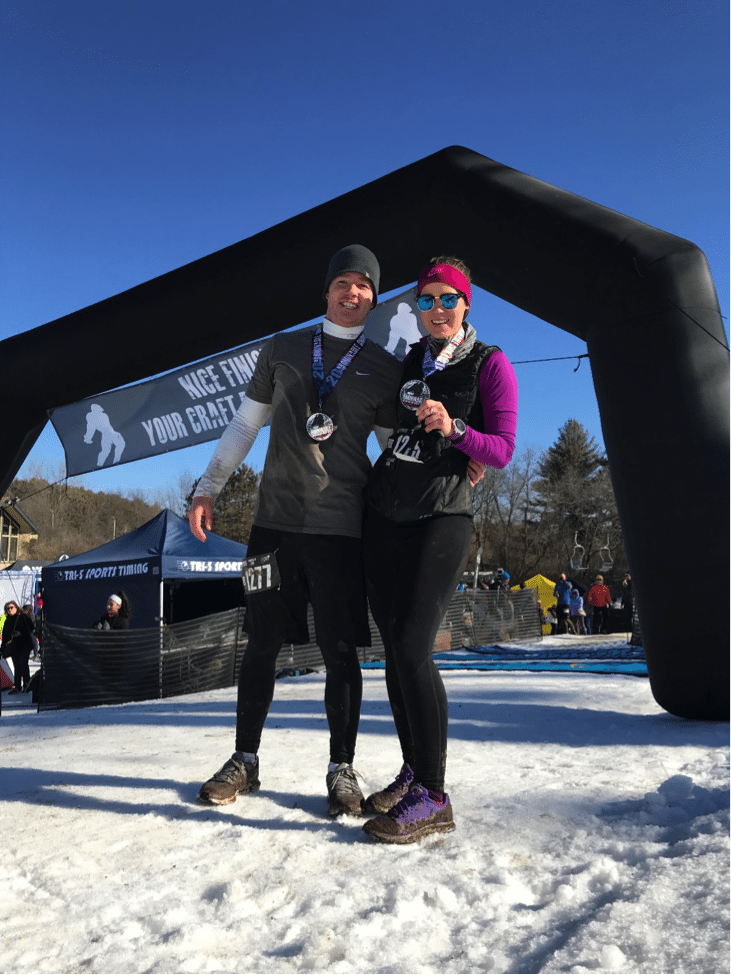 Here on aSweatLife, we're fans of the fit-cation (so much so, in fact, that we are started 2018 off by announcing our own happening this April). However, fit-cations often come at a price, and it's usually a cost that prohibits many of us from booking on a whim.
As a Chicagoan, I've been to Lake Geneva a handful of times – but always in the warmth of the spring and summer, usually making a pit stop at the beach and getting a scoop at Scoops. With a 23-mile shore path around the lake, I've even made the hop over the Wisconsin border just to mix up my marathon training runs (twice).
Lake Geneva has always been engrained in my mind as a warm weather destination, but after recently spending a cold January weekend there, I can attest that it's a great year-round escape from the city – touting just as many cold weather activities as warm weather ones – often at a reasonable price point.
If you're thinking about getting out of the city but don't want to break your bank on a trip out to the Rocky Mountains, here's some of the fit-cation activities you can enjoy in Chicagoland's backyard.
Unique Events and Winterfest
During my first winter visit, we kicked off Lake Geneva's Winterfest. Winterfest is a nine-day family-friendly festival, which is home to a human dog sled race, ice sculpture competitions and delicious cold weather cuisine (think: a big bowl of hot chili).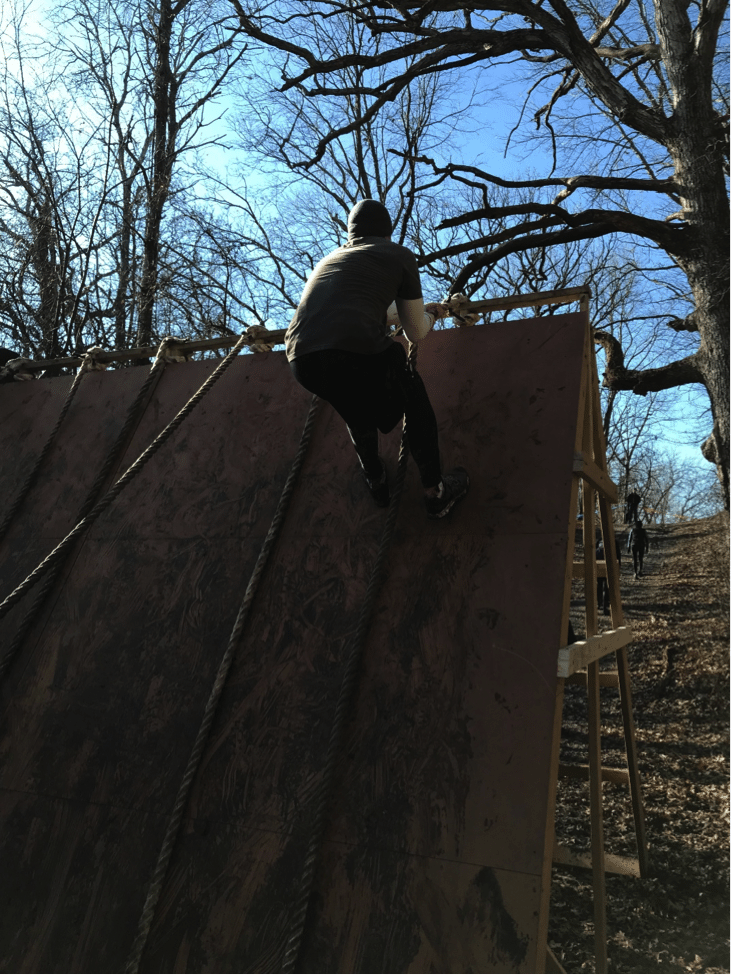 We tried our hand at an obstacle course held on the grounds of the Grand Geneva called the Abominable Snow Race. Over 2,000 racers gathered together to complete 20+ obstacles on the ski mountain, scattered across six miles of terrain. While I was thankful for a mild January day in Wisconsin (it was 50 degrees!), the mud and ice combination on the course made for a very interesting additional challenge.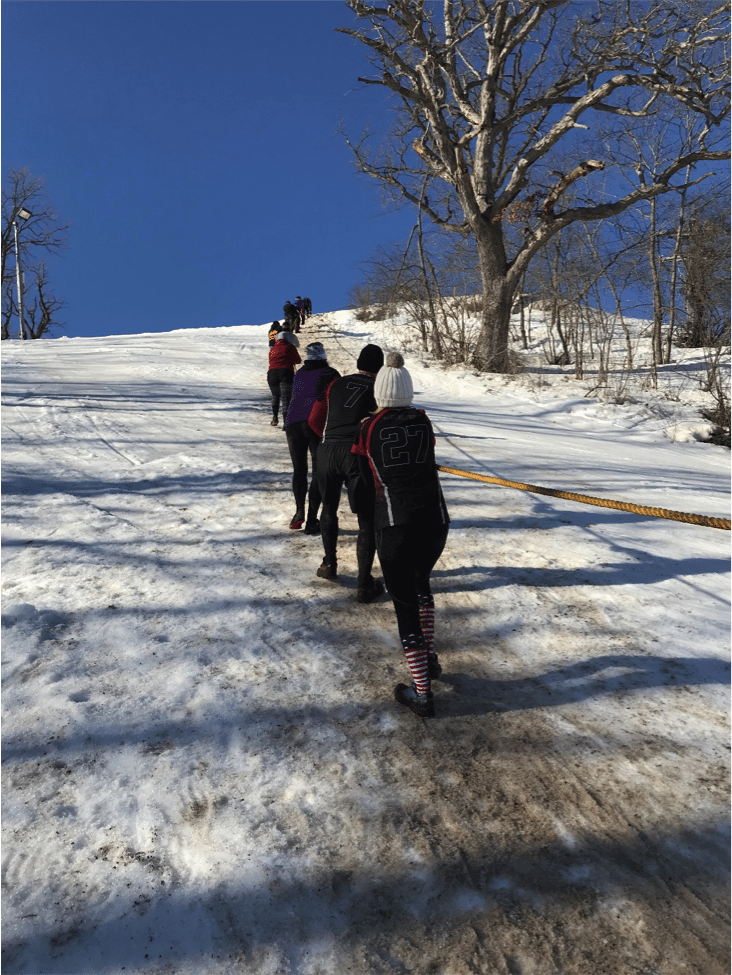 Winterfest isn't the only time of year that Lake Geneva plays host to winter events. You can check out this events calendar that is filled with Wisconsin Fish Fry nights, a Shred Fest and the Snocross Championship Series.
Ski & Snow Sports
The Grand Geneva offers a mountain of activities on site, which include skiing, snowboarding, and sledding. There is also equipment to rent for cross country skiing on premises; cross country skiing equipment can also be used and rented at the local Big Foot Beach State Park. Able to get away in the middle of the week? The Grand Geneva offers $15 lift tickets and free rentals on Wednesday nights.
Ice Skating
I love ice skating, but I hate waiting in long lines in the city to get on a rink. Lake Geneva is home to several outdoor ice skating venues at its multiple resorts and Library Park, a ten acre community park on the north shore.
Indoor Activities
Not a big fan of the snow? Prefer the great indoors? From a 35 foot indoor climbing wall, fitness classes, indoor recreation centers, and a large indoor pool – there's something for you to do, even if there's snow on the ground. Taking a rest day? Lake Geneva boasts plenty of local spa options, too.
Snowmobiling
Like jet skiing? Meet its winter cousin. Pack up your snow gear (AKA everything you'd need for a day on the slopes). You can explore Wisconsin's trail network in Lake Geneva a nearby counties with a snowmobile rental (PS – don't forget a helmet).
Ice Fishing
If you have a little patience and an interest in eclectic sports, Lake Geneva offers ice fishing options (don't worry – this ice fishing includes heated shacks and all the equipment you need). You can warm up in between big catches with some local craft brews from Geneva Lake Brewing Company or a local wine from Studio Winery.
Hiking
Weather permitting, there's a lot of beautiful hiking trails in the Lake Geneva area. What Illinois lacks in elevation, Wisconsin certainly makes up for. If you're willing and it's warm enough, there's plenty of trails to explore during your visit (just double check to make sure they are open and accessible first).