ALS Didn't Stop This Man From Finishing His First 5K
Training for your first race always feels a little daunting, especially if you've just picked up the running habit.
Now imagine you're doing it at age 59, with a disease that is slowly paralyzing you.
That's the challenge Warrenville's Kip Fontana decided to take on – and he crushed it, finishing the Les Turner ALS Foundation's Strike Out ALS 5K earlier this month.
I met Kip and his family – his wife Laura and daughter Kara – while reporting on his story for Runner's World (read it and see video of his finish).
Kip was diagnosed with amyotrophic lateral sclerosis – also called Lou Gehrig's disease – seven and a half years ago. It's a progressive condition that affects motor neurons, causing them to stop sending signals to the muscles. Over time, unused muscles atrophy, typically causing paralysis and death.
There's no cure, and many people die within three to five years of diagnosis. Kip has passed that mark, but the disease has already had a profound effect. He had to retire last year from his distinguished career as a school psychologist; his speech slurs, he uses a breathing machine at night and he's lost most of his upper body strength.
But his problem-solving skills remain intact, as his race preparation demonstrates. When he first tried running, he couldn't hold his arms up long enough to comfortably stride. So he fashioned a device out of exercise tubing, foam padding, and thick sweatbands to support them and allow his torso to rotate naturally.
About two weeks before the race, he faced another obstacle – hip pain that turned out to be severe arthritis. His doctor told him he should probably lay off the pounding. Kip's response? "Nothing's going to stop me; I'm going to run this," he told me. "I'm just going to do the best I can."
He did rest up between then and the race – which, I told him, was basically just a taper, when runners reduce their mileage before a big event.
The final challenge came during the race itself. It was hot and humid that night, which was hard enough. But somewhere around the halfway mark, Kip lost control of the muscles in his neck – a symptom he hadn't had before, but is probably linked to the progression of his disease.
His 19-year-old daughter Kara – also running her first 5K – came to the rescue. At first, she was behind him, since (in her words) he's the better runner. As his head drooped and he slowed down, she caught up, grabbed him by the back of his Sox cap, and headed toward the finish.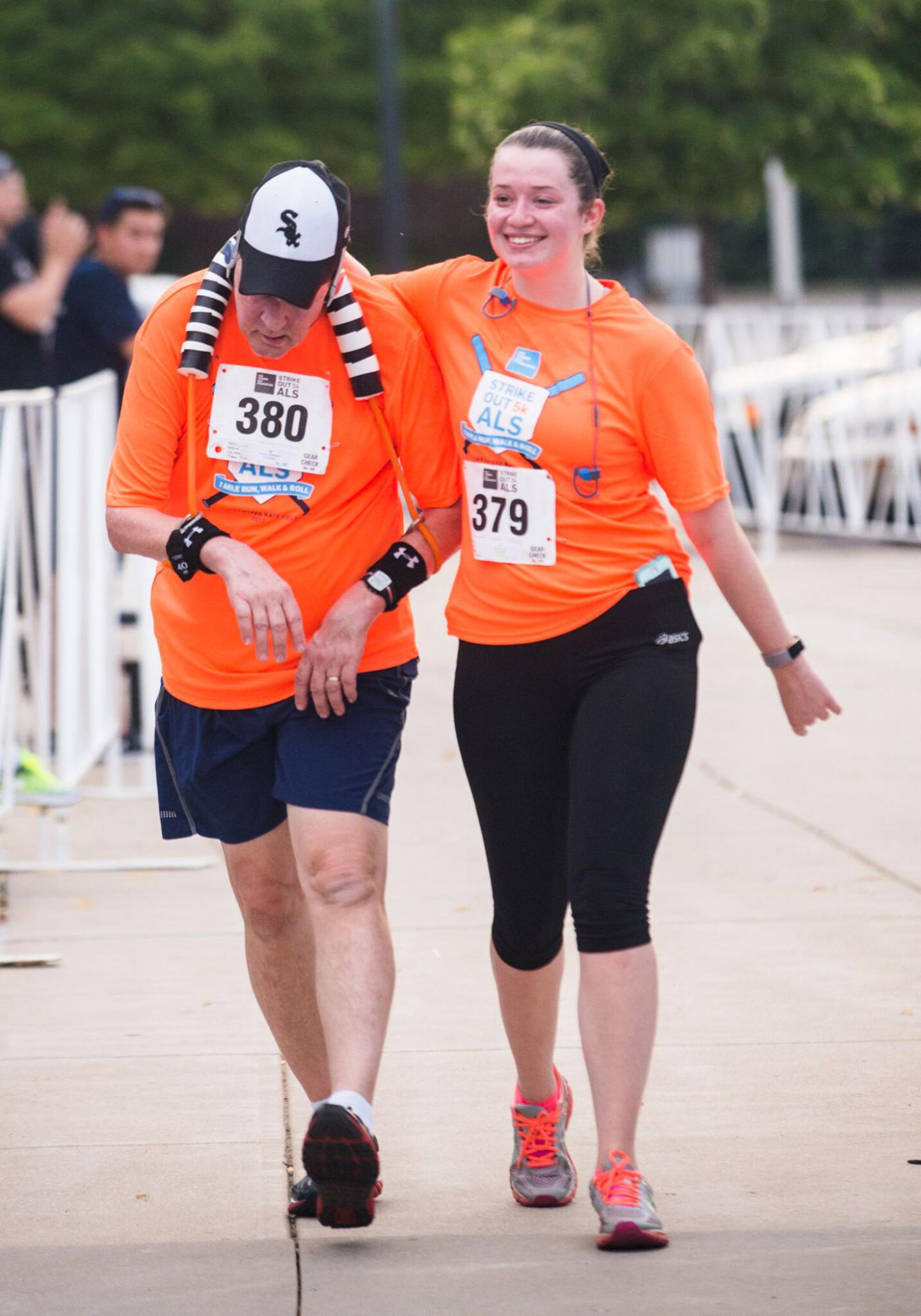 Waiting for your friend to appear at the finish line can feel a little nerve-wracking, especially the first time.
Now imagine you're Laura Fontana, waiting for your husband with ALS and your daughter (who, by the way, has severe asthma and had just recovered from a concussion), and it's about six minutes after his goal 40-minute finish time.
Laura described her thought process to me afterward. First, of course, she felt relief when she saw them. She noticed there was something wrong with his neck, and thought, "that's new." Then, she thought: "He's already made an adjustment. He's like MacGyver."
At this point in our conversation, she turned to Kara. "To see you together, and that you helped him at the end – amazing. I just couldn't believe it." I think there may have been tears in her eyes, but it was kind of hard to tell, through mine.
Kip accomplished this feat to raise money and awareness for ALS, and to encourage others to live each day to the fullest. You can still donate to his efforts.