Don't Let Your Long Run Wreck Your Weekend
Now that summer's underway, the Lakefront Trail is filled with packs of running groups. If you're preparing for the Bank of America Chicago Marathon or another half or full marathon this summer or fall, you're probably building up to some pretty significant digits on your weekly long run.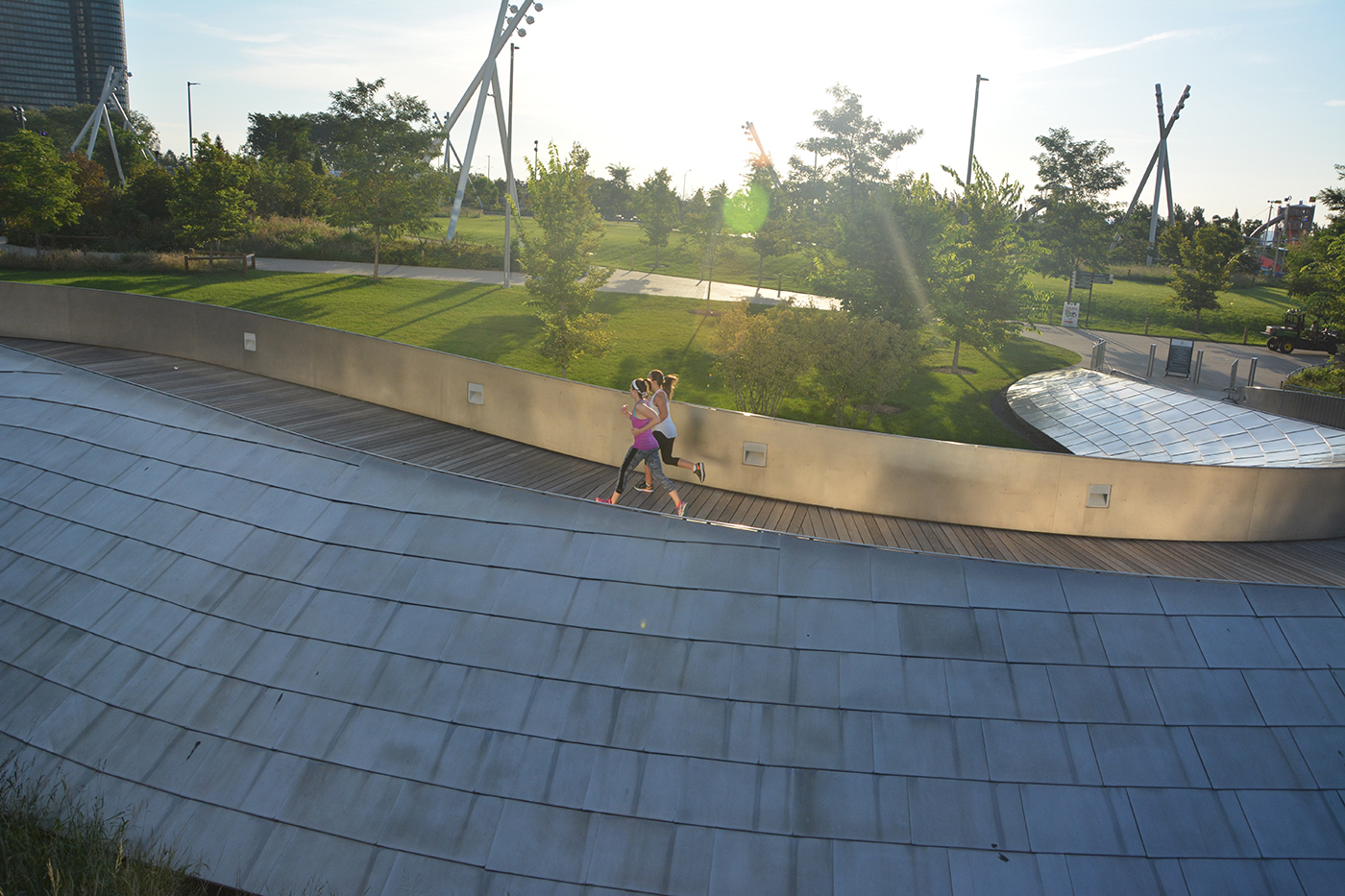 Especially in the heat of summer, these prolonged efforts can leave you feeling pretty zapped. But because it's Chicago summer, there's a lot of other things you'd probably rather be doing the rest of the day than just passing out, from rooftop parties to music festivals to parades and marches.
For a Runner's World article, I had the chance to talk with a few running coaches and ultramarathoners – people who regularly log training miles of (gasp) 30-plus miles – about the best ways to fend off post-workout exhaustion. Here's what they recommended before, during and after your run so you can train and still have a life.
Before you head out:
Plan ahead. Ideally, you'd run long first thing in the morning; the weather's coolest and if that's when your race will be, you'll want experience running at that time. But if you have a commitment later in the day and you're afraid you'll be too exhausted, you can consider running afterward instead, or even breaking your mileage up into two parts.
Sleep well. Get a good night's rest on the regular. Sometimes those hot summer runs require a super-early alarm, but if you are in the habit of snoozing seven to nine hours most nights, you won't feel as dog-tired before or afterward.
Pre-fuel. Eat breakfast, preferably something with a lot of easily digestible carbs. Personally, I like either overnight oats or puffed brown rice cereal with a banana, some cinnamon and chia seeds and a little protein powder, but maybe bagels or toast with peanut butter is more your jam. See what works, and tinker with the timing so you have time to digest before you start.
On the run:
Go slow. Coaches' opinions on this vary, but many advise doing long runs anywhere from 30 to 90 seconds per mile slower than you plan to run the race. This gives you more time on your feet building endurance – the primary purpose of long runs anyway – and reduces the fatigue factor. Especially when it's hot, don't be afraid to take walk breaks or stop frequently for water.
And speaking of water, drink it! We're so lucky to have so many fountains on the lakefront; using them can prevent the fuzzy feelings and rebound headache that come with dehydration. If you're running somewhere else, there are lots of great options for carrying hydration with you, from vests to belts to hand-held bottles.
Your muscles can only store enough energy for about a 60- to 90-minute run, so if yours will last longer, try to take in some calories in transit. Most runners use sports nutrition products, including drinks like Gatorade or Nuun, gels or chews – but I've known runners who try real food like raisins, pretzels or candy. It all depends on what tastes good and what your stomach can handle, but regardless, consuming some simple carbs helps you feel better both during your run and afterward.
After you get home:
Re-fuel. Sensing a theme here? Even if you've eaten before and during, a good post-run snack goes a long way toward reducing fatigue by replenishing your energy stores. Within about 30 minutes of stopping, look for something with a 4:1 ratio of carbs to protein. Smoothies with fruit and protein powder go down extra easy when it's hot, or try my go-to: Greek yogurt with tart cherry concentrate and some cacao nibs. Then try to get a complete meal with protein, carbs and healthy fats within a couple of hours.
Nap if you can. I always try to get at least 20 to 30 minutes or so in bed after a long run. Sometimes I don't fall asleep, but I still feel better resting my body and mind.
Then, move around. Running errands, doing a few gentle yoga poses – even if you don't have anything else you absolutely have to do the rest of the day, you'll actually enhance your recovery by staying somewhat active rather than parking your butt on the couch.
How do you recover after a long run or other summer workout?