An Adventure in Asia: In Search of Seoul Food
I just finished nibbling a piece of dark chocolate and sipping on a glass of wine. This is, like, my jam, you know? My heaven. And yet I am still sitting here thinking about my new obsession: kimchi. I am making like one of Pavlov's pups looking over the photos from my latest adventure in Asia, a trip to Seoul, South Korea.
I like to consider myself a cultured person. I dig reading. A lot. Museums that display art and relics from times long past fascinate me. And I love the theatre. But if I am honest, the way I like to dig into other cultures most is through food. Plain and simple, and quite spicy if you are in Seoul.
For the sake of helping you determine your next night out, allow me to recount the dishes that pranced and danced all over my tastebuds in that city of cat cafes, beautiful people and heated toilet seats.
1. Kimchi omelet roll: a Swedish pancake-thin omelet with kimchi rolled inside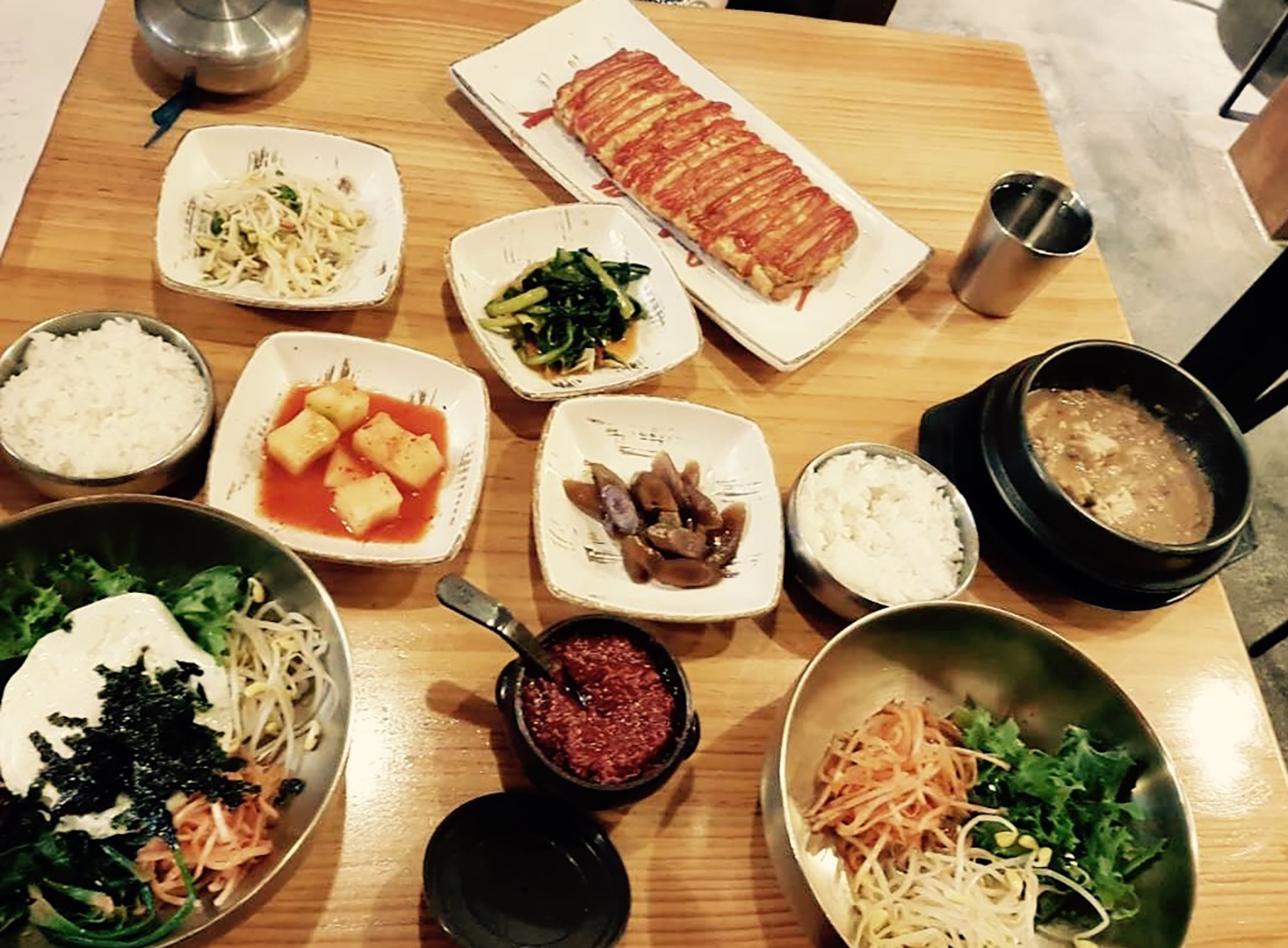 As you are googling the nearest Korean restaurant right now, let's talk more about kimchi. Kimchi consists of vegetables, generally cabbage, that has been fermented in garlic, ginger, fish sauce and the kicker, a fiery chili sauce. My gosh, does it break dance on your tongue! You sniffle, you blink back tears, and then you go in for more. It is a flavor bomb of hurt-so-good, and it's good for your gut because it introduces probiotics, or healthy bacteria, to your tummy. This is why you can feel good about a mid-morning snack of …
2. Kimchi fries
That's right, if you head to Vato's in Itaewon, a trendy neighborhood with dozens of dining and shopping options, they will serve up thin and crispy french fries smothered in kimchi. While I could eat kimchi three times a day, for lunch you can dig into …
3. Bibimbap
This hot stone pot is filled with various ingredients such as bean sprouts, spinach, seaweed, carrots, radish, roe (fish eggs) and black sesame seeds all over rice, with a runny egg on top.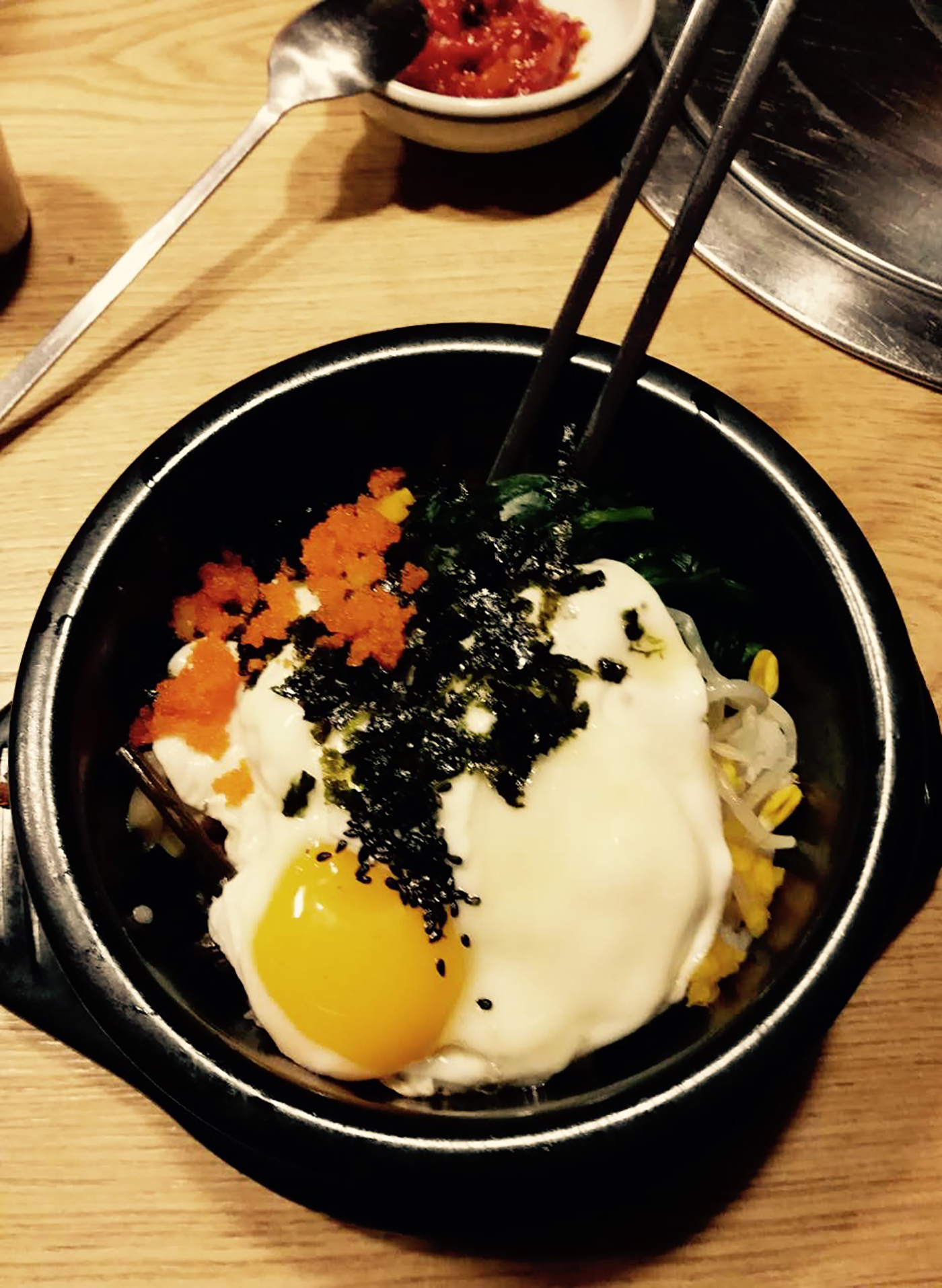 The chili paste they serve on the side, a perfect blend of sweet, tangy and spicy, got all mixed into my bibimbaps on this trip. Koreans put a good dash of magic into that paste, and it is widely available at your local Korean market, like Joong Boo Market or H Mart in Chicago. Just like you do your dynamic runs and push-ups, just do gojujang. Now, if you are like me, at lunch you're already asking, "What's for dinner?"
4. Korean BBQ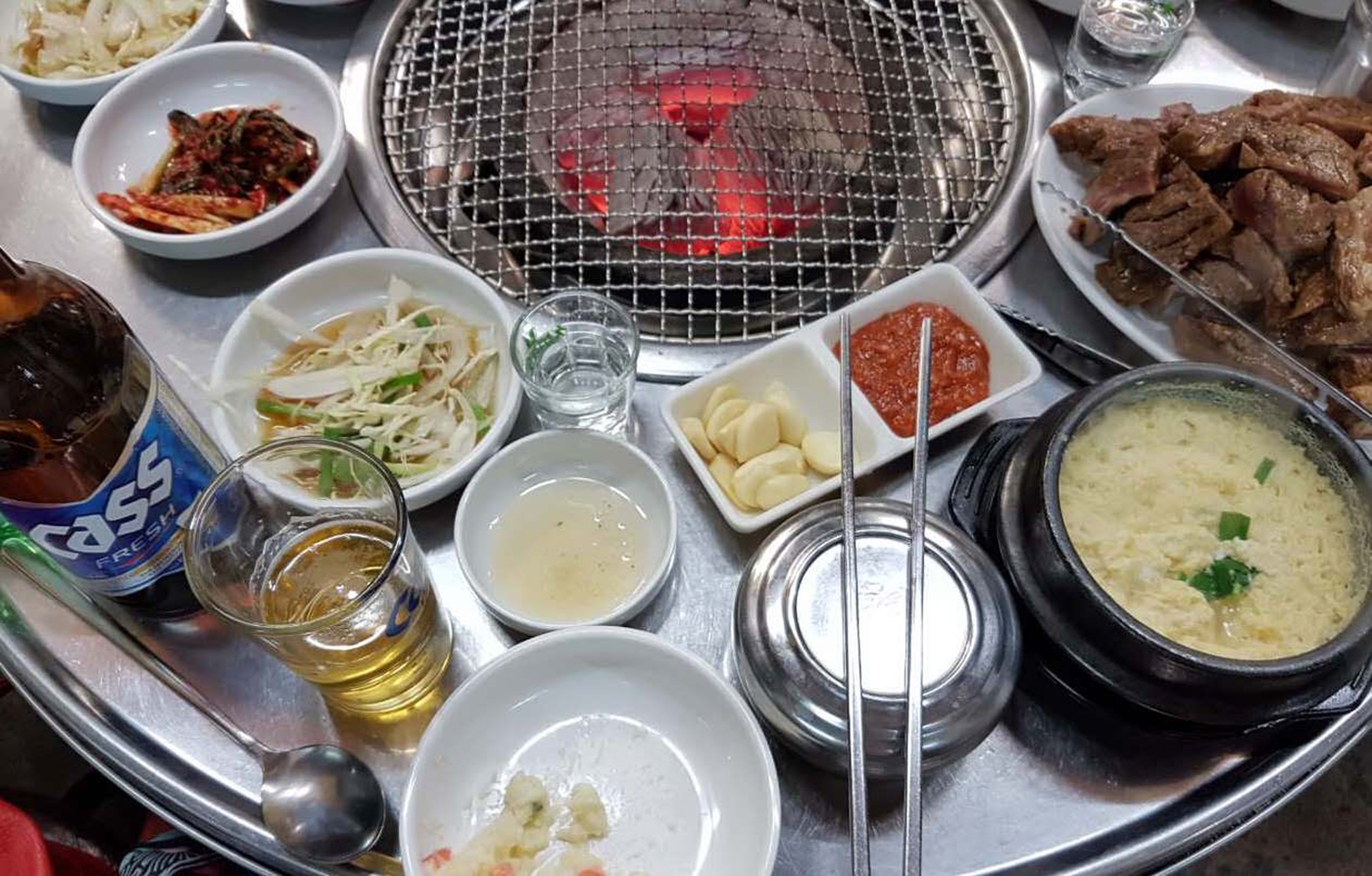 Korean barbecue, that's what's for dinner. This is a fun dining experience where a sunken grill is placed in the middle of each table. You pick your meat, and half a dozen sides of various veggies (including kimchi!) come on the side. Soju, a distilled rice beverage, pairs well with this dinner, and it is as cheap as water. After dinner, if you are up for a short plane ride with a full belly, Jeju Island is less than an hour away. After a nice slumber and light breakfast, the best lunch there is …
5. Fried black pig.
This is the pork cutlet from pigs native to the island. It is served with caramelized onions, mushrooms flavored with bay leaves and pickled beets. The topper is a sauce that we called Liquid Love.
I just uttered a nostalgic foodie sigh here. I am heading out with friends to Korean BBQ this weekend, and so can you! My Chinese dwelling Korean friends from Chicago recommend San Soo Gab San and Cho Sun Ok if you are in the Chi-town area. Here is a holler to my hometown with this list of Korean restaurants in Minneapolis, and if you are in the Big Apple, make a reservation at Kang Ho Dong Baekjeong to experience many of the dishes named in this post.
Geon bae, friends. Eat well and be happy.