We Got Goals: Co-Creator of POWWFUL, Lotika Pai, Shares
There are people who love life, and then there are people who exude loving it out of their pores. I've gotten to know Lotika Pai, co-creator of POWWFUL active wear, over the past couple weeks and can safely say she is huge proponent of loving life and letting it show – all the way into the amazingly bold and beautifully colored sports bras and tanks she and her partner, Wen Yao, created in 2016.
Lotika's zeal for life shows in the passion she holds for her new business and for every other area of her life. And even though POWWFUL is planning to launch in a whole new market in 2017 – an endeavor that could make anyone frightfully excited to talk about – Lotika shared her passions for connecting with her friends and making more home-cooked meals at home to connect with family as equally important goals for her year ahead.
2016 Goals:
After living in Boston with her family for a brief stint, Lotika wanted to do something in Chicago that allowed her to stay put once they moved home.
"That's what led to POWWFUL," Lotika said. "I just wanted to be in Chicago and not have to travel for work quite as much, but the idea [of POWWFUL] germinated around June. In January all I wanted to do was figure out a way to build something local."
And deeply rooted in the local market, it is. The fun active wear line draws on cultural and architectural icons, beginning with Chicago, for design inspiration. The impetus for this is simply because of the places that the co-founders hold near and dear to their hearts.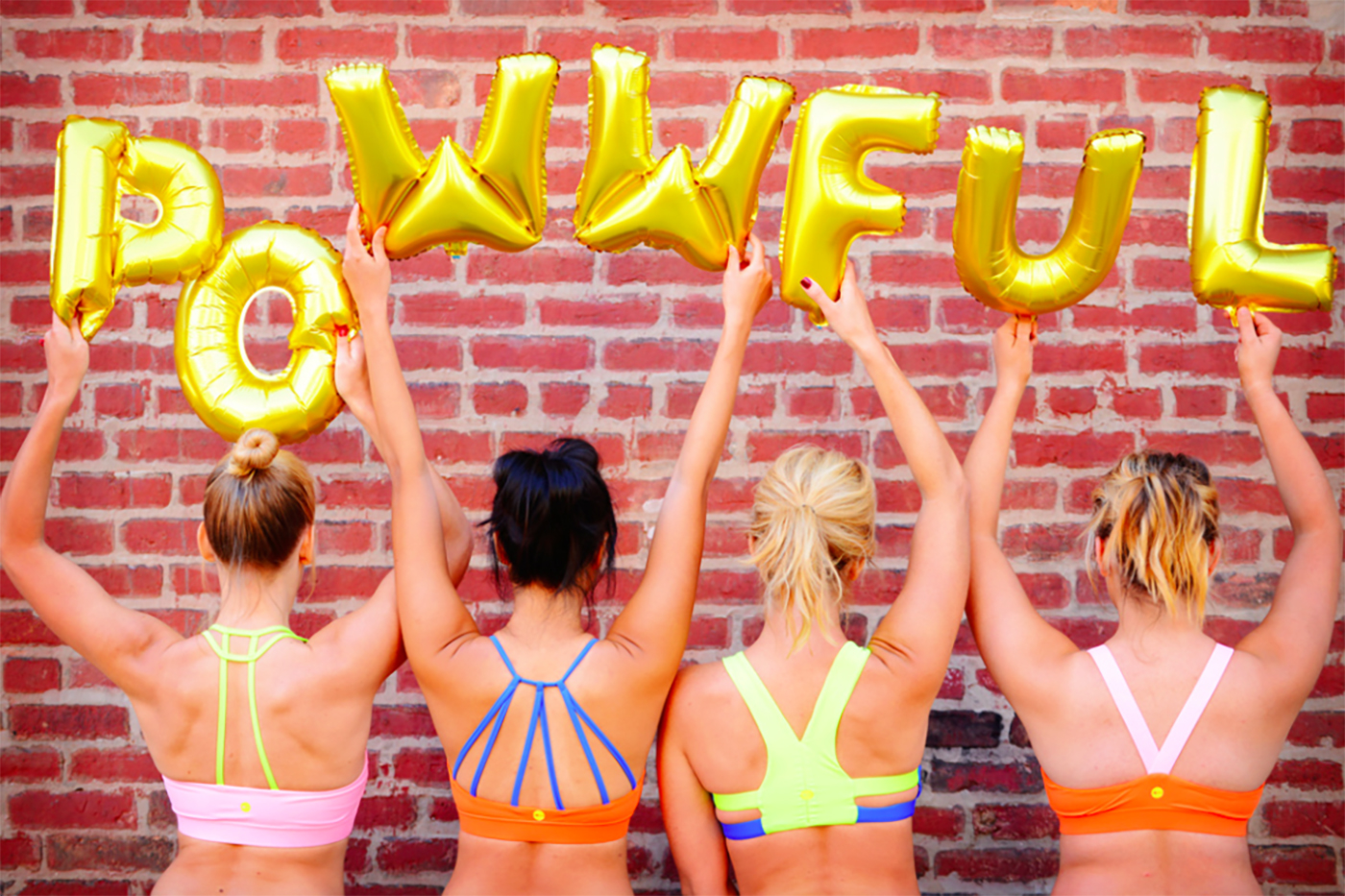 "I've lived in Seattle, Michigan, Cincinnati, San Francisco … and Wen has similar attachments to a lot of cities as well," Lotika explained. "There are so many beautiful buildings. There is so much you can get inspired from. And we started with Chicago because that's where we're from."
2016 was clearly a busy year for Team POWWFUL, but Lotika's goals for the year weren't all business; in fact, the first thing that came to her mind when she reflected on what she's proud of was reconnecting and staying connected with her close group of friends at home Chicago when she moved back.
"Making good friends takes a long time, and moving away to Boston made me realize that," Lotika said. "Money comes and money goes, but its the people in your life that count."
2017 Goals:
Lotika's goals for 2017 are just as much personal as they are professional. True, POWWFUL is launching in Asian markets in 2017 with even more retail items, but as Lotika continues to keep up with the strong relationships she's formed over the last year, she's also aiming to take a step back and listen more.
"One of things I resolve to do more actively this year is to listen more – to political commentary, current affairs, decisions being made, and to people around me," Lotika said. "I look at my six-year-old son and see how much of his learning happens when he listens and constantly asks questions until understanding dawns. These past six months or so have made me realize that I want to and need to be more attentive, more mindful and more aware of the voices around me. So, I want to really listen – listen to viewpoints that might differ from my point of view, listen to fully understand complex social and political issues from all angles. I want to listen more, read more, think more and discuss more in 2017."
As POWWFUL expands into other markets this year,  you'll be able to watch the brand grow.
"It was a lot of hard work," Lotika concluded. "A lot of sleepless nights, but a lot of fun, too! Just the process of building something – it's such a high and I'm really enjoying it."
I'm truly excited to see where the business goes. I'm even more excited to know Lotika on a personal level and hear her passion for her home city, connecting with those around her and for the creation of a business from the ground up. You can shop POWWFUL active wear online here.