What Adaptive Sports Teaches Us About the Power of Fitness
It's too cold, and dark, and the gym's a long bus ride away. I'm not strong or smart enough. I'm not a runner or a lifter or into yoga; I can't push that hard or jump that high or do a pull-up or quit my day job. Most of us have at least a few excuses, scripts running through our heads on repeat, that keep us in our comfort zone and prevent us from reaching our fullest potential in fitness—and in life.
A few months ago, on assignment for USA Today Veterans Affairs magazine, I spoke with a few athletes whose complaints put most of ours to shame. (You can read the whole issue here; my articles are on pages 118 and 124.)
Several lost limbs to roadside bombs in war zones. Others were rendered paraplegic or even quadriplegic in accidents. One—Ernie Butler, who now works for Paralyzed Veterans of America—uses a wheelchair after a parachuting jump gone awry. In his words, "I kind of ran into a planet going way too fast."
You wouldn't blame these injured veterans if they felt angry, depressed or isolated. Many in their situation do. There's no doubt their lives have undergone a seismic shift, and nothing will ever be the same.
But sometimes, when everything you know has changed, you find hope in unexpected places. For Daniel Riley, who had two above-knee amputations after stepping on an improvised explosive device, it was on a surfboard in the ocean. For Butler, it was in a kayak, with a paddle in his hands.
Quadriplegic Twila Adams regained her strength and power on the tennis court. And despite the fact that he'd never done so much as a 5K before losing a leg in Afghanistan, Eric McIlveny reinvented his future by crossing the finish line at the Ironman World Championships in Kona less that two years afterward.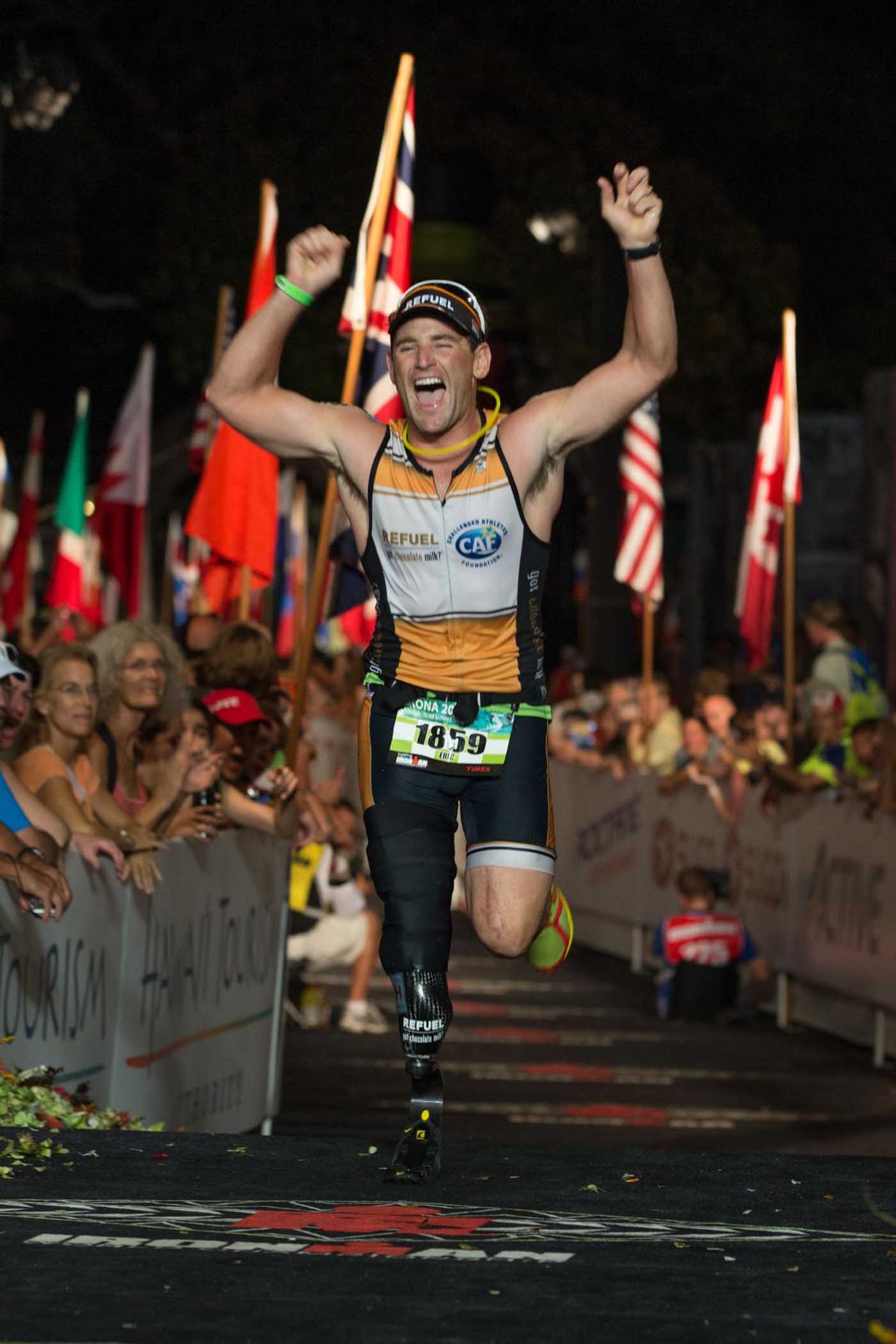 (photo of Eric McIlveny courtesy of Challenged Athletes Foundation)
These veterans, and many others with disabilities around the country and the world, now have more opportunities than ever to participate in adaptive sports. There are seated skis, hand cycles, lightweight aerodynamic racing chairs. High-tech prosthetic limbs, and dedicated prosthetists who work to customize them, allow those without legs to run, jump, swim or scuba dive, climb mountains and snowboard back down them.
Right here in Chicago, we have a few awesome groups in which athletes with disabilities at all levels—from recreational to elite and Paralympic—train and compete, including the paratriathlon club Dare2tri, the Chicago Rowing Foundation's accessROW, and the Chicagoland Adaptive Climbing Club.
For the athletes I talked to, these activities had made all the difference. When they were riding a wave or whizzing through the snow or lobbing a serve, they were no different than anyone else. Sure, daily life still posed its share of challenges, but sports reminded them of what they could do instead of what they couldn't. Those moments of strength and victory made facing the tougher parts of their days all the more possible.
This, I think, is among the most underappreciated benefits of working out and training (sometimes hard), whatever your level of ability. By voluntarily doing difficult things in the gym or on the running path, you make the other obstacles you face in life seem that much more surmountable. Turns out, you can deadlift that weight—and go for that awesome new job. You made it through that HIIT class—and you can prevail through that medical problem, relationship crisis or family issue, too. Even when you fall short of what you'd hoped—say, you have a bad race or you miss your push-press PR—you learn that even failure has its lessons, and you're still ahead of where you started.
It's something to ponder in this time of making resolutions and setting new routines. What's really holding you back? Is it the weather, your physiology, something else beyond your control? Or is simply a script running through your head that tells you you can't—before you've even tried? And what might happen if, just once, you pushed those voices aside and did something that scared and challenged you?
Let us know!
Did this post help you get closer to achieving one of your goals?