6 Cool Things We Saw at the Fleet Feet Fashion Show
On the darkest, coldest days ahead, a fun new piece of gear can make all the difference between hitting the snooze button and making it out the door to work out. Last week's Fleet Feet Fall Fashion Show offered the perfect opportunity to scope out apparel that will stand up to the toughest lake-effect conditions — without compromising on style. Here, a few favorites that caught my eye, all available at your local Fleet Feet Sports stores if you're in Chicago.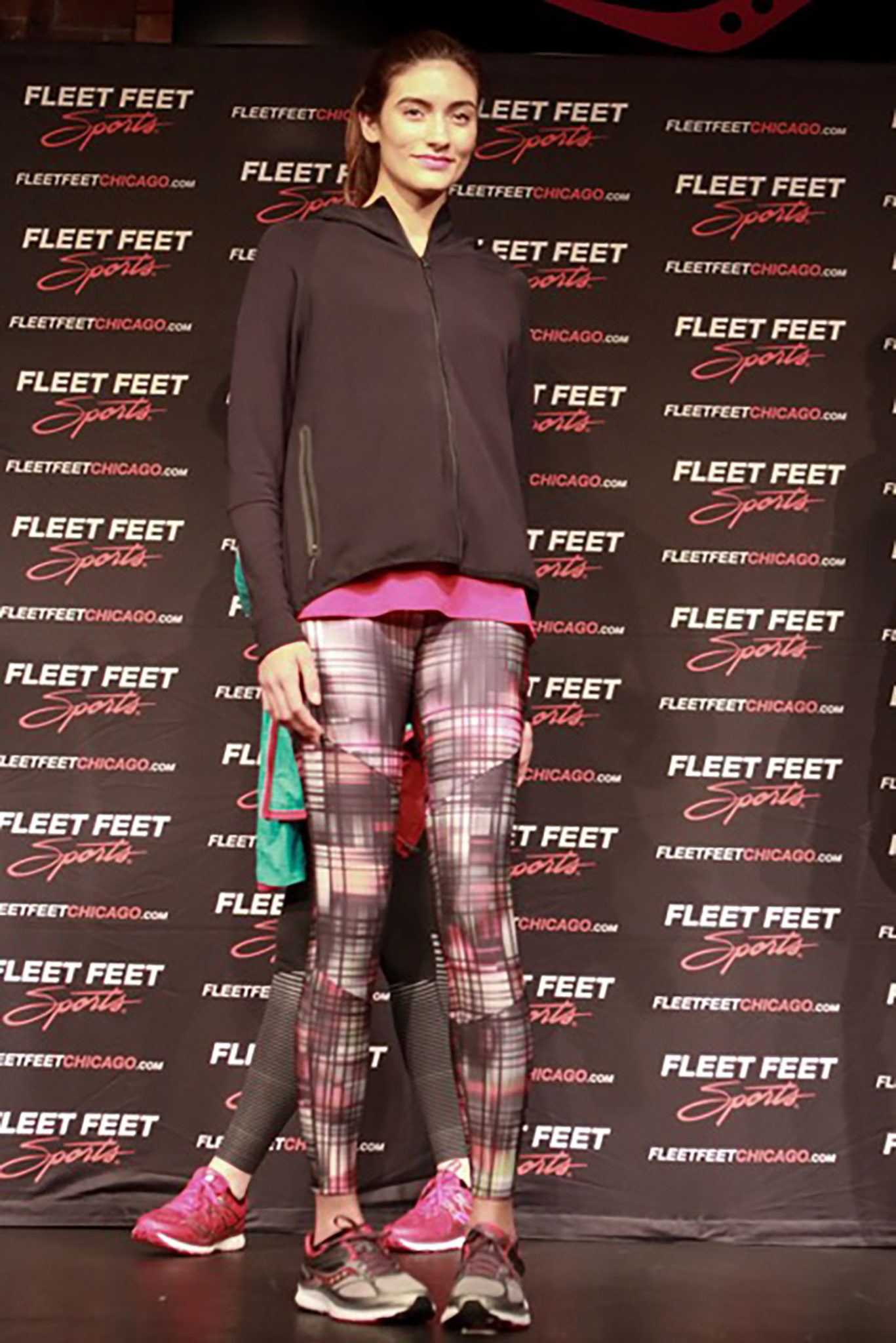 I have to applaud Saucony for the smart name — who wouldn't want a hoodie that offers to transform you into a fast, fit crusader? Equal parts cozy and chic, this cape has extra-long sleeves and a deep hood you can practically disappear into, plus zippered pockets that prevent your phone and keys from escaping on your way out of the gym or studio. Though it only comes in understated gray and black, it's perfect paired with these fun, plaid Fast Track Tights.
Scientists at the Wacoal Human Science Research Center in Japan — who own CW-X Conditioning Wear — have studied human movement extensively enough to hold 15 U.S. patents on athletic technology. The sewn-in support panels on these tights pledge to stabilize your knee and core by supporting and aligning the surrounding muscles and ligaments. They also feature ultraviolet protection — since yes, you can get sunburned in the winter.
For years, I've sworn by Breath Thermo technology to stay warm during winter marathon training. This near-magical fabric uses chemical reactions to convert moisture from your sweat into heat — kind of like a giant version of those shake-up hand-warming packets. For this winter's line, Mizuno has sewn it into a seamless long-sleeved base layer, tights that provide compressive support and a softshell jacket with fun, printed cuffs and reflective pockets.
The name SUGOI is a Japanese term that roughly translates to "awesome," but the company started out making clothes for cyclists in British Columbia. Needless to say, designers there know a thing or two about protecting people from the elements. This jacket is both waterproof and breathable, so your sweat can escape while rain and snow stay out. That's thanks to the company's special DWR (Durable Water Repellant) coating and seam sealing, which keeps moisture from seeping in through the stitching. Though it also comes in dark pink, I'd choose the bright-yellow hue to stand out in traffic.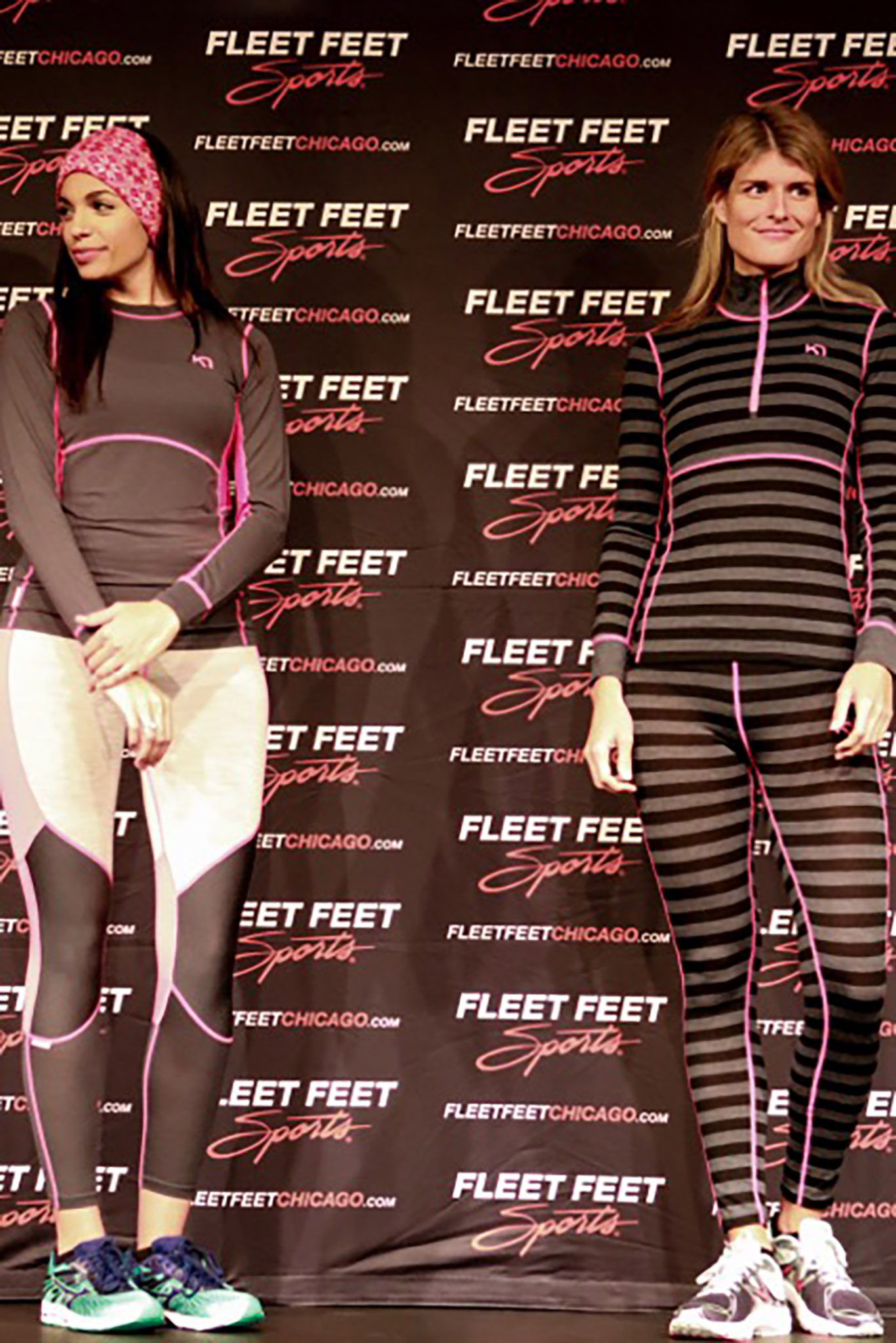 At first glance, these black-and-pink designs from Norwegian clothing line Kari Traa look like what you'd wear sipping cocoa by a fire, not braving the elements. But make no mistake — the thin, natural merino wool fabric soaks up sweat, resists odors and won't itch or chafe, making it a solid choice to place next to your skin on chilly days. (Plus, the Scandinavian names of these designs are way fun to say.)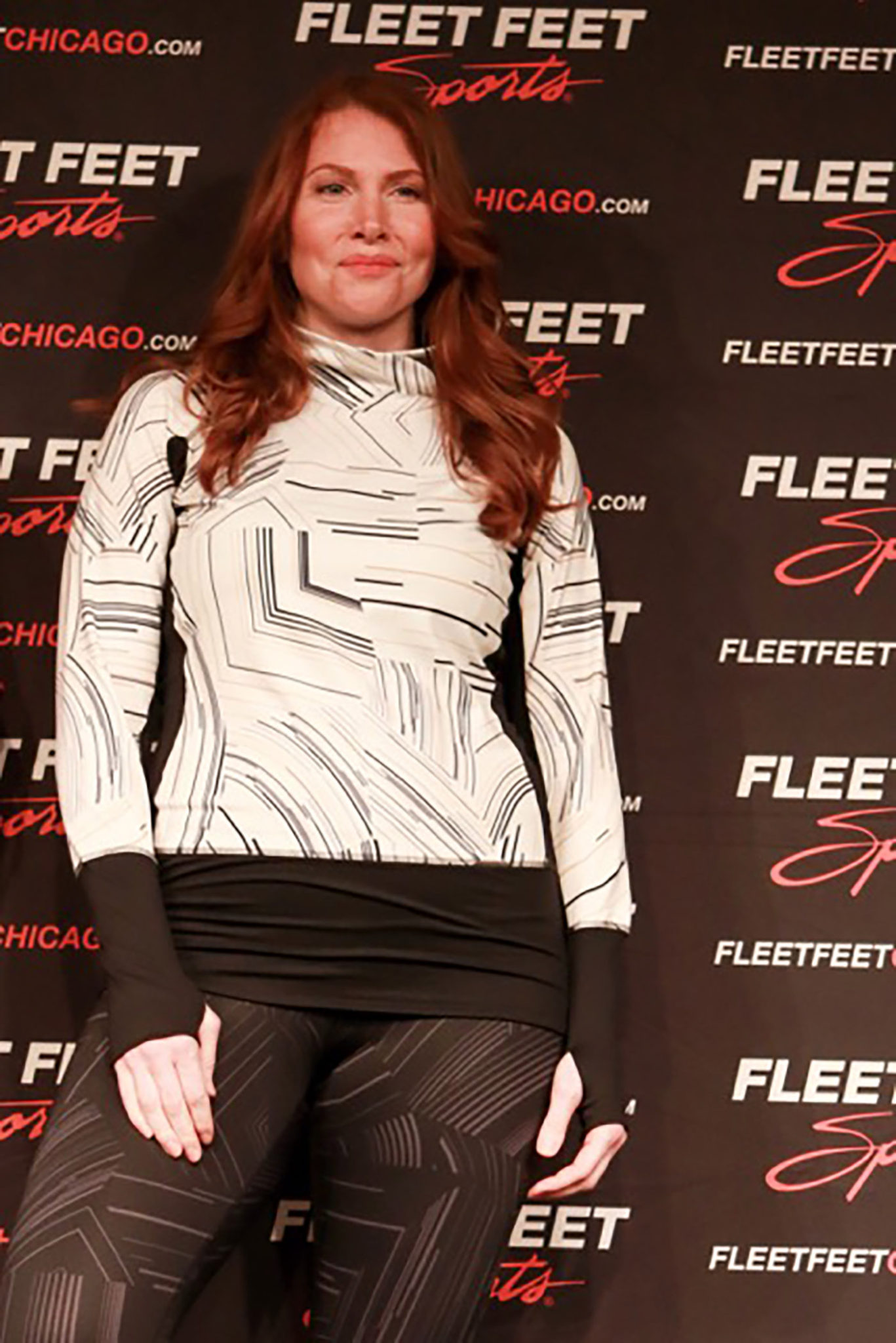 With all the focus on soft inner layers and weather-proof outer shells, it's easy to lose sight of what comes in between. A solid middle layer provides an extra level of insulation on the coldest days and Brooks has you covered with a top that's thick and fleecy enough to add warmth but thin enough to fit under a snug windbreaker. A funnel neckline keeps icy wind out without the hassle of a zipper (maybe it's just me, but half-zips always end up snagging my base layer and making the necks of my jackets feel chokingly tight). The tunic length and semi-fitted style cover your assets without riding up—and the cool geometric print can stand on its own at your post-long-run brunch.
Have you picked up–or had your eye on–any gear that has you excited to sweat this winter?