So, you're thinking of trying yoga for the first time. aSweatLife is totally on board with this decision. Doing yoga regularly has fantastic benefits including a stronger body and a calmer mind. And it's definitely a better use for those yoga pants than as your Bachelor-watching uniform (although we have to admit, that's a close second). After making the initial decision to try yoga, the next step is selecting a class. There are a lot of yoga styles and they're all different. The wide variety of classes is one of the reasons aSweatLife loves yoga. There is a class for every person and every mood.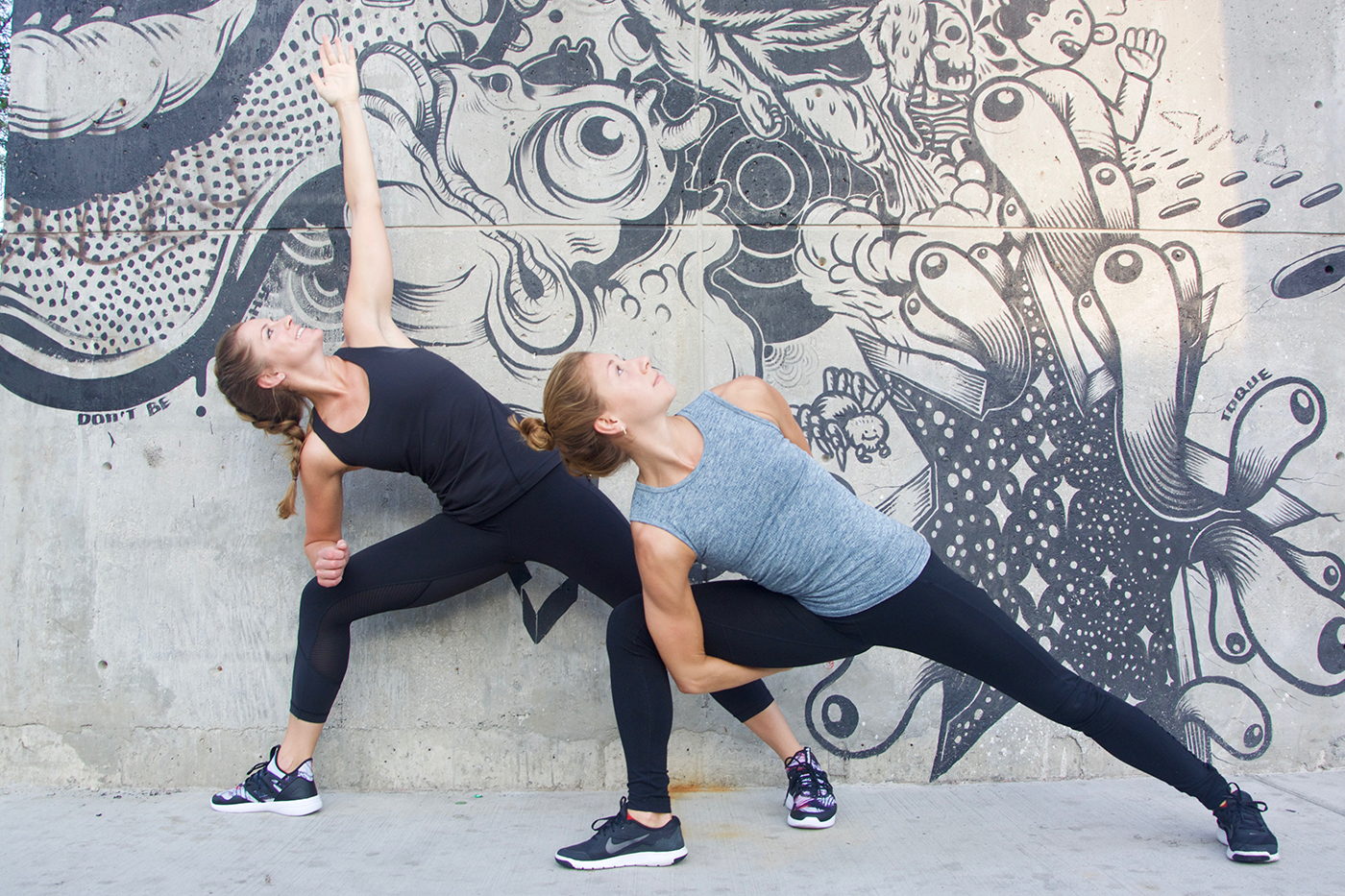 Ashtanga
Ashtanga is a highly physical and athletic style of yoga, focused on a set series of poses. Practice starts with five repetitions of Surya Namaskara A (Sun Salutation A), followed by five repetitions of Surya Namaskara B (Sun Salutation B). The practice will then follow one of six series of standing poses centered on the breath. Most ashtanga classes have a teacher calling cues and keeping the class in sync. For a more independent practice, try your hand at a mysore class, where you move through the series on your own.
Yogaview and Yoga Now both have mysore programs in Chicago.
Power / Vinyasa / Flow
Among the most popular classes taught in American yoga studios, this dynamic form of yoga focuses on a series of movements linked together by the breath. Inspired by traditional Ashtanga, these classes are designed to be aerobic and keep your heart rate up during class. Get ready to move from the first "om" to the final savasana. Interested in turning up the heat? Many hot yoga classes fall into the power / vinyasa / flow yoga family.
If you're looking for vinyasa or power classes, you'll find tons to choose from in Chicago. Some studios include Bare Feet Power Yoga, Yoga Six, Yoga Loft, Om on the Range, Exhale Spa, any Core Power Yoga, Moksha Yoga Center, or the classes on the list at many other group fitness studios.
Bikram
One of the most well-known forms of yoga, Bikram is a highly regimented practice. Students move through a series of 26 postures in 90 minutes in a room heated to 104 degrees Fahrenheit. Bikram studios are carpeted (which can be stinky!) and teachers are specifically certified to teach Bikram. Bikram instructors are taught to talk students through the poses during their classes instead of demonstrating.
You can find Bikram classes at 105F and Bikram Yoga West Loop.
Hatha
In Sanskrit, "hatha" actually refers to any form of yoga with physical poses, which means that all forms of yoga could be considered hatha. In most American studios, hower, hatha classes take on a slower pace. Hatha is a great style for beginners or anyone who wants to take a more relaxed class. The practice aims to quiet your mind by focusing on the breath while moving through physical yoga postures.
Chicago Yoga Center, Temple of Kriya Yoga and Moksha Yoga Center offer Hatha classes on their schedules.
Iyengar
This type of yoga is very orderly and focuses on precision in movement and in breathing. The primary focus of Iyengar is alignment of the body. Iyengar students often use blocks and straps to get into the poses correctly while avoiding injury. While in many yoga classes, teachers encourage students to modify postures and listen to their body, Iyengar follows very strict instruction from the teacher.
Yoga Circle is a studio in River North that offers Iyengar-style classes.
Yin / Restorative
Yin yoga is a meditative practice. In yin/restorative classes, expect to hold poses for several minutes at one time. Yin yoga strives to apply moderate stress to the connective tissues in your body and uses a lot of props like blocks and straps to help you get deeper into the poses for a better stretch. This style of yoga is great to complement other forms of yoga. Look out for studios that offer vin/yin mixed classes where the first half is an active flow followed by restorative yin practice.
Most studios have a restorative option on the schedule, including Bare Feet Power Yoga, Yoga Six and Eb & Flow Yoga.
Yogalates / Yoga with Weights / Sculpt Yoga / PiYo
Many American studios and gyms offer classes that use the principals and postures of traditional yoga and combine them with other forms of exercise. These classes, like yoga + pilates and yoga with weights, are fabulous workouts that are sure to make you work up a sweat, but may not offer a meditative practice.
Many group fitness studios offer a yoga class with weights on their schedule. Studio Three's Hi Def and Core Power Yoga Sculpt are two examples.