Chicago Marathoners Honor a Fallen Friend: "I Don't Lace My Running Shoes Without Thinking of Him"
If you check the results for this month's Bank of America Chicago Marathon, you'll see that David Forster from Minneapolis finished with a 3:55:34. Click the button to view photos of him during the race, however, and none exist.
There's a good reason race photographers' cameras never captured him. Forster died unexpectedly before he could ever enter the starting corral. He was just 27, and had paced his fiancée Abby Hansen through Grandma's Marathon in Duluth, Minn., (her first) the week before. But near the end of a 10-mile training run on June 24, he collapsed and never revived.
"It's one of those things where you just think, it can't be Dave. He was the healthiest, the fastest, the fittest," says Matt Clasen, 28, a friend and former track and cross-country teammate of Forster's at Saint John's University. "Just to hear, like, Superman died—it was impossible."
A few days before his funeral, a group of friends and family members gathered for a memorial run along part of the route he'd traveled the night of his death.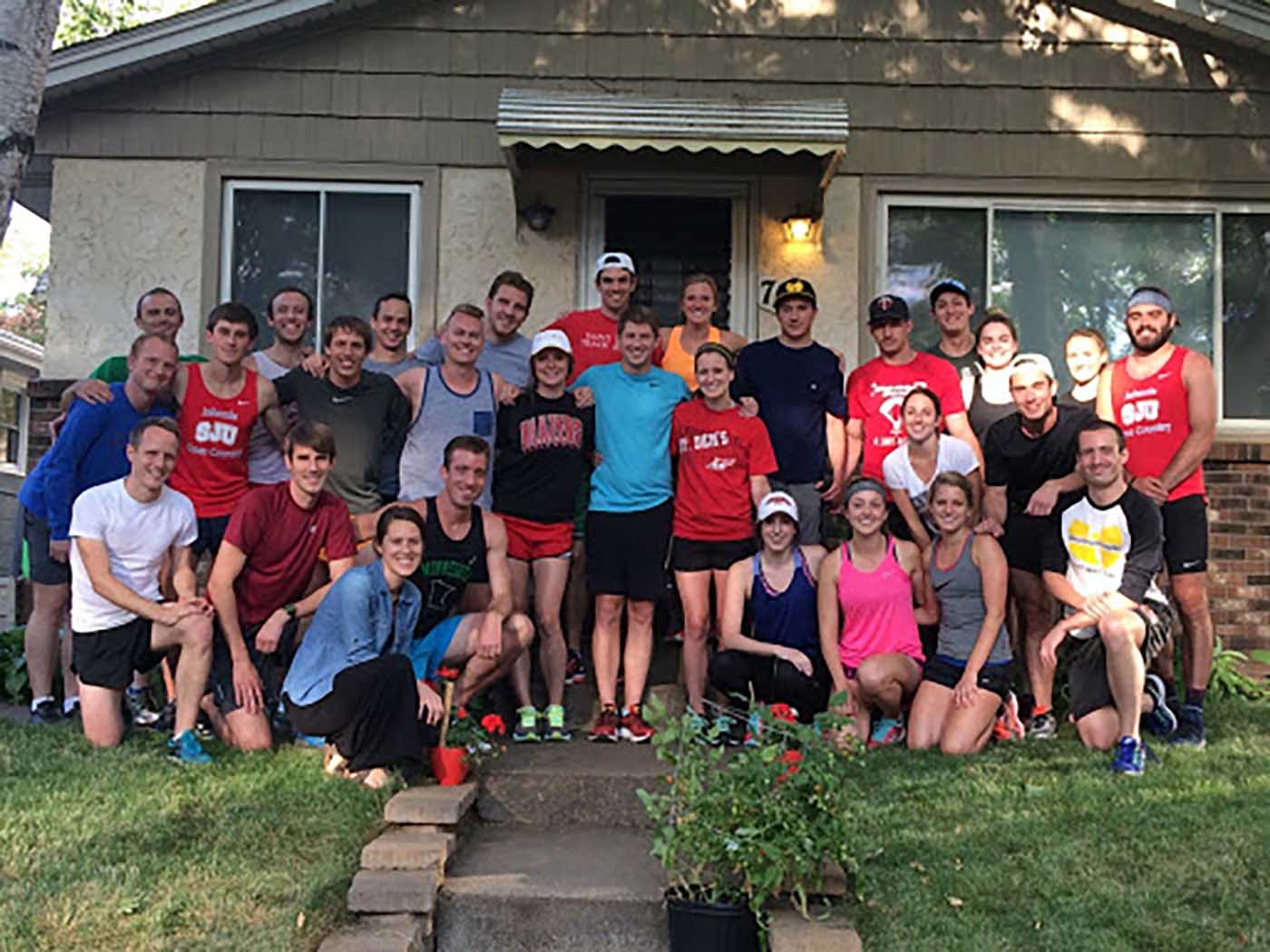 (The crowd at Forster's memorial run, courtesy of Kurtis Nusbaum.)
And when Clasen and several other former teammates chatting at the memorial events learned they—along with Forster—had registered to run the Chicago Marathon, they knew what they had to do.
Forster had always powered them across the finish line. Besides Hansen, he'd paced three buddies in the Portland Marathon the year before, even doubling back along the course to help each one across the infamous marathon "wall." This time, he needed a hand to complete his miles.
With the blessing of Forster's family, another teammate—Chicagoan Patrick Sitzer, 28—contacted Chicago Marathon officials to ask if they could run with their fallen friend's bib. "I wasn't sure if they would say, 'Oh, sorry to hear that, but it's a logistical nightmare and we can't do that," Sitzer says. "It was the total opposite—they were very supportive."
Training for a marathon has its challenges, of course. But thoughts of their friend pulled these runners through. "You'd remember: This isn't so bad. I have the ability to run. Today's a good day," Clasen says. "Dave just would've enjoyed the process. I don't lace my running shoes without thinking of him, ever."
Sitzer and Clasen—along with Kurtis Nusbaum, 27, another former teammate who'd moved to San Francisco—picked up Forster's bib along with their own at the expo the day before the race.
Race morning, they wore singlets with DAVE printed in big block letters on the front. Inside each letter were words, gathered from a Facebook post, describing Forster. Kind. Generous. Committed. Nike (his shoe brand of choice) and Wu-Tang (he was a huge fan).
On the back, a silhouette etched from a photo of the whole St. John's team featuring one runner outlined in gold at the center. "It's instantly recognizable that would've been Dave," Sitzer says. The shirts also made an appearance at the Medtronic Twin Cities Marathon, held the same weekend—about 30 of Forster's friends ran his hometown race in his honor.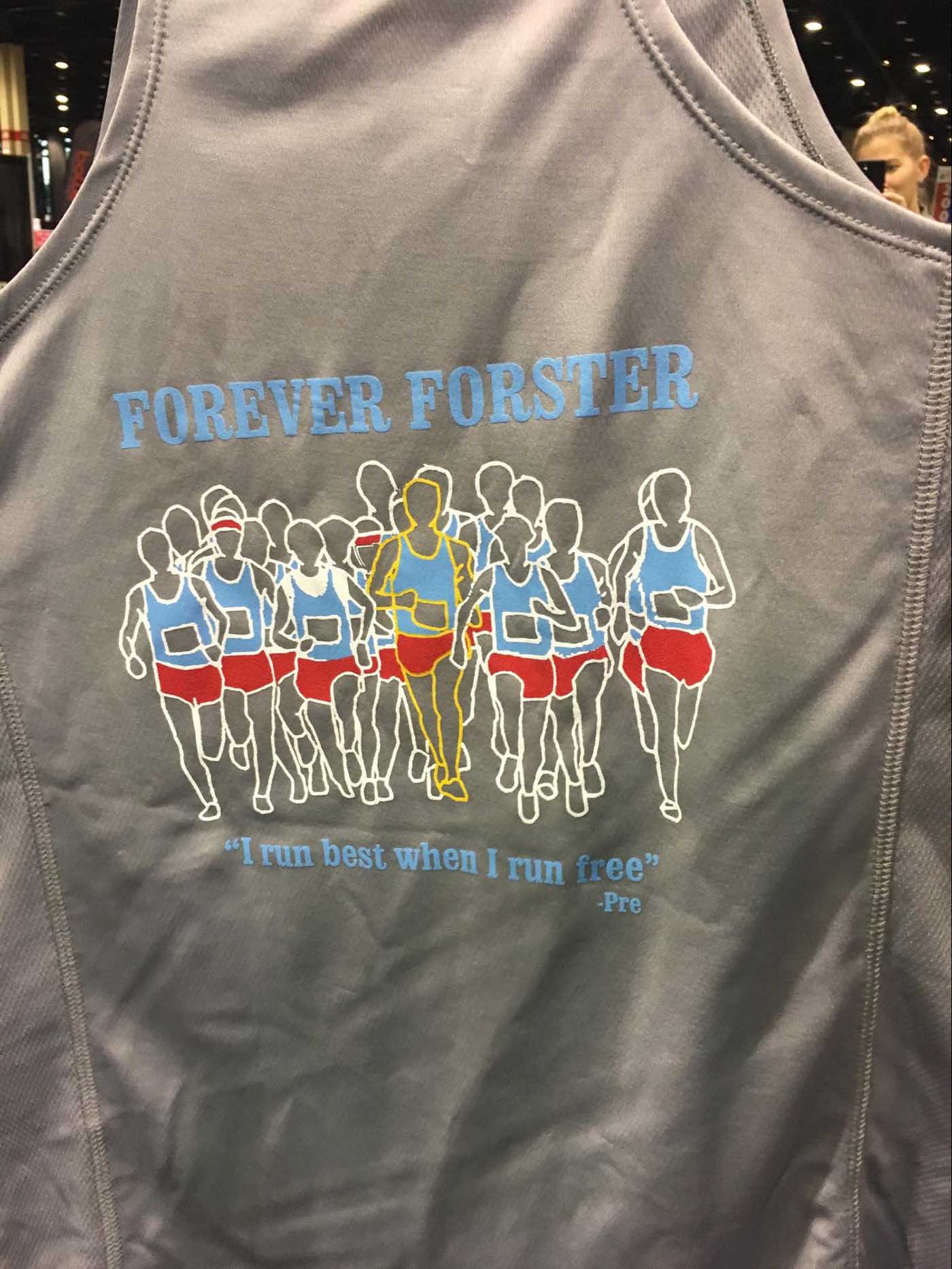 In Chicago, Sitzer—who finished in 3:18:31—started with Forster's bib. He passed it back to Clasen (who ran a 3:27:47) and then to Nusbaum, who crossed the line in 3:55:34 with the bib held high over his head.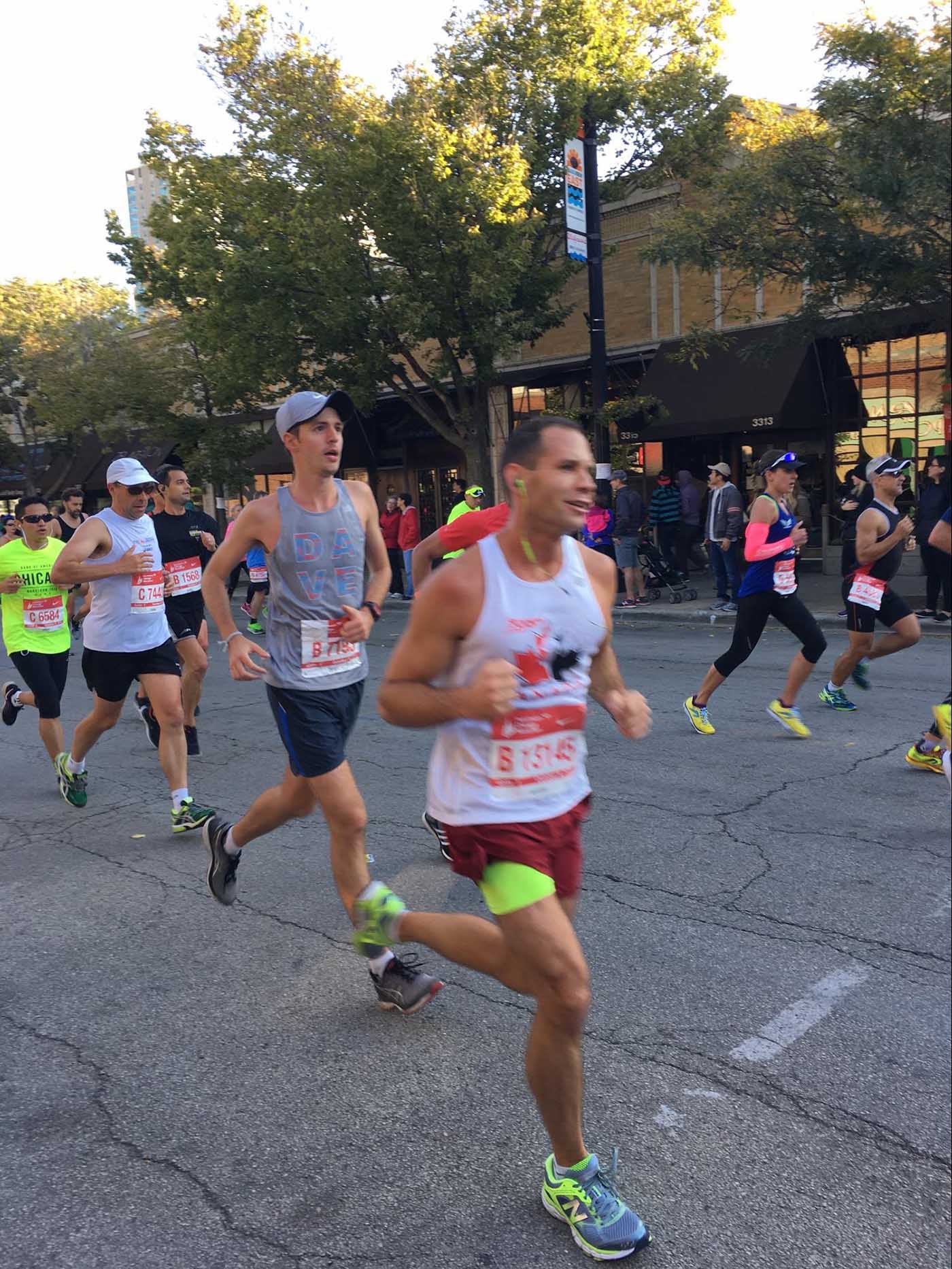 (Sitzer, in gray, near mile 8 of the Chicago Marathon)
Forster was fast—his personal best marathon was a 2:37, and he'd aimed to finish Chicago in under 2:35, a pace swifter than 6 minutes per mile. But his friends know he wouldn't have minded taking it slower, if it meant helping someone else achieve a goal. In this case, their aim was to share one last good run with their buddy.
"Running a marathon is like an emotional experience in and of itself—you're pushing your body to its limits, going places mentally you don't normally go," Nusbaum says. "This is another way to stay in touch with Dave, to keep that flame burning. Any chance we get to remember him and honor him is a privilege."