Madison Half Marathon recap: Enjoying the Race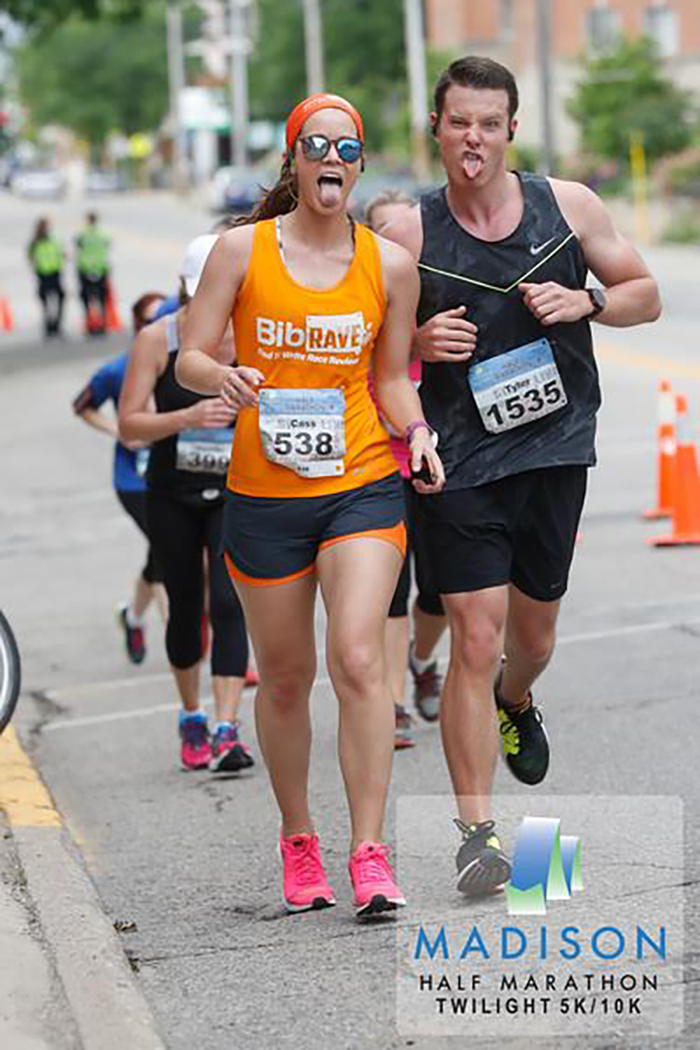 (Photo courtesy of Madison Half Marathon)
(Disclaimer: I received an entry to run the Madison Half Marathon to review as a BibRave Pro. Check out Bibrave.com to learn more about becoming a BibRave Pro (ambassador) and also to find and write race reviews! As always, I only discuss races that I would recommend.)
This year has been filled with half marathons for me. Maybe it's because I just can't say no or maybe it's because I'm slightly crazy, but this past weekend marked my sixth half marathon I signed up for since January. Amongst these, I got my PR, signed up for one and ran it the same week, and (to no one's surprise), I got a little burnt out. Crossing the finish line this past Sunday marked the end of a half marathon palooza. And, just like the end of a relationship you knew was doomed from the beginning: I'm glad it happened, but I'm happy it's over.
Like any good (read: doomed) boyfriend who is dating a runner, my boyfriend often gets dragged into my running and racing life. He (willingly?) signed up to run this last one with me so I didn't have to travel up to Madison on Memorial Day weekend to go it alone. And, let's be honest, it's hard to turn down a race that's in Wisconsin, the homeland of cheese curds and Spotted Cow.
He's running the Chicago marathon this fall (also my fault, oops), so I advised him not to worry too much about training for the Madison Half Marathon. The plan was to run for fun, not for pace or a personal record. But here's what no one tells you: running for fun is not always easy, especially if you are a competitive person.
The first few miles started out easy enough, as they always tend to do. Somewhere between mile three and four I looked over at him and I knew he wasn't feeling the pace anymore. By mile five, we started to slow down substantially.
Even though this was the plan all along, he was upset. I could tell; he's too competitive of a person to hide it.
He picked up running a little over a year ago (also my fault) and performed spectacularly at his first half marathon: he boasted a 2:03 finish only after three weeks of training. So when we saw the two hour pacers pass us at mile five, I knew it would be a tough pill to swallow. This was the first race he had run not trying to PR, and it's certainly a tough realization that you are going to run 13.1 miles but you are not going to beat your best. So what's the point?
The range from the mid-pack runners to the last handful of runners who cross the finish line in any given race are often unsung heroes. These are the people who run for the joy of the sport; these are the people who know the value of a finish line is more than an official time.
Sometimes you get to the start line and you just aren't feeling it, and those are the days when it is the hardest to push through it, because it doesn't seem like the reward (or lack thereof) is worth the work. Here's what these unsung heroes prove time and again: that work is worth it. The journey of 13.1 arduous miles, fast or slow, is worth it. Because the truth is, the work you put in when no one is watching, when you aren't coming home with a trophy – that's the work that builds your character.
Honestly (and he'll hate me for saying this), I have never been more proud of my boyfriend for his race performance. This is the fourth half marathon we've run together, and it also marks the very first half marathon that he ran where he didn't break his personal record. It takes a lot of strength and determination to keep going when you feel like you have 'lost'.
He'll also hate me for saying that I really enjoyed the race. After a spring chock full of races, it was satisfying to take it easy and enjoy a run for once. I can't remember the last time I laughed so much during a run, or relaxed my body enough to actually enjoy the scenery. It was a much needed break from the racing norm, and the Madison views did not disappoint (and with good views often comes a few hills, so you've all been warned).
Not every race is going to be the best race of your running career, not every lift is going to be your strongest and not every class is going to boast your best performance. That's not surprising, that's just life. But if you can still seek joy from the moment you are in – if you can laugh at yourself (or at least make a funny face for the camera while in all your pain) – you're going to come out of it ahead and better for it. It's not wasted time, it's an "I'll get 'em next time." And we will… but not for a few more months, because I'm on summer runcation.
See you in the fall, start line.