Badwater Badass: Will Gane's 135 Mile Journey for Equality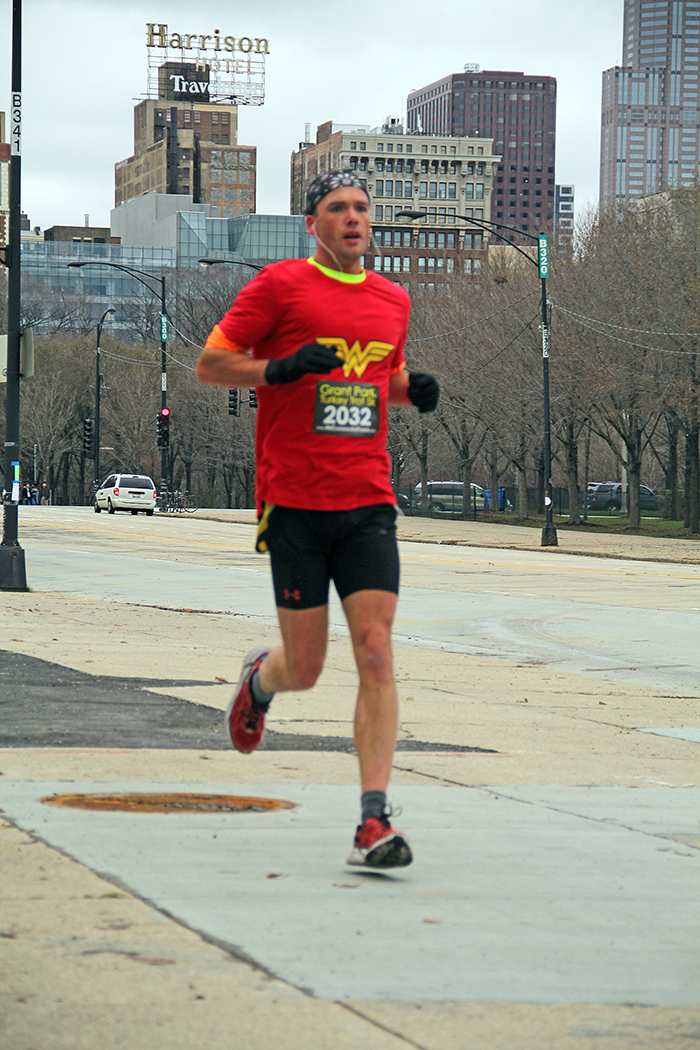 I've always appreciated the lighthearted nature of runners. A few Saturdays ago, I was running late to interview Will Gane over a cup of coffee. In my family, it was ingrained (often through the impatient honking of horns) that on-time is in fact fifteen minutes behind; I hate running late. Will probably grew up in a household like mine, as he texted me ten minutes early, "Hi, at the far side on your left as you walk in. Yellow and blue shirt."
Walking hurriedly, I frantically typed back, "Hi! I'll be the one who is running a few minutes late in a scarf and blue jacket with semi-blow-dried hair looking slightly disheveled."
"Lol – well at least you'll get a small training run in," he replied coolly.
He didn't have to tell me that he was in a yellow and blue shirt; he was one of those people who exudes his high levels of ultra runner endorphins plainly. I felt more energized just shaking his hand (are endorphins transferable by handshakes or something? I know they aren't, but it seems to be that way sometimes).
This July, Will Gane is running the Styr Labs Badwater 135 ultramarathon, which involves running 135 miles non-stop from Death Valley to Mt. Whitney, California. Yes, 135 miles – you read that correctly. Those who are familiar with the race might know that it is also referred to as, "The World's Toughest Foot Race." No sweat, right?
In preparation, Will ran the two other races which feature under the Badwater brand. In March he ran a 51-miler in Cape Fear and in May an 81-miler in Salton Sea. Runners who complete all three Badwater races in the same calendar year are awarded the Badwater Ultra Cup, which is something only 16 other runners from around the world are aiming for. The Salton Sea race wasn't just your average 81-miler – (is there such a thing as an "average" 81-miler?) – the Badwater Salton Sea race comes with a twist: it is not an individual event. In order to get a qualifying finish, one must run the race on a team of two or three people, adding a whole new dynamic to the world of ultra racing.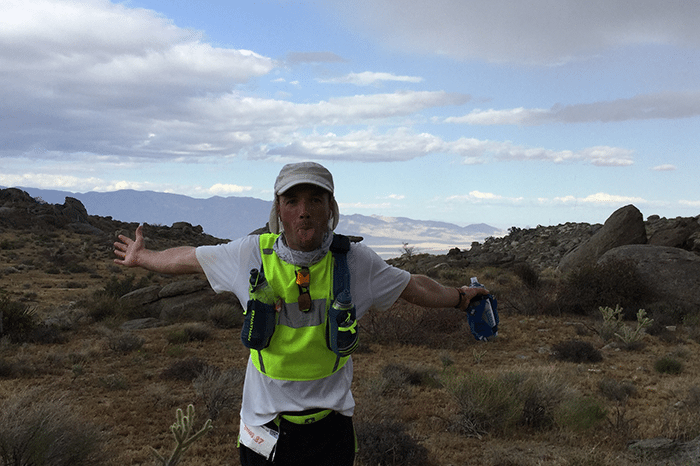 What intrigued me most about Will was not his ability to run three ultramarathons in five months' time (and that's not even mentioning training, which included a 100-mile run in the humid Florida Keys in May, an event in which 45 percent of the entrants did not finish). Three things struck me more than anything else: his pronounced humbleness, his relentless motivation and his insatiable drive for equality. I can only hope the words I write down and gathered from our interview below can do justice to Will's passion.
So without further ado, I give you a conversation with Will Gane over a cup (ok, multiple cups) of coffee.
C: Tell me… how does it feel to wake up in the morning knowing that you have to tackle 135 miles?
W: It's a little bit scary.
C: Ha! No kidding. So have you always been a runner?
W: I actually only started running about six years ago. I'm distinctly average; there's no natural talent there. One of my philosophies in life is that anyone can do anything. I didn't come from running – in fact, the opposite is true. I was a fan of soccer growing up and running was a form of punishment for me. I remember one time at school when I had to run a mile and a half for a cross country run in gym and I walked it in protest. At an assembly, the gym teacher congratulated the winner and actually called me out to ask if I ever finished!
C: I totally agree with your philosophy that anyone can do anything. I believe people are much stronger and more capable than they will ever know, but how do you motivate yourself to believe it?
W: Trust me, I've been there. I know the fear and doubt that is constantly there. But when you view something like an ultramarathon as a problem-solving exercise instead of just an athletic feat it gets easier. You just have to know that you can do it.
C: What do you love most about ultramarathons?
W: One of the things I love most in ultra runs is looking around at the start line. There's such a diversity of life there. You'd never know encountering these people in everyday life that they do these events and have this strength. I look around and see people that have lost limbs or had cancer who show up with unfathomable strength. They inspire me and I think to myself if they can do this, so can I.
C: Why should other people run ultras?
W: Don't NOT do it because you think you CAN'T. You can. There's no doubt the first time I ran 100 miles it helped me in my work and personal life. So many of the world's problems come out of fear and a lack of confidence, and running ultras can help someone find that. This equally applies to a 50k or a half marathon. Dreams, goals and fears are all relative and someone completing their first 5k is an equally impressive achievement.
C: I know you said you were running for equality, can you explain a little more about that?
W: My number one passion and borderline obsession is to get to a world with gender equality. We just have to; I know it will happen eventually but I just don't have the patience to wait for it, I want to do something about it.
I chose to work with Girls on the Run ("GOTR") during my Badwater Ultra training. [edit: GOTR is a non-profit organization that gets young girls together twice a week to run in small teams. The curriculum is designed to give young girls a better understanding of teamwork, who they are and what's important to them.] Girls ages 8-13 need the help and confidence that running can bring them, and the organization knows that it isn't just about a race. GOTR gives young girls confidence that they can go after any dream they want.
C: That's so awesome! I've heard of GOTR and they are a wonderful charity. So why did you choose the Badwater race to fundraise for this cause?
W: One of the things I love about ultras is that it destroys the exaggerated difference between men and women. Some of the toughest ultras (including Badwater) have been won by women and I just find that to be so fantastic.
C: As a man, what makes you feel so passionate about gender equality in the first place?
W: I was raised by a single mom. She raised three boys in the 80's and was such a great example of a strong woman figure to me. I've seen too many examples in my life of the subtle ways that women are put down or excluded. Part of the problem comes from language, and if you think about it, every significant social movement is built behind language. When we let language slip and offend someone – even in small ways day in and day out – it's like death by a thousand cuts. At some point in the future it will be different, but I don't want to wait. I want to find a way to do something about it.
C: Speaking of equality, tell me a little more about your website, Echo37.
W: Echo37 is a collaborative website to promote gender equality. The goal of the website is to drive the conversation about gender equality by elevating the extent of the problem and exploring solutions. Echo 37 is also designed to engage both men and women in the advocacy of gender equality.
When I was thinking of the name, I wanted to use a word to link with communication, and an echo is a neutral form of dialog. The "37" is a tribute to Amelia Earhart as her plane disappeared in 1937. One of my favorite Amelia Earhart quotes is, "never interrupt someone doing something you said could not be done."
C: How do you feel about starting Echo37? [pssst, Echo37.com just launched last week!]
W: It's exciting and terrifying. I don't know what the reaction will be like for this. I'm usually a very private person, and I'll have to open myself up in order to do it right.
C: Between this website, running, and your day job, do you even have time for anything else?
W: I also really love chess. [Will is CEO of the Chicago Chess Center, a 501 non-profit whose mission is to open a permanent home for Chess in Chicago.] Like ultramarathons, it welcomes all walks of life. I've seen a young seven-year-old girl beating a middle-aged man. I love to see kids gaining that confidence. Like running, chess has no respect for boundaries and is a great equalizer. With more possible moves on a chess board than stars in the universe, chess is also a great way to help me exercise my creativity.
C: Is there anything you'd like to get across when I put this post up about you? Any last words?
W: Running isn't for everybody. Chess isn't for everybody. But if you want to do something, you can do it. It doesn't matter what it is, you can do it. You just can.
…And with that, I signed up for my first ultramarathon this fall.
You can help donate to Will's cause for the Badwater Ultramarathon here and be sure to check out Echo37.com!