Active Adventures in Chicago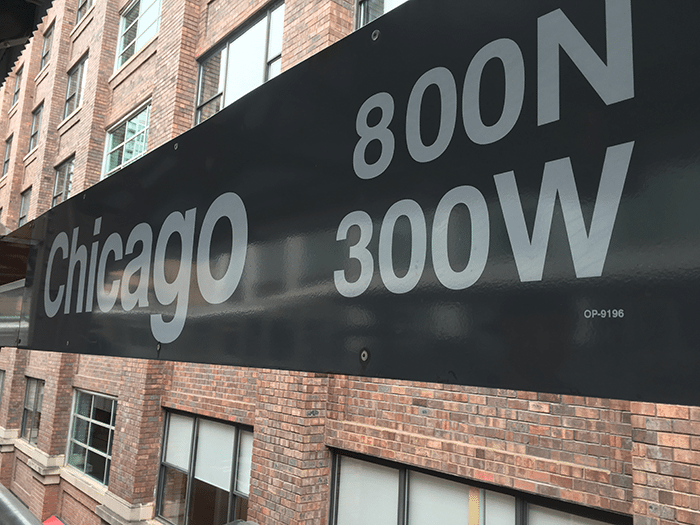 After a recent visit to San Francisco, I had a small case (extremely large case) of envy when I realized that Chicago's lake front views will never live up to the Golden Gate bridge, surrounded by water with mountains in the background. Though envious, after a long weekend of hearing transplants and locals brag about the Bay Area I got over how hella cool Cali is and I started to think: Chicago is pretty amazing too.
In order to prove Chicago's status as an elite city I started exploring and researching activities near Chicago, and it was no surprise (ok, maybe a surprise to some Californians) I found a lot of awesome opportunities. So with us being just a few days after the official start of summer, add these active adventures in Chicago to your "complete before Labor Day" lists:
Paddleboard on the Lake
The aSweatLife team recently took it to the beach to try out stand-up paddling boarding with CrossTown Fitness and Chicago SUP, and I feel comfortable speaking for the group here saying it was pretty awesome. Not only is it a good workout, but it gives you a fun new perspective on the skyline and a way to enjoy the lake when the temp of the water may be a little too cold to hang out in. Chicago SUP has an extremely convenient location right by Castaways on the beach, so you can get some activity in then reward yourself with a refreshing beverage. Or, if you're gutsy, pull a Kaitlin Bristow and find a hunky man to do the work for you.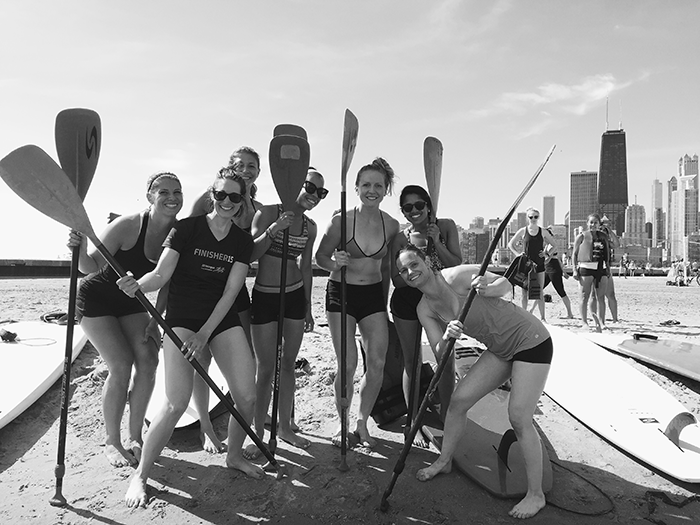 Get out of the cycle class and onto the paths
You've been training all winter and spring at SoulCycle, Equinox or FlyWheel for this moment – actually riding and dominating a real bike. The North Branch Trail is a perfect way to spend a Sunday afternoon. The 20 mile trail is mostly paved and shaded, beginning in northwest Chicago and ends at the Chicago Botanic Garden – a perfectly beautiful pit stop. Even if you don't have a bike of your own, the city of Chicago makes it super easy to get around with Divvy bikes. Those big blue bikes you've probably seen all over the place are a great way to a lot of the city in a short period of time, or take a leisurely ride along the Lakefront Path.
Movies in the Park
Though not a kinetic activity, movies in the park are a great way to get out and see different areas of the city this summer. There is a great variety of classic films – from cartoons to comedy to dramas – so everyone is able to find something that fits in their wheelhouse. I like to pick the movies I want to see then look up the park so I randomly pick to see different areas, which usually leads to finding beautiful little communities I never knew existed. Check out all of the offerings on the Chicago Park District website!
Indiana Dunes States Park
The Indiana Dunes are a short one hour drive from downtown Chicago and offer a brand new perspective on Lake Michigan (literally). You can relax by the water and sporadically get a cardio kick in by sprinting up the dunes or exploring the edges of the beach. There are even trails that go off of the beach and take you to muddy and mysterious areas through the State Park. If you're looking for some intensity, try the "3 Dune Challenge," it is only 1.5 miles, but it takes you up the three tallest sand dunes in the park – a fun challenge that boasts the reward of breathtaking views and a sense of accomplishment!
Starved Rock State Park
Last, but certainly not least, every Chicagoan needs to visit Starved Rock at least once every season. From short half-mile trails to the Illinois Canyon five-mile hike, this state park has an offering for someone at every level. The hikes make you feel like you've left Illinois with canyons, waterfalls and the surprising natural beauty. After a morning in the park you deserve a reward, and there are adorable local wineries that have tasting rooms conveniently located close to the park. August Hill Winery is just one of the wineries that offer wines produces locally in Illinois, with Illinois grapes. A perfect way to relax after an active day!
If you are wanting to get out of the city routine of boozy brunch weekends (which are a blast in themselves), you don't have to flee the state. Take advantage of the many active offerings the expansive Chicagoland area has to offer!
Are there are any more hidden gems in the Chicagoland area I missed? Please share to expand everyone's summer bucket list!
Let us know!
Did this post help you get closer to achieving one of your goals?