Tips From Chicago Sky Strength and Conditioning Coach, Ann Crosby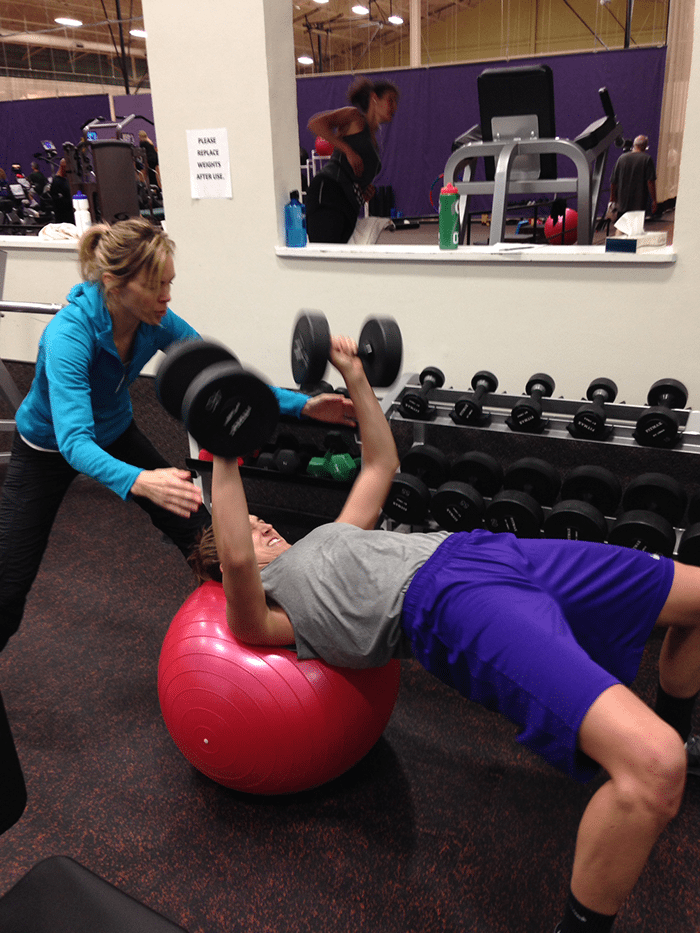 (Photo courtesy of the WNBA's Chicago Sky)
When the WNBA's 20th season tips off May 14, the Chicago Sky will be hitting the court for their opening game against the Connecticut Sun with less than a month to practice together.
With a pre-season that's over in a blink, there's one woman working behind the scenes to get athletes prepared to hit the court: Ann Crosby who serves as both the Chicago Sky's Director of Basketball Operations and the Head Strength and Conditioning Coach.
Before making her way to the WNBA, Crosby worked across the country with athletes at the collegiate and pro level, including stints with Northwestern, Georgia Tech, UIC and WUSA soccer.
Today, her day-to-day life consists of getting athletes ready off-the-court to face top-tier talent on it. Coming to the end of the long off-season, she battles a coach's expected woes – namely, hoping that the athletes stick to the program when she's not there to guide and coach them. But there's one big difference where the WNBA's players are concerned.
"Players in the WNBA typically have to play overseas during the league's off-season," Crosby said.
According to the WNBA, 76 players out of approximately 144 players played overseas during the off-seasons, meaning that those players rarely enjoy rest from the game, which can be grueling.
And playing overseas doesn't necessarily make for athletes ready to hit the ground running.
The players "will be coming off of the playoffs in the foreign country and what that typically means is that they play one game a week. Conditioning-wise, that is typically not where we want them to come into our pre-season at," she said.
For Crosby, that can be a concern for the team's roster.
"When they come into our pre-season and they're not in shape, they typically get injured quickly. We only have 15 [players] in a camp and 12 make a roster, I really can't have anyone be injured," she said.
All things considered, though, Crosby is up for the challenge and comes equipped with a few key tools in her arsenal: Communication and personalization.
"I just have to gain their trust," Crosby said. "Once I can do that, then I feel like it's easier to work together once I can get them to talk to me."
She keeps up with the players – wherever they are in the world – and helps them deal with off-season challenges, whether they have limited equipment at their disposal or lack access to a weight room entirely. In-season, she caters to the players' needs and interests – ranging from those who refuse to do anything but bodyweight exercises to players who only want to do Olympic lifts.
And she gets to work with WNBA league MVP, Elena Delle Donne.
"There isn't much that [Delle Donne] can't do," Crosby said.
But Delle Donne's work ethic and commitment to playing in the league long-term are also vital to her success.
"There was a game one time when she only played 14 minutes and she said, "I need to be ready to go 30 minutes,'" Crosby recalled. "So, after a game, we worked out."
Crosby's commitment to the team off-court is comparable to athletes on-court. Right now she's in the throes of a time period she said is key to helping her athletes hit the ground running – about six to eight weeks before the pre-season.
In this busy time for the team, gaining access to this elite strength and conditioning coach is impossible, but she does have some WNBA-level tips that you can use to optimize your own performance.
Lift your own bodyweight.
"I'm a big bodyweight person. I want all of my athletes to be able to push and pull their own bodyweight," Crosby said.
And don't underestimate how much you can do with your own bodyweight. With a bodyweight workout, you always have something to work up to, whether that's doing one more pull-up or working up to doing push-ups on your toes.
Don't underestimate the importance of flexibility.
"One thing I like to do is to get my athletes on a flexibility routine, because if you don't use it, you lose it," Crosby said. "Flexibility is one of those things that prevents injury, makes you feel better, I just could go on and on about flexibility and mobility."
Get some sleep and avoid electronics before bed.
Crosby asks athletes to get eight hours of sleep and to avoid electronics before they go to bed. "I find that the electronic thing just really gets their adrenaline going," she said.
Sleeping allows your body to recover and helps to increase your focus, whether you're just trying to make it through a big meeting or big game. According to Fatigue Science, "by incorporating adequate sleep into their routine, tennis players get a 42 percent boost in hitting accuracy."
Watch this historic 20th WNBA season unfold for the Chicago Sky live at the All State Arena or watch televised games listed here.