Machu Picchu: The Trek That Works Out Your Heart and Soul
Four days. Three nights. Two chocolate bars a day. One incomparable experience … and 17 million footsteps (though my calves would argue that is a gross underestimate). This, my friends, is the Inca Trail, built with stones hand-laid by the Quechua people in Peru nearly 600 years ago to make the trek to the magical Machu Picchu a bit … "easier."
I did not embark on this trek as a fitness challenge, though it does help to be in pretty stellar shape. The trail is 42 kilometers long, which, to many of you reading, is all in a day's run, but you are climbing, climbing, climbing on day two, gaining 1,200 meters (just shy of 4,000 feet) by day's end, and descending, descending, descending 3,000 stairs on day three. These stairs are known as the Gringo Killers, and they ain't no joke.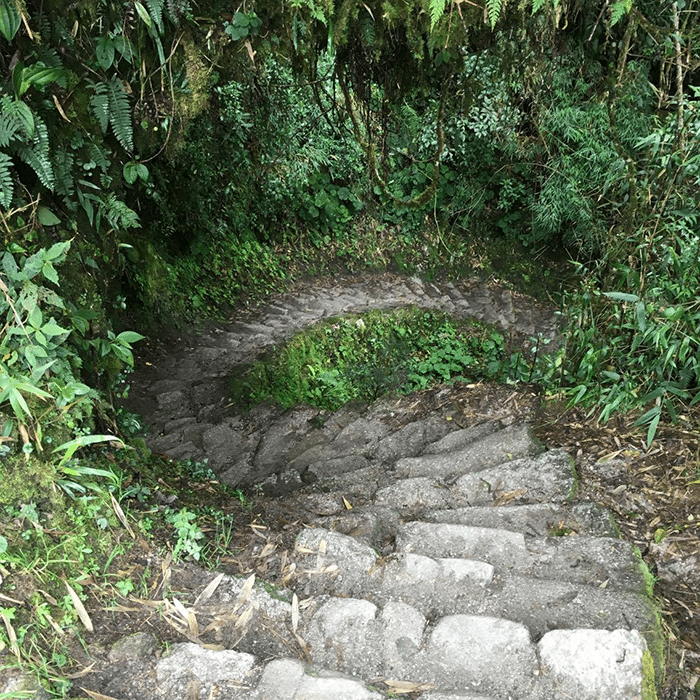 And as a side note, here's a thought: For the aforementioned physical challenge, don't stuff your pack to its full capacity, so that it weighs in at 35 pounds. Do not think you will need to change clothes each day. You won't. Do not think you will need high-heeled shoes. Strutting around camp at night, that's laughable. Resist the urge to pack your short skirt. You damn well should show off those legs after the trek, but do it at home, where you won't look like the tourist that you are. One pair of pants, two shirts, two pairs of socks, 4 pairs of underwear and 8 chocolate bars. You're golden –  and 12 pounds lighter.
While hiking the trail to Machu Picchu is a physical challenge, it is more profoundly a trail that entreats the trekker to connect with the natural surroundings and deep history that seems to permeate the air. You know the quote, "It's not about the destination, but the journey" cliche, really, but it comes to mind here.
I actually do not wholly agree, because it certainly is about walking through the Sun Gate, gazing into the valley, and seeing Machu Picchu materialize through the fog. But it is also so largely about the moments it took to get there, four days of winding through a cloud forest that is unlike any air I have breathed in before. And it is about stepping into the numerous ruins built along that path. It is about touching the centuries old stones and pondering the minds and the souls that put them in place, with the strength of their bodies, and with an eye for precision unlike we are accustomed to today.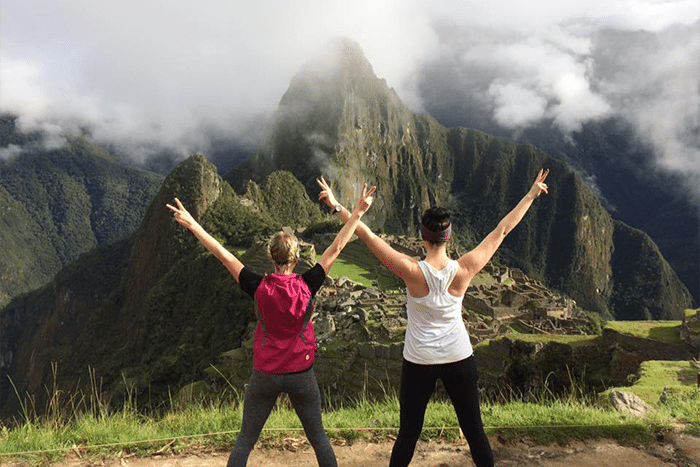 We do not know with certainty the significance of the city at the end of the trail, but many historians surmise that Machu Picchu was a holy site. The Incas were a deeply religious people. Nestled in the tent each night, I was nose-deep in Mark Adams' Turn Right at Machu Picchu: Rediscovering the Lost City One Step at a Time. Adams' guide, as they were nearing their arrival to Machu Picchu, explained, "Mark, you can't finish the Inca Trail and not know that this was the end point of a pilgrimage." And it does feel like that, an expedition to a sacred place, but perhaps even more, "the course of life on earth" wrapped up in a 96-hour journey. Because on the trail, you have to be gritty, you have to find humor in the discomfort, you have to be present to feel the beauty penetrate your being and you have to … have to … enjoy three delicious four-course meals a day prepared for you by the skilled hands of a personal trek chef. And those things largely do sum up the course of life, at least as I have experienced it in my 33 years of living.
I do now implore you to put Machu Picchu on your bucket list. Don't plan to just check it off, though. Plan to be captured – mind, body and soul – by a mystical path. As Mark Adams concluded, and I heartily agree, "Machu Picchu isn't just beautiful, it's sublime."