Join us for #Sweatworking at Chicago Athletic Association May 7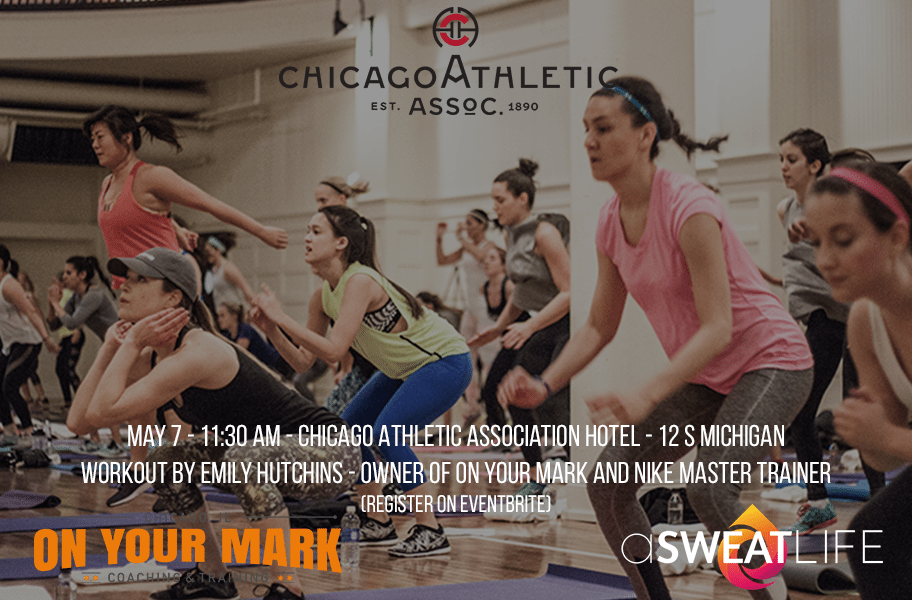 (Register here)
We have the monthly honor of taking over Stagg Court at the Chicago Athletic Association Hotel for a workout that brings together fitness enthusiasts from across the Chicago-land area. Emily Hutchins, owner of On Your Mark and Nike Master Trainer, reminds us all how tough a bodyweight workout can truly be (in a way that is accessible for all fitness levels) then we all mingle over a few snacks.
And we do it all to music brought to us by some of the city's best DJs. Did you fall in love with DJ Sye Young of the DJ Firm last month? Great news. The DJ Firm will be back with DJ Jem! While we won't be graced by DJ Sye Young's presence, he said that DJ Jem is his business partner, best friends and is "as good if not better."
After we finish our sweat session, we'll mingle over snacks, grab some goodies and go take on the day.
And if you've heard the word on the street that Chicago Athletic Association Hotel's rooftop, Cindy's, has the best view in the city, you can take this as a chance to confirm. Freshen up (there aren't full locker rooms, but this is what clean clothes, face wipes and dry shampoo are for) and head up afterwards to soak it all in. Or if you're feeling a spring in your step post-workout, head across the street to Millennium Park or Maggie Daley Park for one of those *Chicago* moments.
Will we see you there?
When: May 7 at 11:30 am, we'll be taking over the hotel! Part of it, at least.
Where: Chicago Athletic Association Hotel at 12 S. Michigan – the workout will take place on Stagg Court on the 4th floor of the hotel.
Why: Everything is better with a friend.
What should I bring: Great question! Bring a yoga mat (no we won't be doing yoga, but the mats are nice to keep your hands and wrists comfortable) and a friend if you'd like!
How do I sign up? Register here