Getting in a Partner Workout With Emily Hutchins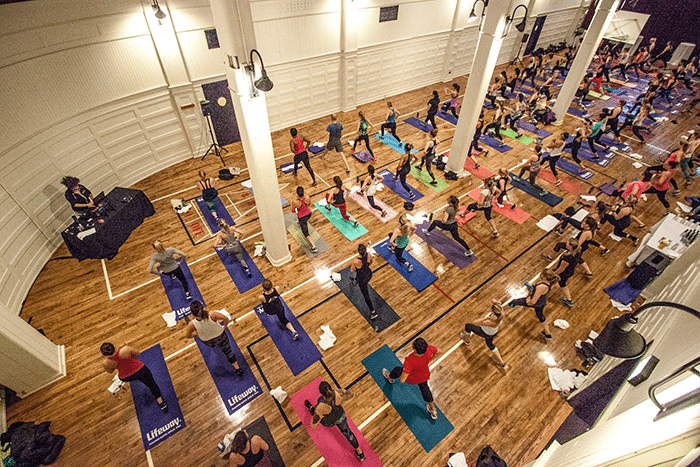 (All photos in this post are by Christiana Basso)
The Chicago Athletic Association Hotel was members-only and incredibly exclusive for the first few decades of its life. Last year, the hotel reopened and made its beautiful space open-to-the-public (you should try working there sometime – the second floor lobby's library tables are on productivity-point). Every month, the hotel is kind enough to partner with us and On Your Mark and open up the heart of the building – the gymnasium called Stagg Court – up for our #Sweatworking series.
Emily Hutchins leads these workouts and nearly every human in attendance has proclaimed some sort of trainer crush on her. We get it. We love her and her tough workouts too.
For our event in March, Emily put together a partner workout. I've looked at a lot of photos from a lot of #Sweatworking events after more than two years of putting these events together and I've never seen so much smiling mid-workout.
Strong and happy? Win-win.
The workout consisted of plenty of individual work, but the fun stuff took place when we grabbed a buddy and worked together.
Emily threw some favorites at us, like squat rows with a towel.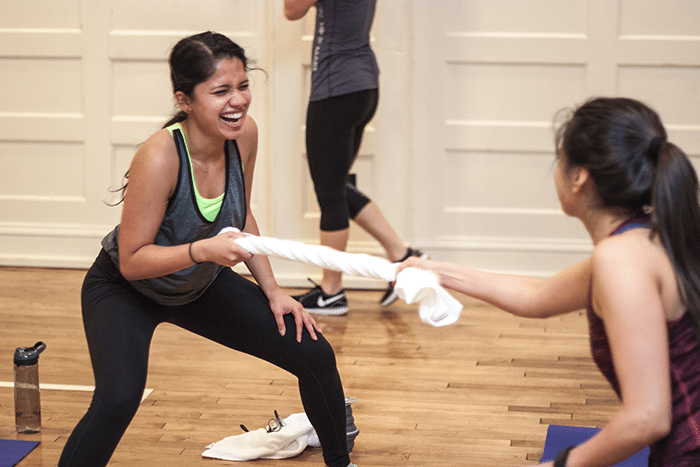 But she also got us working together to do a killer combo of triceps dips and hip bridges.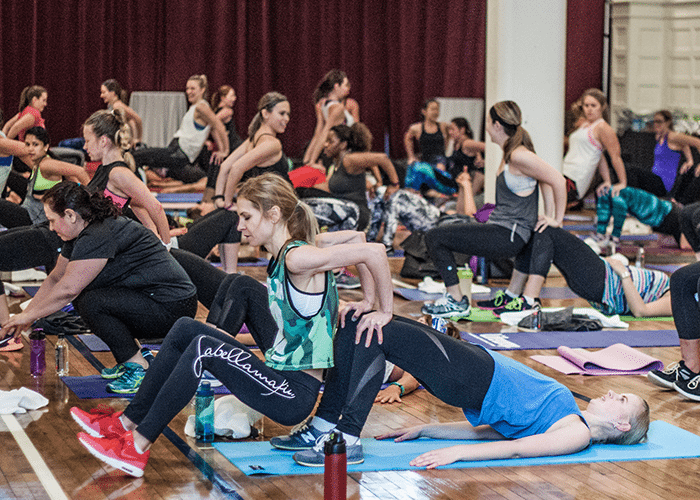 Heart rates went up with high knees with a squat hold.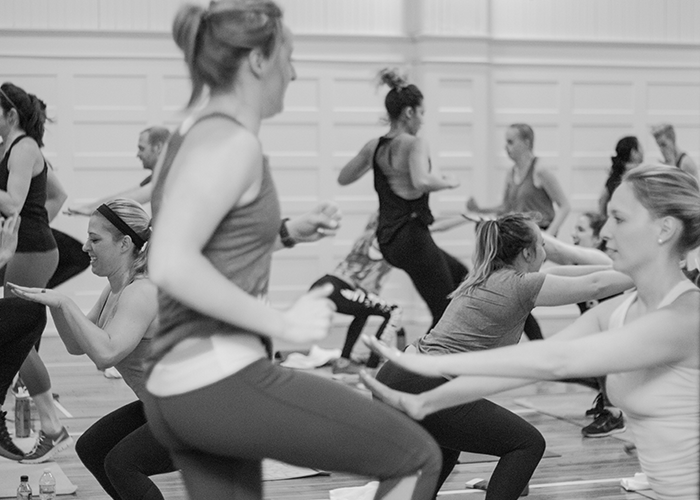 By flipping our palms up, we worked biceps in a variation of the squat pull: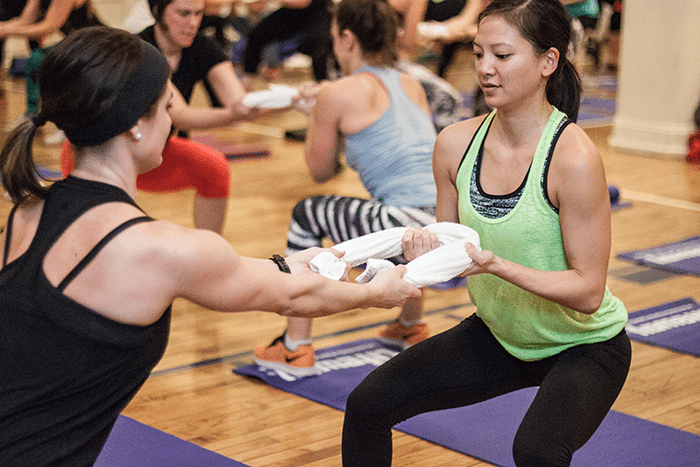 Planks with high-fives brought the the team spirit out of everyone.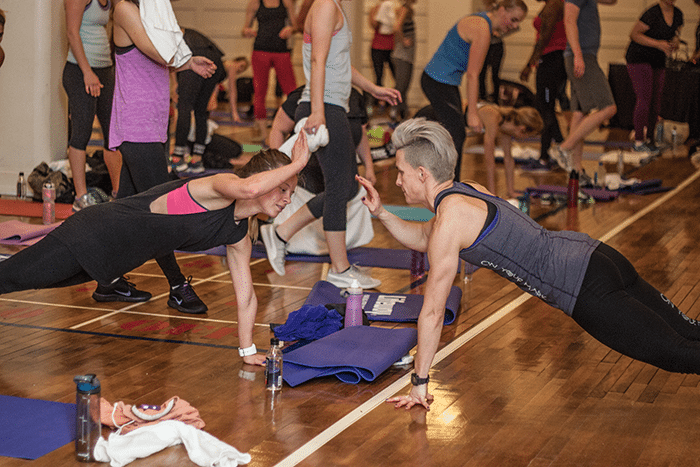 And I'm pretty sure that this back-to-back version of a Russian twist is an Emily Hutchins original.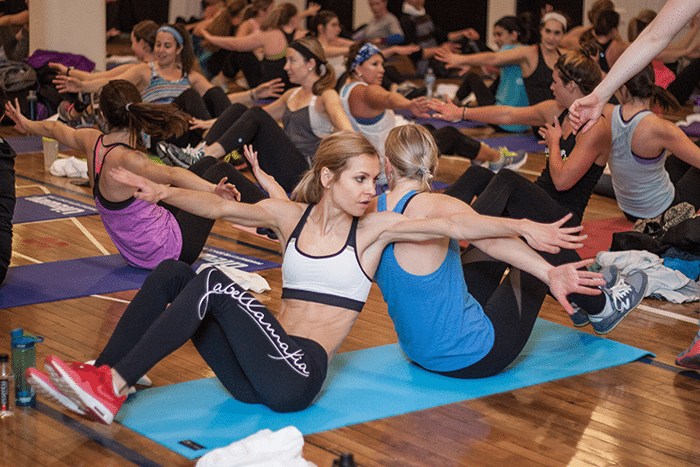 But when all of the partner work was done, Emily issued a challenge and a knock-down, drag-out battle for the longest wall-sit ensued.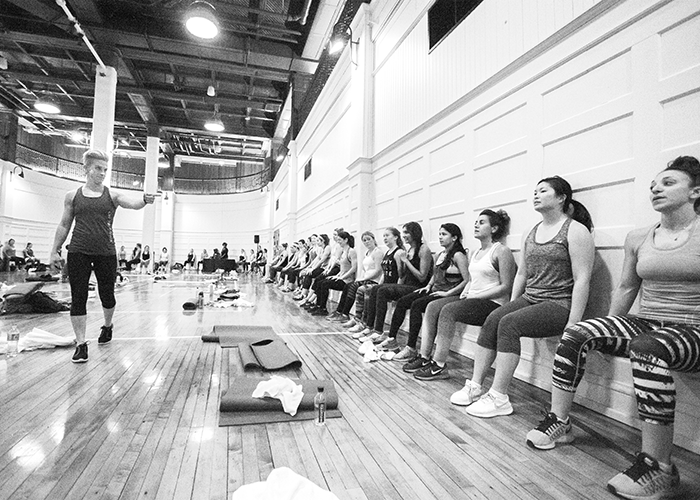 After all of that team work, we stretched it out.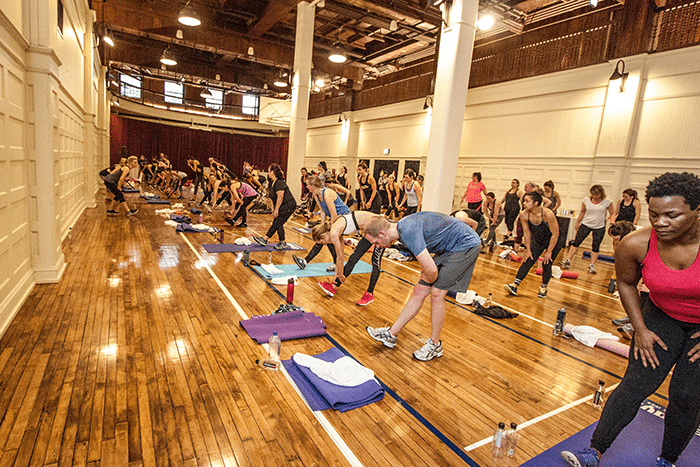 While we stretched, something magical happened. DJ Jill Hopkins played Justin Bieber's "Sorry" and a spontaneous singalong happened.
You can make that kind of thing up.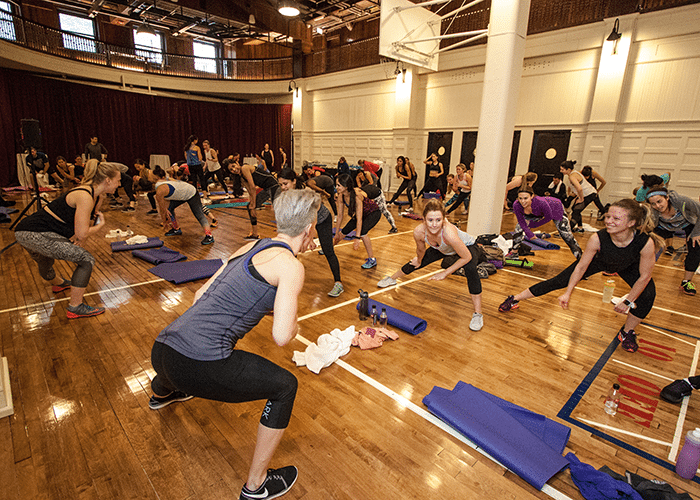 And then I stole Emily's microphone and bossed everyone into a group photo.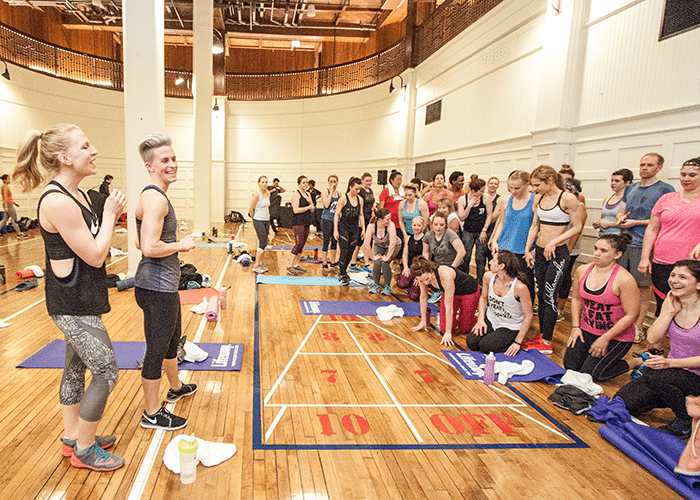 All smiles, probably because the snacks were in sight.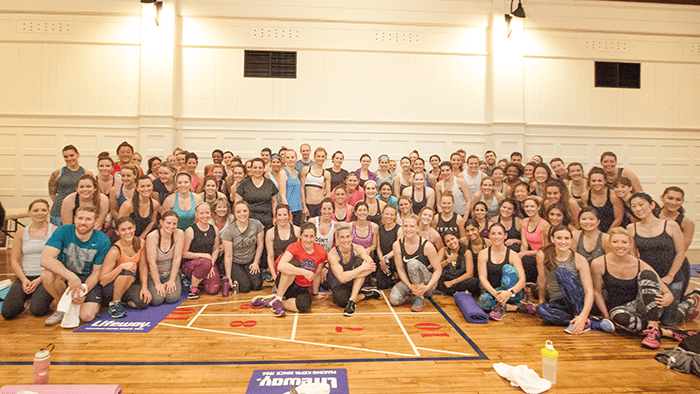 Afterwards we had sips and snacks from Wellness Grub, Pretzel Crisps, Skinny Pop, Luna Bar, High Brew Coffee, VitaCoco, which we conveniently packed in bags from Sprig.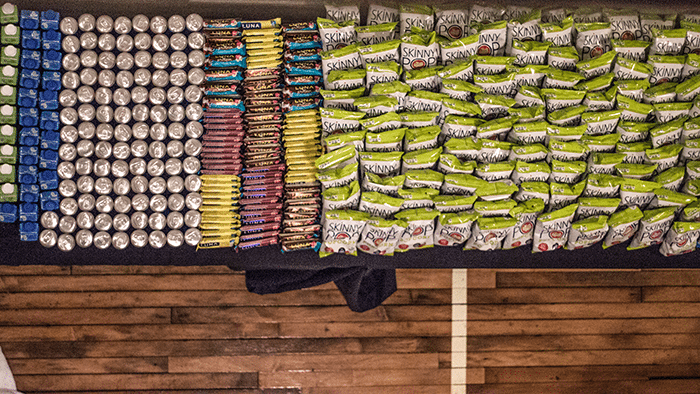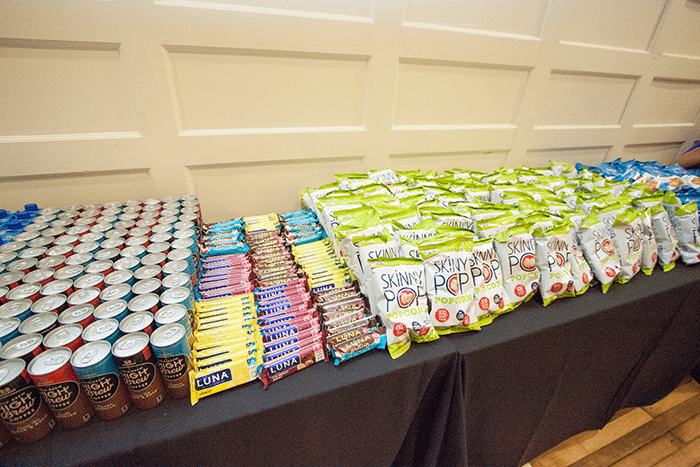 Instagrams were taken.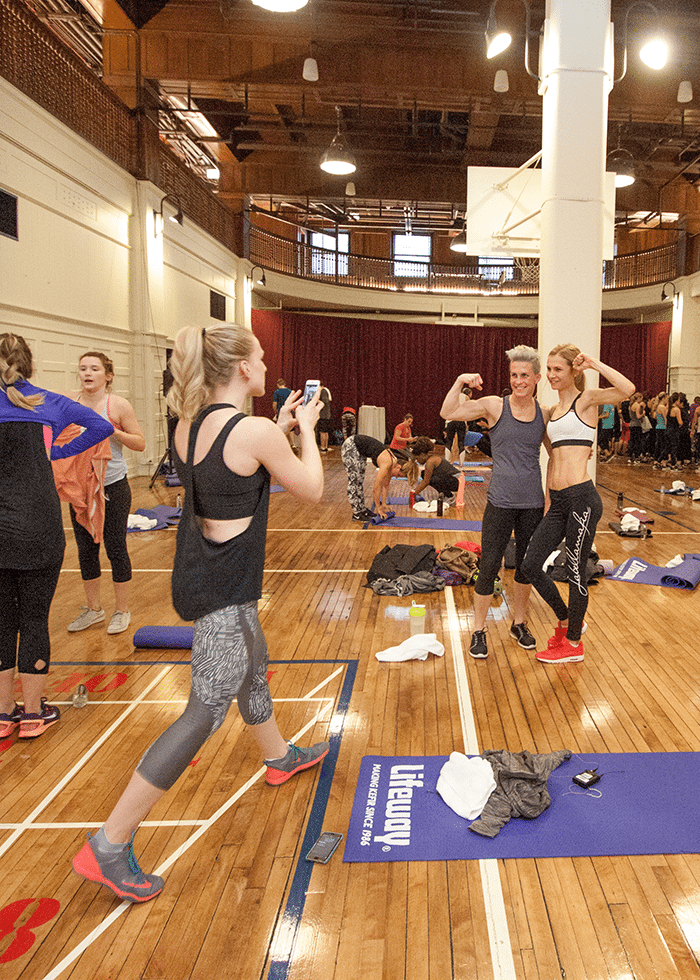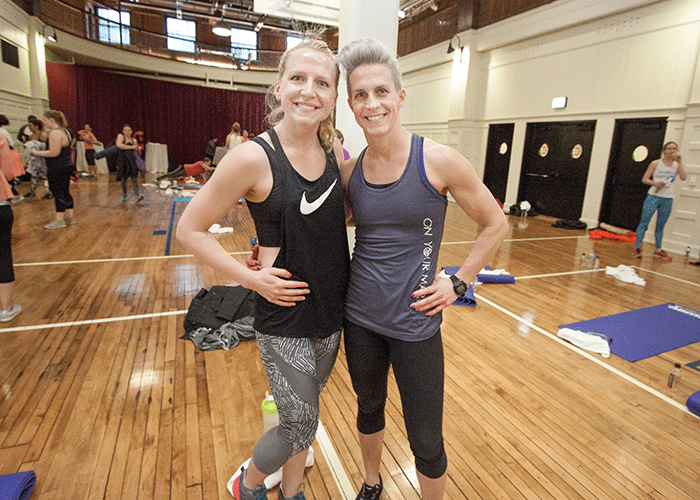 And Delos Therapy offered complimentary pain treatments afterwards.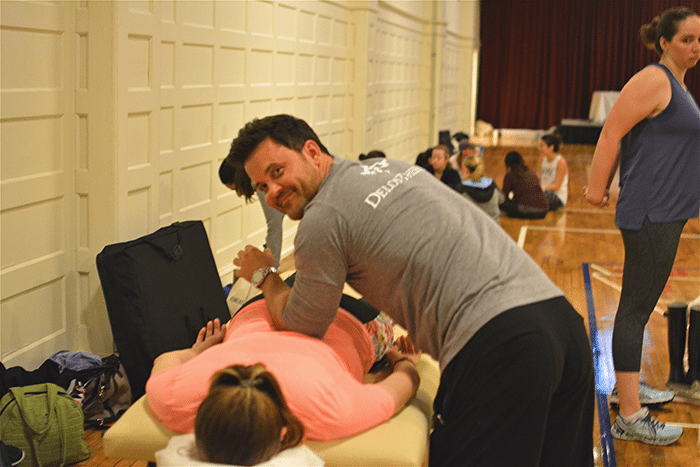 Want to meet us for the next #Sweatworking at Chicago Athletic Association Hotel? The next workout is presented by Mudderella and we're offering you a $5 discount right here.
If you're desperate for more event pics, check out our Facebook album.
Want to stay current on all #sweatworking fun? Bookmark this page.
Let us know!
Did this post help you get closer to achieving one of your goals?