Taking #Sweatworking into the Ring at Title Boxing Club April 23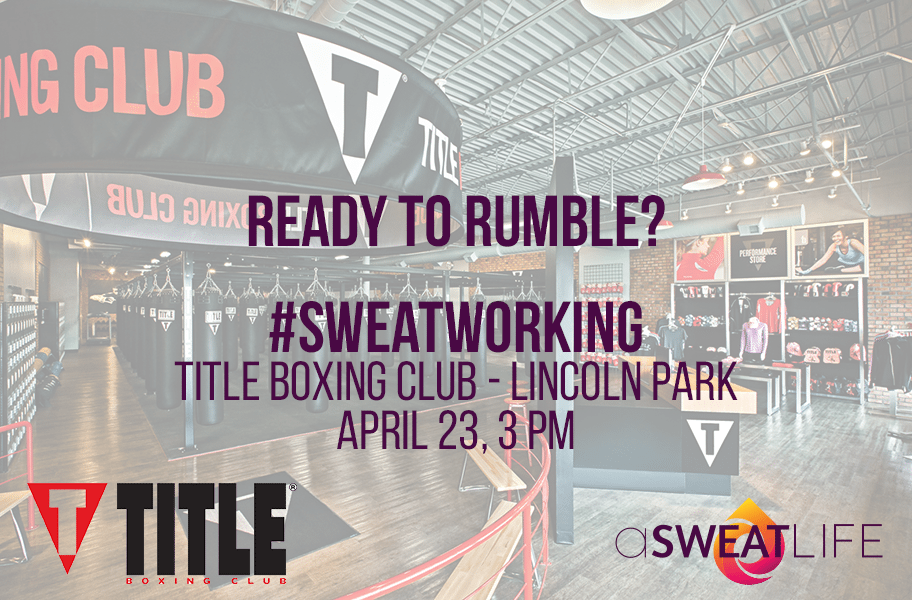 After aSweatLife's Kristen Geil tried Title Boxing, I received an emphatic text message.
"We HAVE to have a #Sweatworking at Title," she said. I imagined her pacing as she tapped away at her iPhone screen, but I can't be sure.
To further convince me (but truly, her enthusiasm sold me), Kristen invited me to take a class with her. We walked in, had our hands wrapped like bad asses and quickly got into the workout.
We had an intense hour-long workout, consisting of a glove-free warmup, a lengthy series of combos that took up the bulk of the class and an ambitious 15-minute core set. Leaving the gym, hot from the intense hand-to-bag combat we'd just walked away from, Kristen and I stumbled into the dead of one of the coldest days in February with our jackets open to cool off.
Then, as we saw, "Title Boxing" listed again and again as a gym or studio that attendees wanted to see #Sweatworking travel to, it was one big, "duh." We get it.
April 23, we're taking our workout into the sea of heavy bags at Title Boxing Club in Lincoln Park where you'll be able to join us for a workout that will leave you with a satisfying mix of feelings –  exhausted elation – similar to that rocky-at-the-top-of-the-stairs moment.
Prices will include an extra $5 (which is discounted – they're normally $10 – thank you Title Boxing) to cover the cost of hand wraps. Each person will need a set of hand wraps that a Title Boxing Club coach will help them to use. Trust us, you're going to want these. The wraps help to protect your hands and wrists as you're using your jab-cross-hook combo to knock a heavy bag's lights out. Plus see the photo above – these hand wraps make for killer Instagram photos.
Buy tickets in groups of two or more to get a discounted rate.
Where? 2417 N Clark Street
When? April 23 at 3 pm
Why? You've never gotten a better workout than when it's you vs. a heavy bag.
How do I sign up? Click right here, champ.