#Sweatworking Travels to Exhale Evanston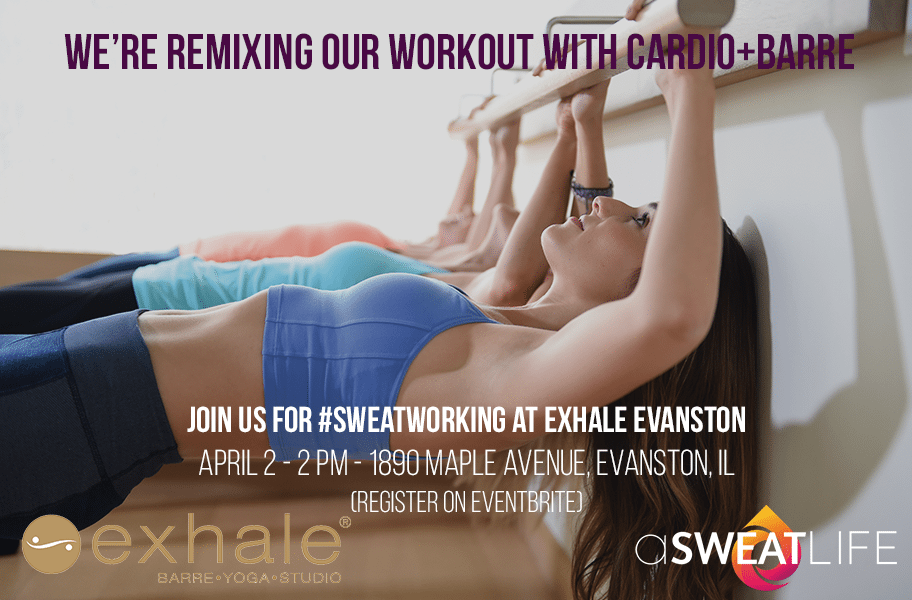 For more than two years, we've been leaving a sweaty trail around the city of Chicago. We started #Sweatworking to bring people together over fitness and to make the idea of trying a new workout more approachable in the process. While taking our trek from gym to gym, we've explored neighborhoods all around, but we've never really served the northern part of the city.
You told us that you wanted an event "near the northern suburbs.". You asked, we listened and we're going to do you one better – how about the suburb that is basically the city's hat: Evanston.
We're taking over Exhale in Evanston, which is a stone's throw from the northern Chicago neighborhoods, close to our friends in other northern suburbs and it's just up the purple line from everyone else.
Our workout challenge for this event is a mash-up class that's new to Exhale – Cardio + Barre. This class is truly the best of both worlds, containing 30 minutes of cardio-centric punches, twists and mountain climbers on the mat – after all of that  you'll work your thighs and glutes at the barre.
I took the class and I left a sweaty mess after getting hit by a killer combo of bodyweight moves and fast-paced dynamic weight routines. The cardio segments will spike your heart rate, getting you sweatier than you thought you could in barre socks and you'll still find a way to work your legs to the point of *the shake*.
Alert your friends in Lincoln Square, Edgewater and beyond that we're coming to their 'hood. City peeps: grab your Ventra cards and take ride to the Foster Purple line stop, which is just a three-block-walk to Exhale Evanston.
When: Saturday, April 2 at 2 pm
Where: Exhale Evanston – 1890 Maple Avenue, Evanston, IL 60201
How do I sign up: Grab your tickets here.