#Sweatworking Takes Over Hardpressed Conditioning
Every time we host a #Sweatworking event, we send out a survey afterwards because we're pretty obsessed with getting it right and we want to know how attendees felt about the workout, the community and the snacks. In every survey, we ask attendees to rate the difficulty of their workout on a scale of one to five.
In just 30 minutes, the workout at Hardpressed Conditioning managed to score the highest difficulty rating of any #Sweatworking event. Ever.
The workout looked deceptively simple. We'd take on some simple moves and equipment that the group was mostly familiar with – running, biking, battle roping, pushing, pulling and squatting. No big deal, right?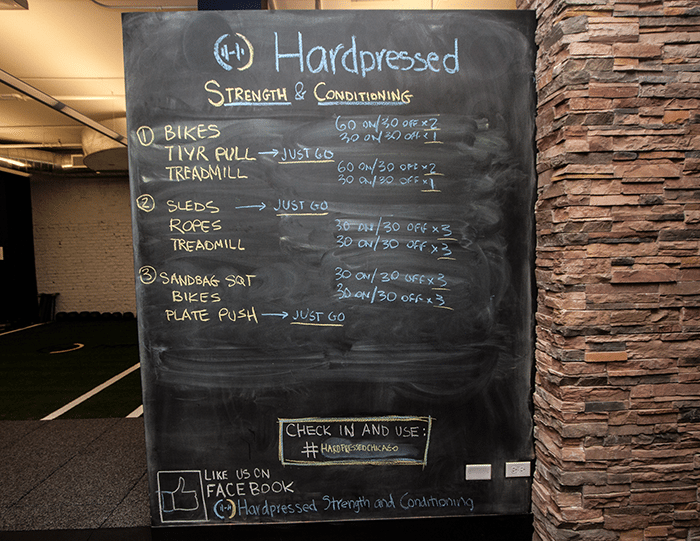 (All photos in this post are by Christiana Basso, except a few photos that are less awesome, those are by Jeana Anderson Cohen)
Wrong. It was easy to see why the gym insists that all you need is 30 minutes.
For our first set, we worked on Air Assault bike, with TIYRs and on the Woodway treadmills that overlook Michigan Avenue. We used the same timing for all sets for the remaining workout – We did three rounds of each exercise before switching unless marked as "just go," for the first round, we'd work for :60 the first and rest for :30, we'd use that same timing for the second round and we'd finish the third round by working for :30 and resting for :30.
The Air Assault bikes crushed us. Bikes with moving handles have come a long way since gathering dust in that corner of your parents' basement.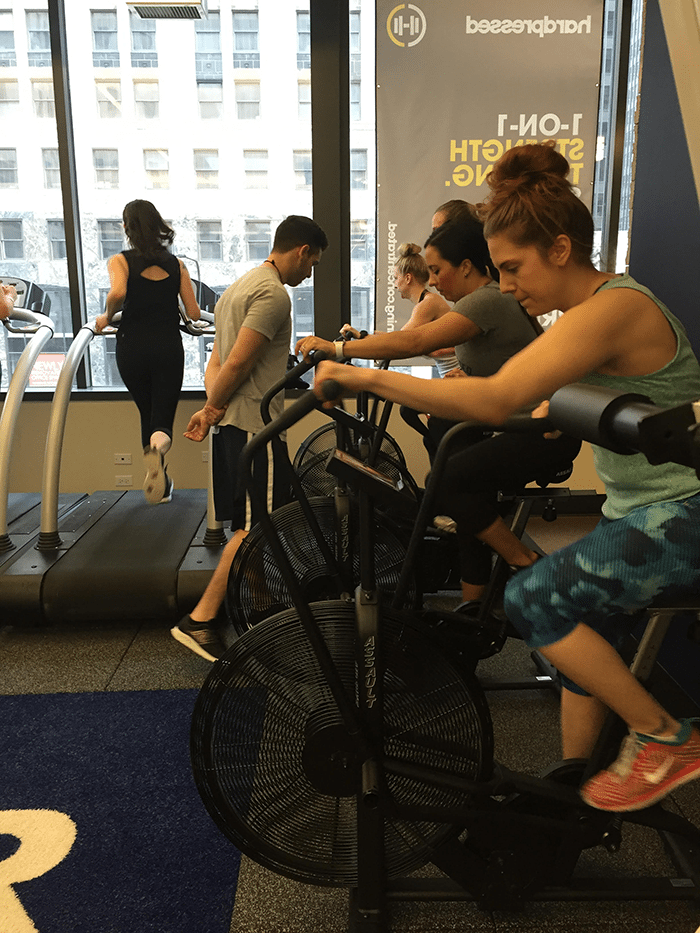 In groups of two, we pulled the TIYRs, which are tires made of foam, spelled in a confusing, but trademark-able way. One partner would pull the TIYR across the gym's turf and the other partner would pull it back. It's a version of Hardpressed Strength's dreaded rope.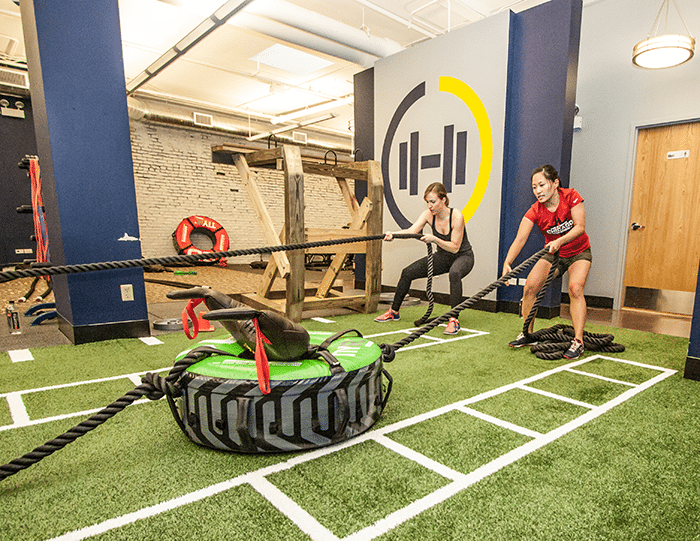 And finally, at Coach Collin's urging, we really sprinted on the treadmills, running at paces around 10 MPH. Like gazelles, obviously.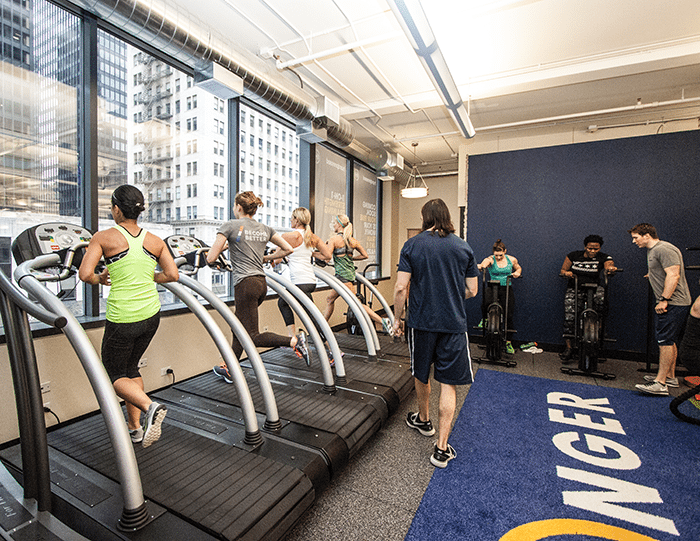 For the second grouping of exercises, we met our newest enemy: the sled, which we pushed back and forth on the turf with a partner.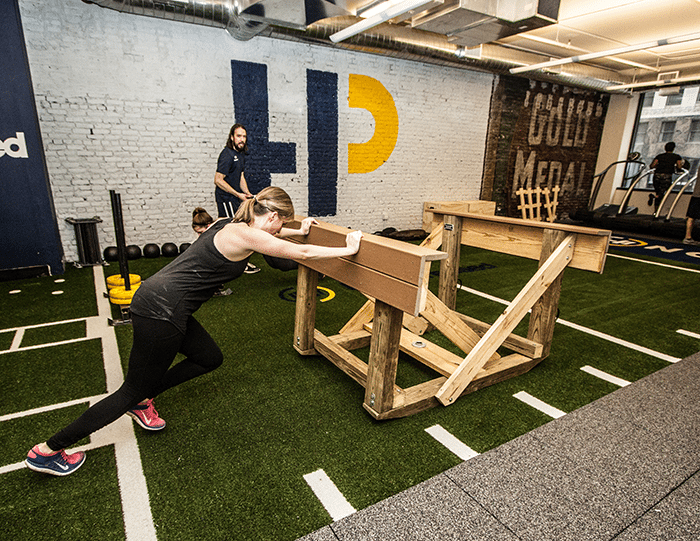 Battle ropes, when used correctly can totally burn out the muscles of the arms and get the heart rate sky-high. You know that's the case when your reaction when a coach calls "time" is to throw the ropes onto the floor with all of your remaining might, which was indeed the case over and over.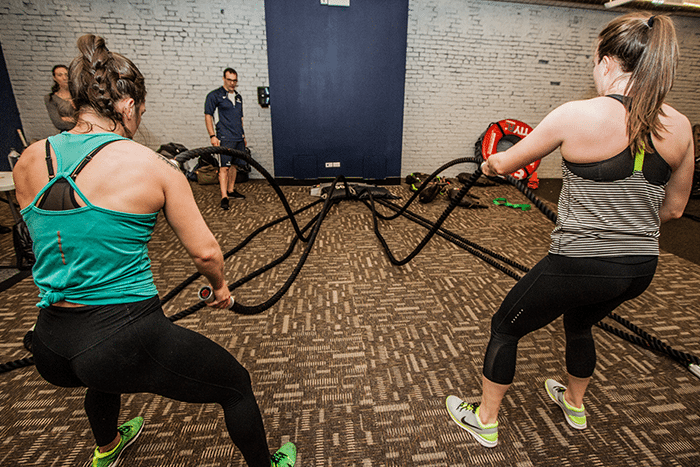 After all of that, we found ourselves back on the treadmill for sprints.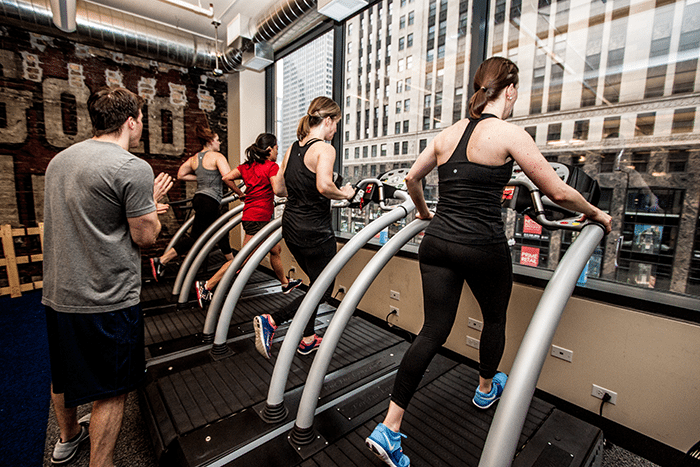 For the third set, we played a game of "uncle," pulling together three fun exercises for an epic finish.
We pushed plates with partners – a "just go" exercise. This is similar to a sled push, but with your head lower to the ground, the effort feels a lot greater.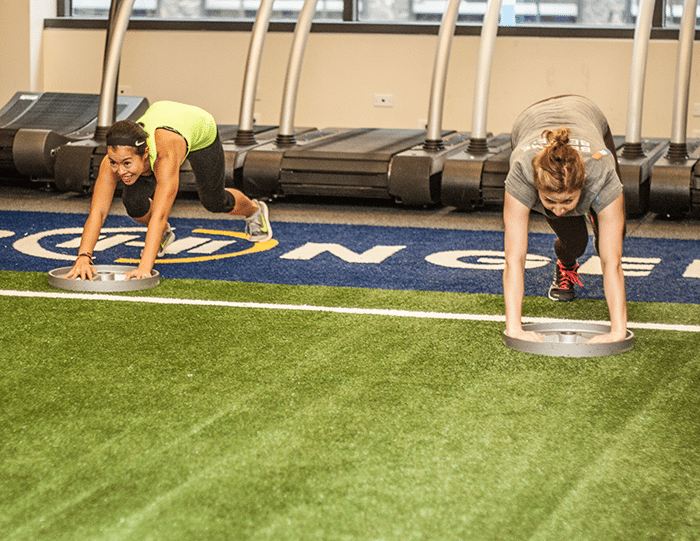 We hopped back on the Air Assault bikes.
We finished with sandbag squats, which basically consisted of putting a heavy bag around one's neck and squatting for time.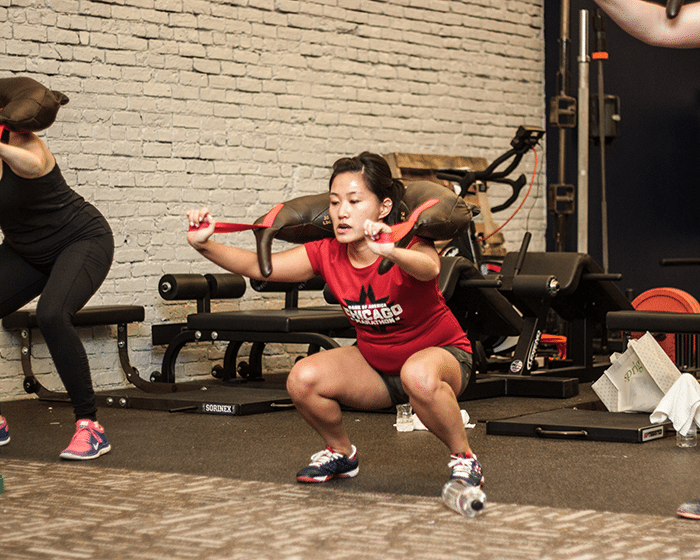 Hardpressed keeps its group conditioning classes to eight people or less, but we convinced them to increase the capacity to 12 people for #sweatworking. We split the event into three groups to allow 36 people to experience this magic.
Group one came ready to work and quickly settled into the challenge that they were up against.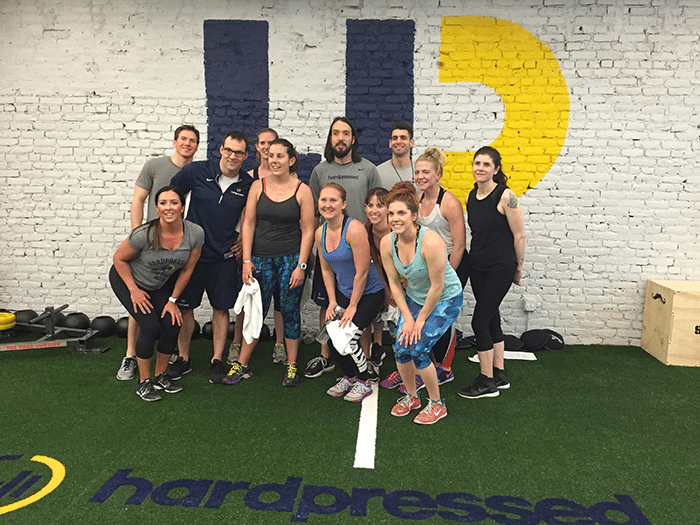 Group two worked just as hard as group one, but because they were able to see the faces of group one when they checked in for the class – the had an idea of what they were up against. This group included my Hubs and his two best buddies – the guys in the bro-tanks, obviously. Hubs is pouting in the background for reasons unknown.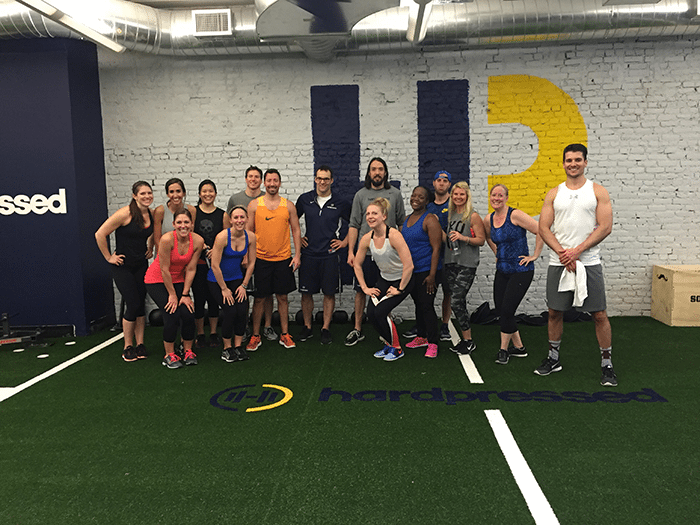 Group three closed out the day with some serious effort.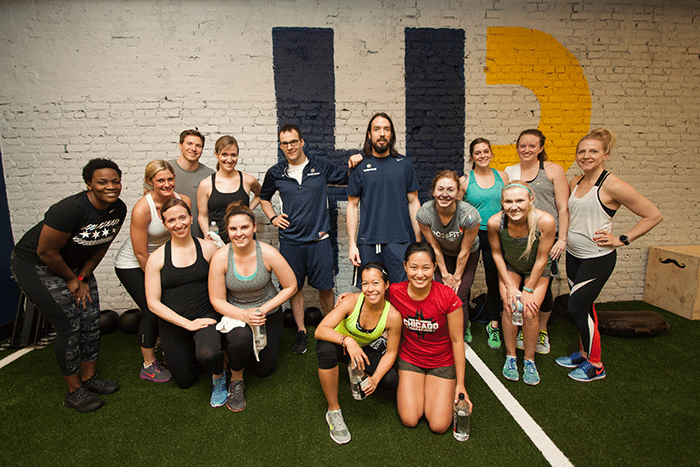 Want to experience Hardpressed Conditioning for yourself? Check out classes here and grab a drop-in session for $25, or check the MindBody app for special offers.
Be sure to sign up for our upcoming events. We'll work out with Emily Hutchins at Chicago Athletic Association March 19, we're tackling healthy meal prep at KitchFix March 26 and we're heading up the Evanston for a workout at Exhale April 2.
Let us know!
Did this post help you get closer to achieving one of your goals?