Attention Runners: Chicago Marathon Registration Now Open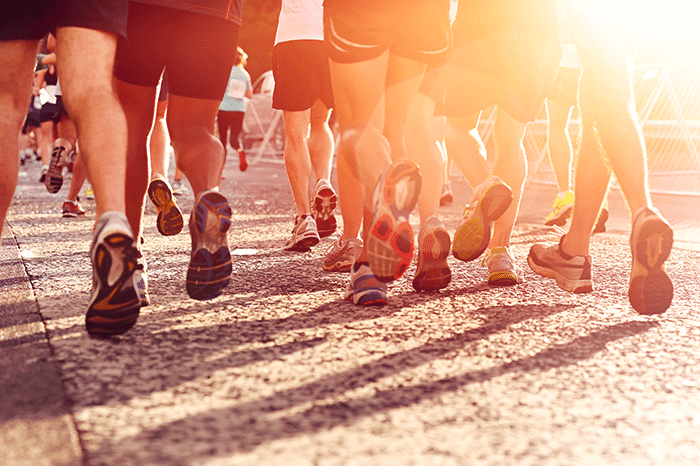 Attention runners who have ever said the following: "One day, I'd really love to run a marathon."
The Bank of America Chicago Marathon Entry is now open here. If you're not a legacy runner, a 2015 deferrment, a time-qualifier, a charity runner or an International Tour Group program runner, you'll need to enter yourself into the lottery by April 12.
This non-guaranteed entry process is similar to a real lottery in that your odds of getting into the marathon depend on the number of people who put their names in this hat. If you're waffling between running and not running 26.2 miles, we challenge you to put your name in the drawing. Just two years ago, Kristen did just that and found herself happily crossing the finish line six months later.
On April 7, I learned it was the deadline to register for the lottery for the 2014 Chicago Marathon. I was fresh off a great weekend long run, twelve miles of hills and blue skies and perfect 55 degree weather in Kentucky, and for some reason, I opened the website, entered my information (laughing to myself as I clicked the box for "First Time Marathoner?" and wildly guessed at what a finish time might look like), and before I could think too much about it, clicked "submit."
"There's less than a 50% chance I'll get a spot," I thought. "Probably won't get it, but it might be fun if I do."
But I think that deep down, I kind of knew in my heart that I would win a spot in the lottery. For the past year or so, the adjective of my life has been "weird." I'm not completely sure if I make myself really available to these situations, or if it's fate, but I have a habit of attracting unusual circumstances and then saying "yes" to them without too much hesitation. So I guess what I'm saying is, I can't completely feign ignorance here. I knew what I was getting into when I entered the lottery. My life is weird.
As you're training for the race, go back and review Kristen's thorough documentation of her training in her Marathon Monday Series.
The key, new marathoners, is to find your tribe as you work your way through the long training season. Long Saturday runs are better in a group and the conversational pace is much better when you're actually having a conversation.
Groups to consider:
Check out Nike Run Club, a totally complimentary coached running experience brought to you by Nike.
Run with Fleet Feet in Chicago. You can get a free base training program or invest in the coached training through Chicago Endurance Sports for $244. Program alumni qualify for a discount.
CARA's program runs 18 weeks and is designed by Runner's World Contributing Editor Hal Higdon. It will run CARA members $175 and non-members $215. Program alumni qualify for a discount.
Will we see you out on the lakeshore path?