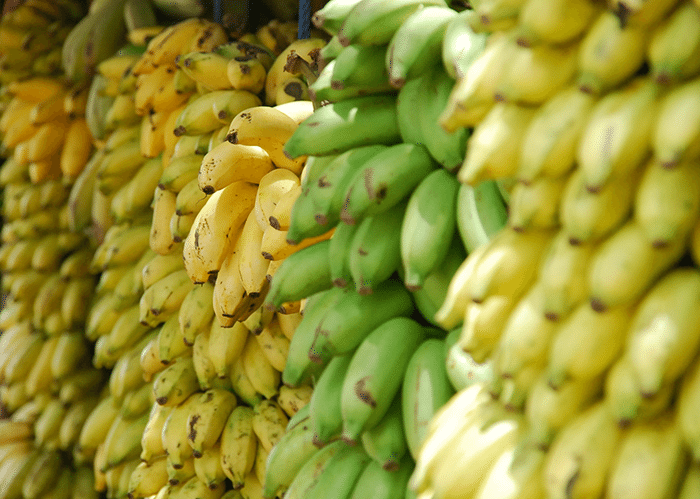 Since arriving in Ecuador two and half years ago, I've sniffed out the best chocolate, as I may have mentioned 2,768 times previously. I have managed to eat avocados nearly each day. I have also really taken to papaya. For much of my time here, though, I have been walking briskly past gold in the produce section of the grocery store, but I have recently been enlightened to the dozens of delicious uses for plantain. I think the following will also inspire you to slide a few of those super-sized, seemingly unripe bananas into your cart on your next trip to the market and dazzle some dinner guests, or simply give your own taste-buds a sensational experience.
I suggest waking up to some sweet plantains as you begin the day with a breakfast starring The Healthy Foodie's Plantain Coconut Pancakes.
To pair with lunch, (double) fry up Laylita's Patacones. I love munching on these smashed medallions most with seafood and rice, but they are also delectable with a black bean dip or with a bit of hot sauce on top.
For your at-home happy hour, mash up Against All Grain's Sweet Plantain Guacamole. Dip in some tortilla chips for a traditional dunk, or dive in with some carrot sticks and cucumbers.
In Latin fashion, dinner's first course is a soup. Here I suggest Food Network's Ingrid Hoffmann's Plantain Soup.
The main course puts a spin on traditional rice with Inspiralized's Plantain "Rice" and Beans.
To top this all off, end the evening on a sweet note with Sunwarrior's Plantains with Coconut Whipped Cream.
After eating your weight in plantains, you will be delighted to learn that they boast notable nutrients. This vegetable is a source of fiber, beta-carotene, calcium and vitamin C. Really, we know everything in moderation, so it would be wise to make plantains a part of your balanced meals.
A final note: A friend who has gone completely gluten-free has found that banana flour is a fantastic one-to-one substitute for regular flour, especially in baking. As I was noshing on rich chocolate brownies just this afternoon that she made, I can vouch that banana flour is worthy of praise. The brownies did not taste banana-y. I never would have guessed that the flours had been switched; all I tasted was rich fudgy-ness.
The moral of this post: Don't pass up the plantains!