From Weak to Warrior – Taking the Plunge
"Life isn't about avoiding the bruises. It's about collecting the scars to prove we showed up for it."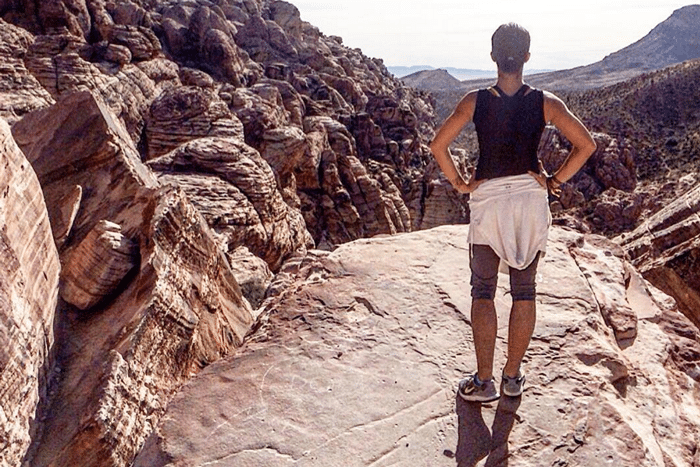 If you aren't familiar with the journey I'm going through and what has transpired over the past six months, take a read. I was tired. Run down – physically, mentally and emotionally.
Throughout my life, I felt like I had to grow up 10 times faster than everyone else my age. Aside from providing me food and getting me to and from school everyday, my biological parents weren't engaged in any aspect of my life. I had to fend for myself. No one taught me how to act or feel. No one reprimanded me for bad behavior. Nor did anyone praise me for doing the right thing. I was always independent because I had to be. The family I'd lived with until I was eight-years-old my aunt and uncle, cousins, nanny and grandma were the only solid family I've ever had. I felt that they were the parents siblings and mentors on whom I could count, but sadly they were so far away.
My parents worked 15 hours a day, everyday. They never attended any of my school events. I was always that child at the recital, choir performance or school events without parents watching with excitement. If you ever wondered where I learned to become a workaholic, now you know.
Fast-forward 23 years: I was depleted. I had a mid-life crisis. Or, better, I had a life-awakening experience.
People ask me the same question when they hear about the last six months of my life, "When did you know you needed to make a change?" You just know. It doesn't happen overnight. The overwhelming sense of "unsettledness" claws at you and doesn't heal after a good night's sleep or solitude trip to the tropics. It was a culmination of incidents through the years.
No one diagnosed me. I've never gone through formal therapy – well, except for those times my parents sent me to the school counselor over and over because I needed "fixing." They thought I was broken. Now I know I wasn't. I was just a child in a really unfortunate situation.
During my adult years (along with my husband and mother-in-law), I became the primary caretaker for my sick, aging parents (prior to my dad's passing and before moving my mom to Thailand). When my dad was alive and my mom was still in Chicago, shamefully, I didn't take care of them the way they deserved. They had to go to the emergency room? We got a driver. They needed groceries? I AmazonPrimed. Everyone chipped in. My friends donated furniture, helped with transportation. My bosses and employers let me cut my hours to part-time. But, the care taking responsibilities were stressful.
I didn't have an outlet. I didn't like to work out. I just kept working harder and I went out more. I did not focus on my body, mind and soul. I was ALWAYS tired. I tried to get active. I attempted fitness classes, yoga, but I didn't have the mental strength to stick with it. It was MUCH easier after a day at the hospital to watch Netflix and eat bad food than it was to go to the gym to get out my aggression. My eyes always had dark circles regardless of how much I slept. Being serious about a healthy lifestyle was not a priority.
ONE NIGHT back in March of 2015, my husband caught me crouched in a ball on the bathroom floor crying. He asked what was wrong?
I said, "I don't know."
I needed to take note and take four big steps:
Listen to my gut
I felt unsettled and I needed to pay attention to my needs. I cried, I got confused and I doubted myself. But, I kept at it because I learned that I only have one me – there's not a second Mananya on layaway. I learned to listen to my gut and be mindful of my thoughts and feelings by making a note of those feelings.
Realize that I'm number one
I was the only one laying my head on the pillow at night. I needed to focus on myself before anyone else – before my partner, my friends, my coworkers and my family. I couldn't care for anyone else if I didn't care for myself.
Be brave
I needed to take risks and make mistakes. I didn't know yet how much what I was going to do would strengthen me, but I did know that it went against society's norm. That was scary and I knew that some who didn't understand my specific situation and needs would call me crazy.
Be patient
I couldn't dive in without thinking through the steps ahead of me. I needed to be smart about decisions I was about to make. I was about to make a grand change in life, but I needed to make sure it was about personal growth.
After catching my breakdown in the bathroom, my husband said,
"Take a break. Stop everything. Take your mom to Thailand. Be with your family. Reconnect with your culture. Find yourself. Relax. You deserve it. We have all of this – but for what? Please, you can't do this to yourself, Mananya. Go."
It took months before I said, "yes" to his offer. All sorts of questions came to mind, like …
How do I strip away from everything I know?
Who am I without my job and my life I've built?
Am I ready to become vulnerable? To make no money? To unravel my insecurities? To work through my issues?
What will people think?
When will I return?
Will I come out of it a better person?
What if this doesn't work?
One of the biggest lessons I learned from this part of my journey is that if you have the courage to begin, you have the courage to succeed.
If you've been following me on Instagram, you know I also started a fitness journey as a part of my life journey. I joined a gym and hired a trainer. Each and everyday that passes, I keep thinking about how both of my journeys – life and fitness – are one in the same.
Are you thinking about or going on a path of fitness re-discovery?
Take note and take four big steps.
Listen to your gut
If you're lethargic, often tired or always out of breath, yeah … it's probably time for you to get more active. If you keep on thinking, "I should work out, I need to work out, and eventually I will work out …" it's pretty clear. You need to work out.
Realize that you're number one
Remember that you have one life, one body. Why waste it away by eating poorly and denying your body what it really needs? Why wait until your yearly physical comes back with alarming results? Your time is NOW.
Be brave
We're all scared to go to the gym or a fitness class for the first time. You don't know how to use the machines, right? You're afraid you're going to look silly. You feel like everyone is watching you. Just go for it. You have to start somewhere. Go with a friend. Have a support system. Try this list of free classes in Chicago and remember that everyone is a beginner once.
Be patient
Don't think that you can transform your health overnight. Know that it's a journey. The results will be gradual over time. Don't worry about how you look or what's on the scale. Think about how you feel.
Going to Thailand was not a vacation. It was my version of rehab. I needed to restart my life mentally and physically. I was coming from a really raw and weak place in my life. My trainer and life coach kept me on track and accountable. It's okay to say, "I don't know" or "I need help." You don't need to move across the world or quit your job. You just need to realize that you have one life to live and it must be well lived. Don't wait until you retire. No one is promised tomorrow.
Take the plunge. Don't let the challenges of your life stop you from becoming a better you. Go on a hunt for who you've yet to become.