Target and SoulCycle Collaborate on Design and Celebrate with Fitness Pop-ups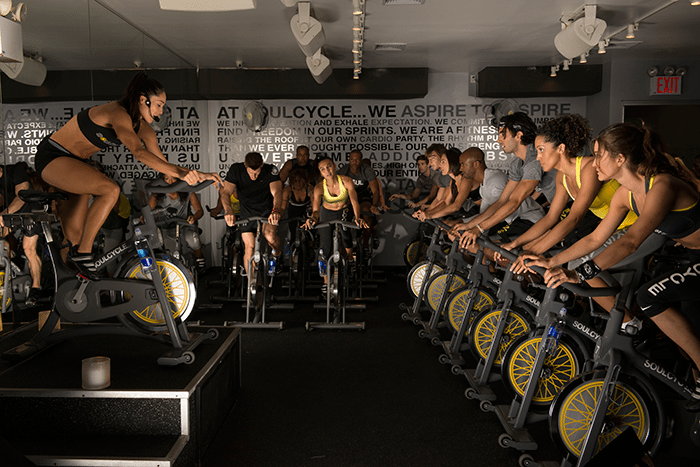 Target is known for its collaborations with designers and has created Internet-breaking buzz by bringing what can be out-of-reach design to the average American. They've created Target-exclusive lines by high-end brands that include Lilly Pulitzer, Adam Lippes, Altuzarra and FEED USA.
In fitness, there's an emergence of luxury concepts that can range from a combined spa and studio fitness experience to cycling classes that resemble religion more than they do a traditional big-box gym (I talked about this with Crain's Chicago Business a while back).
One such concept is SoulCycle, which arrived in Chicago in early 2015 and is sweeping the city, recently announcing the build-out of its studio on Southport, which will make three total studios when added to the Loop and Old Town locations.
With that luxury fitness experience also comes the high-end fitness apparel hanging in the windows of these studios. New, beautiful fitness apparel is released seasonally and is emblazoned with the signature SoulCycle skull and crossbones. I dare you not to look and touch the merchandise next time you're in one of the yellow and white locations. For some, $30 for a class at SoulCycle is worth every penny and so are the tops that cost around $60 and pants that go for around $100.
There's a clear parallel in luxury fashion and luxury fitness and a definite area of overlap when a lifestyle brand like SoulCycle creates its own clothing. For some, luxury fitness and the fashion that comes with it isn't a stretch for the budget, but for others it's a more infrequent treat  – a sweaty, amazing treat.
If you love SoulCycle and want to wear the brand when you sweat, you have a new option. Target is bringing high-end design to the masses again, but this time, they're walking into the grey area where fashion and fitness meet. The collaboration between the retailer and SoulCycle is bringing apparel prices down to around $30 for a tank and $44 for sweatpants.
To celebrate, SoulCycle and Target are creating pop-up SoulCycle X Target experiences in markets across the country. February 5-7, Chicagoans will have access to three days of complimentary SoulCycle classes in the south loop at Venue Six10 (610 S. Michigan Avenue). Sign-up for these classes will open January 30. Forty people will be able to tap it back, guided by their favorite instructors who are part personal trainer, part motivational speaker and part rock star. Classes will be available at 8 am, 9:30 am, 10:30 am, 12 pm, 5 pm and 6 pm.
You'll be able to grab your bike here. Set your calendar reminder for Friday January 29 at 3 pm so that you're sure to grab the class time you want when sign ups go live.
Will we see you there?